A former Burke County Public Schools student recently helped test a growing and evolving piece of technology by racing it more than 1,000 miles across Australia.
Kali Smith is a junior at Appalachian State University studying environmental economics. She is a former East Burke High School student who transferred to the North Carolina School for Science and Math and recently traveled to Australia with a few other classmates to race a solar-powered vehicle in an international competition called the Bridgestone World Solar Challenge.
"It is the longest running solar vehicle race that exists … it has been happening since 1987," Smith said.
A total of 28 teams from all around the world started the race at a northern city called Darwin to start their 1,864 - mile journey south to Adelaide, Australia. The race started on Oct. 8 and took six days to complete.
The Appalachian State solar vehicle team , called "Team Sunergy , " which included Smith, partnered with a team from Chile to get a better understanding of the race for when the full ASU team participates in 2019 with their own vehicle, she said.
The vehicle, built by university students, has solar panels installed on the hood o f the futuristic- looking car. When the sun hits the solar panels, a chemical reaction occurs involving electrons, which charges the battery pack to power the vehicle, Smith said.
"They don't look like your typical car because they are more aerodynamic, faster and sleeker," she said. "The sport is transitioning to making solar cars more practical, so you are starting to see developed solar vehicles that actually look like cars with solar capabilities. "
Smith and the rest of the team traveled along the O utback and stopped each day at 5 p.m. at various stage stops along the race route. The solar vehicle only had seating for one person, so the rest of the team would either be behind or in front in other vehicles.
They were allowed to charge the battery for two hours and , after that time was up , the battery was "impounded" so they would not be able to charge it longer than any other competitor, she said.
Smith was not able to drive the car, but was assigned to the scout vehicle that would drive ahead of the solar vehicle to figure out the locations of other competitors.
At some stage stops, they would be camped out on the side of the road in the O utback. They would work on the car if needed and then start again "when the sun came up."
"It was amazing and so beautiful out there," Smith said. "We were in the middle of nature and it was amazing being able to use this car and it worked so well."
According to Smith , the vehicle did not have any maintenance issues.
"It drove 3,000 kilometers straight in six days and there were no issues," she said. "The car was very well - built and it ran amazingly."
The Chilean team that Smith and her classmates were assisting finished the race in 10th place. Many of the other teams were bumped down to a non-competitive race because they did not reach a stage stop in time, Smith said.
She says the trip not only helped her understand the ins and outs of the competition, but also how to travel internationally and how to help prepare meals for 20 people when camping in the O utback.
"We gained a lot of logistical experiences and it was so amazing to be able to go to this and meet solar vehicle teams from around the world and the kind of community that was there," she said.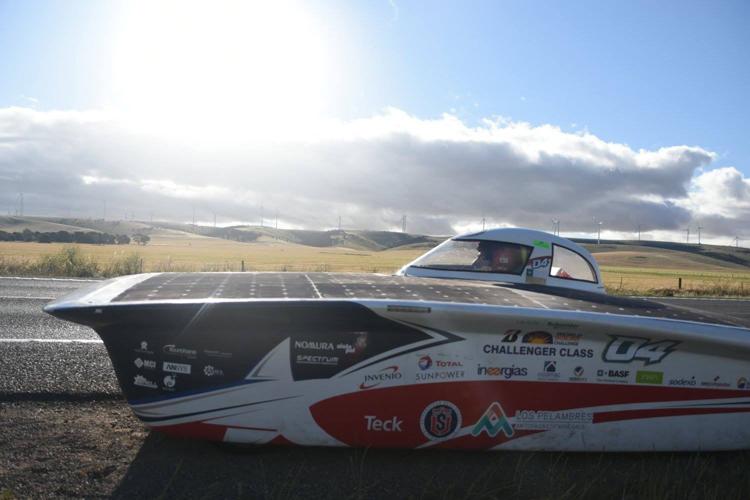 Team Sunergy is currently building a solar vehicle from scratch and designing it to be one of the more practical vehicles.
"We plan on having it be a two-seater car that looks like an actual car and has trunk space … something you would see yourself driving one day," Smith said.
However , it will not be able to blend in well with other cars just yet because they are built very low to the ground, have solar panels on the roof and are more light-weight than normal cars.
"We are still in the development process with the design, but we begin building it next semester," she said.
Smith is still debating on what field she would like work in post - graduation, but says she would love the opportunity to work in operations and logistics for clean energy groups.
"I think it is very important and I think it is the way we should start moving," she said.
To learn more about Team Sunergy from ASU, visit www.appstatesvt.com.
Staff Writer Jonelle Bobak can be reached at jbobak@morganton.com or 828-432-8907.