DREXEL, N.C. —The fall edition of the Drexel Community Fair is set to kick off festivities on Monday, Aug. 12.
The fall fair – a long-standing summer tradition for Burke County residents – will be held at 700 S. Main St. in Drexel. The hours are Monday, Tuesday, and Wednesday from 6-9:30 p.m.; Thursday, 6-10 p.m.; Friday, 6-10:45 p.m.; and Saturday, 5-10:45 p.m.
Drexel Community Fair President Don Deal said the fair has been running for more than 70 years, and is one of only two Agricultural Fairs in North Carolina with free admission.
Deal also said exhibits in the fair will include craft-model cards, flowers, canned goods, field crops, candies, art, antiques, hobbies/collectable items, and scale-model designs. The livestock exhibits will include cattle, sheep, goats, rabbits and ponies/horses.
For those interested in showcasing goods in the exhibits, entries will be received at the Exhibit Hall on Sunday between 2-6 p.m. Exhibit Hall Premiums will be paid on Thursday, Friday and Saturday from 7-9 p.m. There also will be a junior division for exhibit entries.
There will be booth displays, six nights of music, fireworks every night, and nightly drawing giveaways from a host of area businesses. The fair has taken home many awards for its "Goodness Grows" / "Got To Be NC Agriculture" booth displays promoting North Carolina Agriculture.
The Drexel Community Fair has long been a tradition for families throughout the Burke County area. Deal thinks it may be this fun, family-friendly atmosphere that keeps attracting more people every year.
"You know Drexel's (Fair), it's just something that's been going on — it's a great time to be outside," he said. "There are a lot of things you can see. We're family-friendly, and we've always tried to make it where a family could have a good evening of entertainment, food and good values. That's been our goal for many years, and I think that's what keeps me going."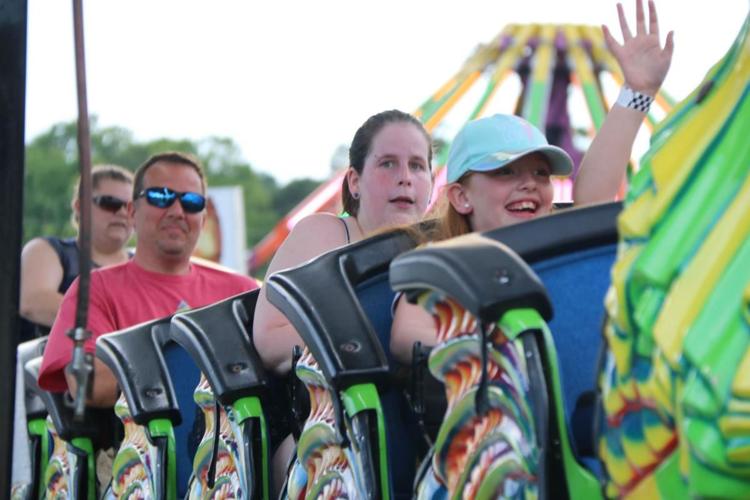 As always, there will be tons of delicious food available also. Deal suggests the Drexel Fire Department's country ham, and the Drexel First Baptist's liver mush sandwich. Burke County Cattlemen's Association will also be serving up some home-cooked food.
As for dessert, Deal says the Morganton First Church of God's big funnel cakes are one of the most popular treats.
"Church of God will make you all kinds of flavors — chocolate, strawberry, apple, and you can get about any topping you want on it," Deal said.
His personal favorites also include the pizza and pretzels from the Church of God.
"On a scale of 1 to 10, you can gain 5 pounds in there pretty easy," Deal joked.
The fair also will be putting on a carnival, with B&K Carnival Company providing the rides. Deal says the Scrambler is always a favorite ride for teenagers. While admission to the fair is free, armbands for unlimited rides are $15, and $2 discount coupons are available at the Drexel Community Fair website, and in-store at participating locations. Additionally, Family Pack bundles of 24 tickets will be sold for $20, and single tickets can be purchased for $1 each.
The fair staff is made up entirely of volunteers. Burke County Sheriff's Office and the Drexel Police Department will provide security for the event, with traffic assistance provided by Triple Community Fire Department.
N.C. Department of Labor officials will be on hand for the opening ceremony on Monday to announce the status of the carnival ride inspection process.
Labor Commissioner Cherie Berry will discuss details about the inspection process, including the status of the rides and other information about ensuring the safety of the fair rides. Commissioner Berry will recognize the Drexel Community Fair for its efforts to promote rider safety and for its participation in the Safety Amusement Star Program.
North Carolina is the only state in the country that requires rides to be 100 percent to the manufacturer's specifications before the ride is approved by the DOL's Elevator and Amusement Device Bureau.
Each night will also feature live music, with bands playing three to four hours of tunes on the Tire Maxx main stage. Lowdown South will return this year and play Monday night. Swamp Water, led by five-time Afghanistan veteran Justin Clyde Williams, will play on Tuesday. Final Approach will take the stage on Wednesday night, and Cadence will play on Thursday night. RoadRunnerz and Deacon Black will provide music Friday and Saturday, respectively. Fireworks will close the fair every night.