When people say "my life is a circus," it's often a figure of speech. In the case of local magician and balloon twister Dylan Rowe, at one point it was a reality.
For now though, his life just feels like a circus.
Rowe, 44, was born in Cheltenham, England. His mother is Welsh, his father is Irish, and he was raised in Monmouth, Wales, and Torquay, England. He moved to Marion 15 years ago, and has spent the last six years in Morganton. He currently lives in the Oak Hill community.
Rowe's professional name is "Twist The Balloon Man," and while he doesn't work twisting balloons or doing his magic tricks at every local college and pro sports event, sometimes it may feel as if he does.
He loves balloon twisting because it makes him feel young.
"I like it because it keeps the kid in me alive," Rowe said. "It's like literally sitting down and playing with Legos. I have giant inflatable Legos, and I can just sit down and put them together and build them and come up with whatever I want — from dresses and cartoon characters, to video game characters, to Disney, whatever I want."
Rowe is the official magician and balloon twister for the Carolina Panthers, Appalachian State University, Wake Forest University, and has done work for the Hickory Crawdads, Joe Gibbs racing and Western Carolina University.
"They keep me on the road a lot," he said. "I put about 5,000 miles on my car per month driving around doing gigs."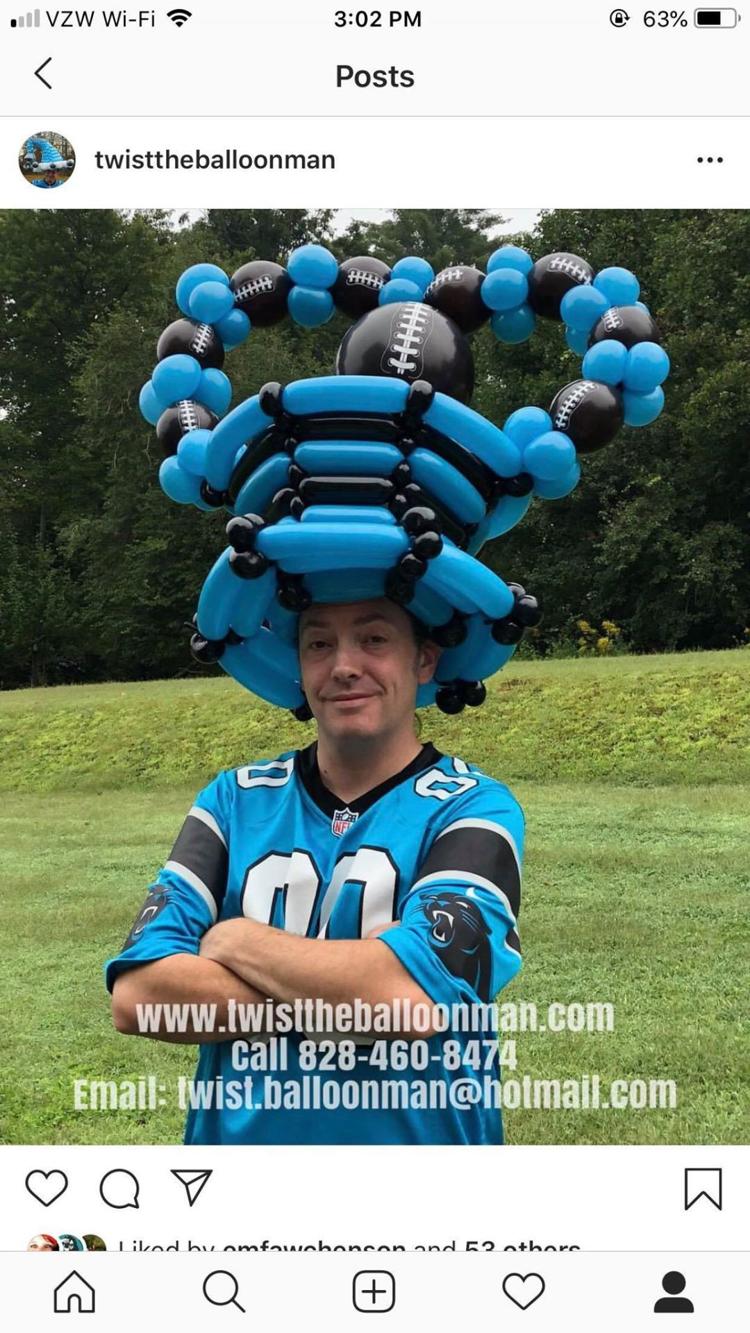 Rowe said he has opened and performed at about 20 different Chick-fil-A locations in the area. Every Monday, he performs at Maria's in Morganton for balloon night. From Tuesday to Thursday every week, he performs at Geppeto's — Tuesdays at the Hickory location, Wednesdays at the Denver location, and Thursdays at the Newton location. The second Friday of every month he is at 3 Hermanos Mexican Grill in Maiden.
His hard work has paid off though, especially lately. Qualatex — the biggest manufacturer and distributor of balloons in the world — runs a worldwide "color quest competition" in which balloon twisters create a design made entirely of balloons. Each competition features a new color and takes place every three months to be featured in their quarterly magazine publication called Balloon Magic. This particular competition's color was "chrome mauve," and was the first competition in which Rowe participated.
This week, he found out he received third place in the competition for a gown he crafted. His design will be featured in the September 2019 publication of the magazine. He estimates he used more than 200 balloons to create the piece. He said there are a number of different types of balloons that sculptors use: 260s — named because they are 2-inch thick in diameter and 60 inches in length, 160s, which are 1-inch thick and 60-inches long, and 5- and 11-inch rounds. His model for the dress was Christina Dawn.
In 2018, Rowe was awarded the Marvin Hardy Scholarship to attend the World Balloon Convention in San Diego. Hardy, who Rowe called "the granddaddy of balloon twisting, and one of the first people that started taking a balloon dog and turning them into extravagant balloon designs "
"I really can't describe to you how amazing the World Balloon Convention is," he said. "It's like walking into the factory from Charlie and the Chocolate Factory. It's wall-to-wall balloons, left, right and center. You're talking thousands of delegates from all over the world. They're all competing. They're all making balloons. They're all decorating at the same time. It's something that can only be described in pictures."
This event, which he called "the Olympic games of balloon twisting," takes place every four years. People from more than 50 countries participated in the event. At the WBC, the large sculpture competition features teams split up by region of the world, with teams having up to 20 members.
In 2018, Asia took first place with a 30-foot-tall tiger in a samurai costume, while Russia was awarded second place with their snow fox design. The U.S. team's Ursula earned third place, though Rowe was unable to participate in the event because he was awarded the scholarship. He plans on attending and competing in the 2021 event in Orlando, which will be held March 23-25.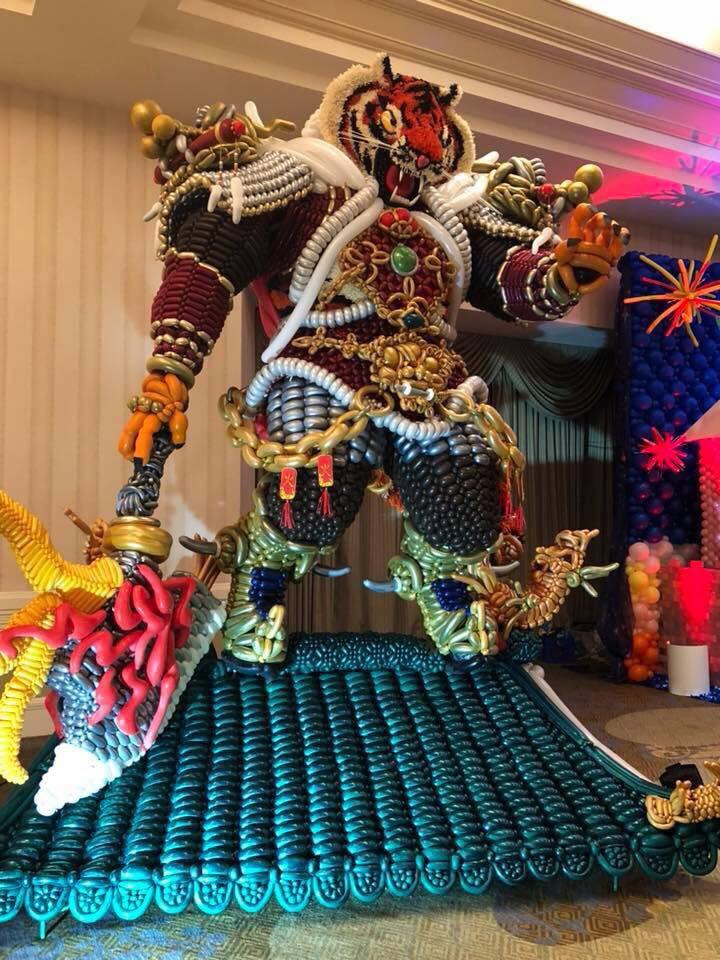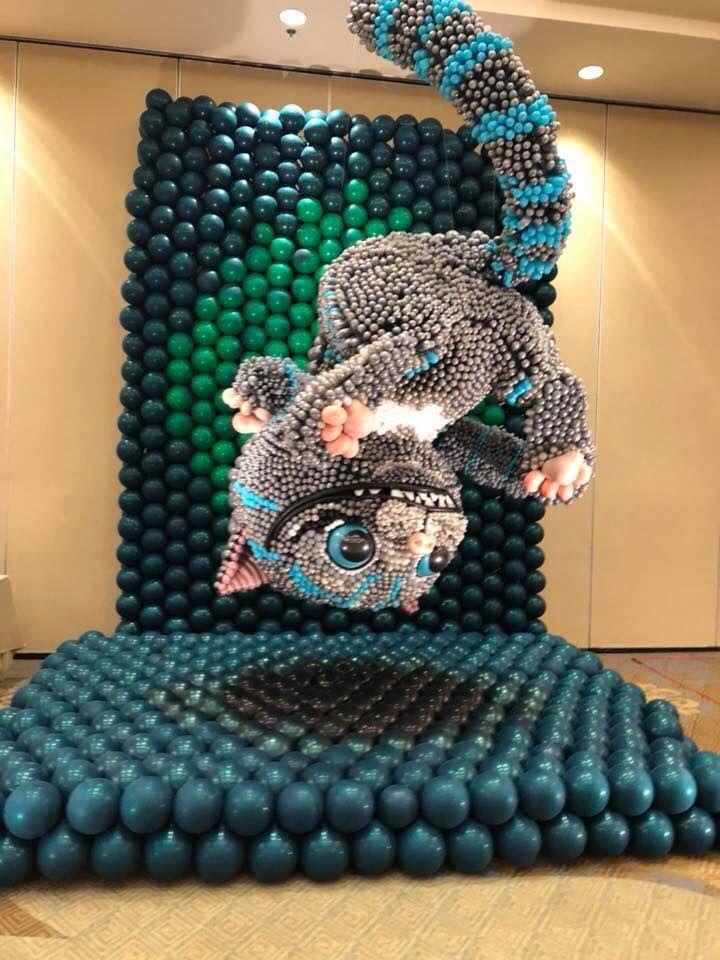 For as long as he can remember, he has been interested in balloon sculpture and in other circus festivities. He tried to join the circus at age eight, but he joked, "They returned me rather promptly to my family."
Though they returned him to his family, they told him about a summer camp where he would be able to train with the circus.
"My parents used (the camp) as a carrot and said, 'Get good grades and we'll take you to summer camp,'" he said. "I trained with them in the summer and learned magic, juggling, balloon twisting, stilt walking."
Rowe's busy schedule is nothing new, as he traveled all over Europe with Billy Smart's Circus. He said he traveled to France, Italy, Spain, Portugal and Germany, to name a few. Since he's been in North Carolina though, his schedule has remained equally busy.
"There are days I can leave Morganton, drive to Boone for ASU, leave and drive to Wake (Forest) for their game, and then down to Charlotte for a party," Rowe said.
Still, this is all he knows. Plus, it keeps him young, he said.