Alone and afraid, Seth Loven began to cry.
But it was not the Seth Loven of today — the 23-year-old who aims to inspire others and who takes pride in who he is.
This version of Loven was crying because his teenage mind couldn't take one more second of people making fun of him. And as he fought back tears caused by constant jokes about his sexual orientation, he also fought back the urge to take his own life.  
"(Burke County) is where I was bullied the most, so this is where I want to make a difference," Loven said. "We need the community to better understand us."
As the president of LGBT Burke, Loven said he plans to make that difference by helping the organization host the second Burke Pride event on Saturday.
Burke Pride will be held from 11 a.m. to 3 p.m. on the Historic Burke County Courthouse lawn and will feature more than 10 booths, food vendors and a DJ.
The booths will be operated by different organizations, including those focusing on AIDS awareness, adoption and social equality. There also will be a kids' corner with activities and a photography booth.
Loven, who is openly gay, said he hopes the environment is welcoming for all people. He expects more than 500 people to attend, but he also expects protesters to gather as they did last year at the inaugural event.
"For protesters to hate us so much, they are at every gay pride," Loven said. "But it's a good thing, and it's a bad thing. Last year, we had a lot of people just stopping to see why they were protesting. Then they saw what we were doing, realized we were a great group and visited with us."
Morganton Department of Public Safety Capt. Jason Whisnant said officers will be on hand Saturday to make sure the event remains safe for everyone.
Two officers will be providing personal security at the event, and the special operations division will provide additional officers as it would with similar events and parades, Whisnant said.
"A person's right to protest will not be stopped so long as it is within city ordinances," Whisnant said. "Verbal de-escalation is always our go-to when the situation allows. Most of the people with opposing viewpoints just want to be heard, and sometimes the police can be the median."
Police Chief Ronnie Rector said city ordinances provide some limitations to protesters at events like Burke Pride. No amplification devices can be used, and signs are not allowed to be attached to a handle, he said.
Protesters also cannot organize in groups of three or more without a permit and cannot use threatening words, Rector said.
Dillon Stillwell peacefully protested at the event last year by handing out free water and talking to participants about their beliefs. He said he plans to protest again this year and hopes some of the louder protesters will re-consider their approach.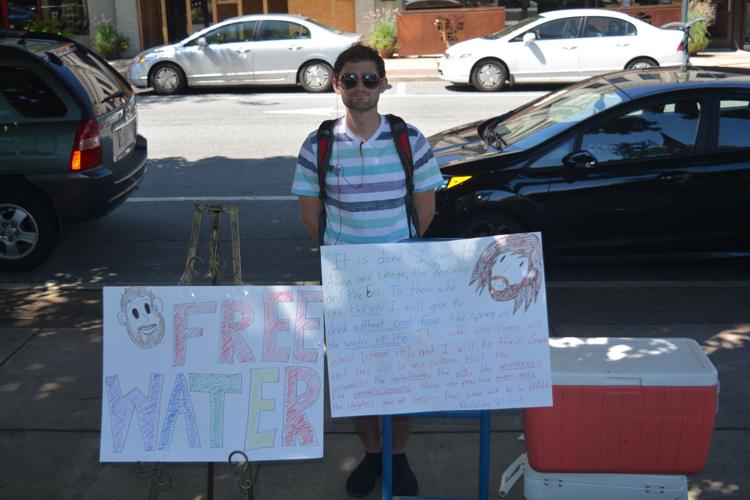 "While I am opposed to the sins of homosexuality and perversion, I still try to reach out to those who practice it, much like how Jesus would preach among the prostitutes," Stillwell said. "I think (peacefully protesting) is more effective because love is more effective. People are more willing to listen to you when they see that you care about them."
But the Morganton Humanist Alliance will try to turn negative protesting into a positive. Through the alliance, multiple businesses, organizations and individuals have pledged $1 to Equality NC for every minute of negative protesting. Equality NC is a group focused on obtaining equal rights for the LGBTQ community.
Assuming four hours of protest will occur, the maximum contribution from each contributor is $240. And according to the Morganton Humanist Alliance's website, $1,851 has already been pledged.
Brown Mountain Bottleworks also will donate $1 to LGBT Burke for every pint that is sold during Burke Pride hours.
But in addition to raising money and awareness about the LGBTQ community, Loven said he hopes the event will inspire others to be themselves without fear.  
"I would say don't be scared," Loven said. "Last year, I had death threats, but don't be scared. Stand up for what is right. This is part of us. This is part of humanity. Stand tall."
But although Loven has been thinking about Burke Pride for weeks, he still has cried. After being diagnosed with cancer two weeks ago, he decided Saturday will be his last day as LGBT Burke president.
But as time has passed since his diagnosis, he has cried less and less because he realizes his role is not what's important for the LGBTQ community. The important thing is what the LGBTQ community and its allies do to help each other, Loven said. 
"There are so many ideas for this community, and I think it has become more accepting," Loven said. "We have come a long way. We have fought for this — to be open. We have fought to be free."