ICARD — The 2019 graduating class of East Burke High School held their commencement ceremony on Friday evening with a packed house cheering them on.
As "Pomp and Circumstance" started to play, the graduates poured into the gymnasium to start off the ceremony.
Graduating senior Quentin Whisenant led the crowd in a moment of silence in memory of Myles Davis, who died in a car wreck in January. A seat among the seniors was left open for him during the graduation ceremony and a flower arrangement was placed on stage in his memory.
"Thank you , Myles , for all the time that we have shared." Whisenant said. "I know I am not alone when I say that I hope to see you again."
Salutatorian Morgan Hall reminded students of the many memories that they have made over the past school year including the homecoming football game and how they raised money for local food pantries to the senior walk at their former elementary schools, prom and senior awards day.
She introduced a video clip that was sent to the school by country singer Eric Church, who graduated from South Caldwell, congratulating the seniors on their accomplishments.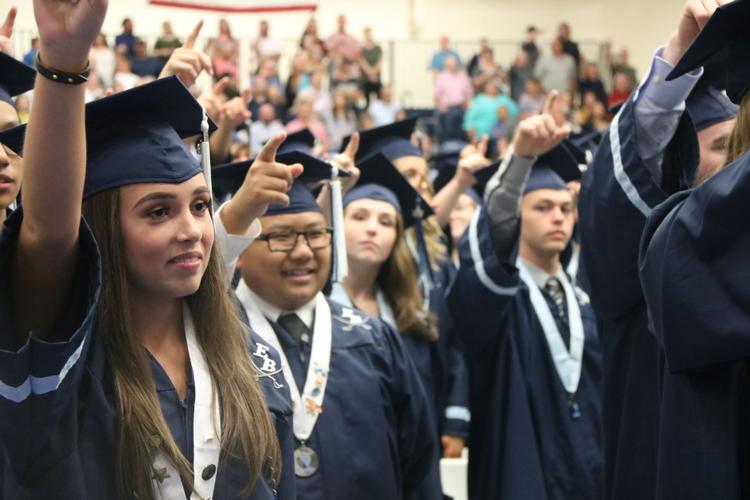 Jennifer Clark, valedictorian, reminded her classmates that when failure comes to not focus on the failure, but what you will learn from it.
"Abraham Lincoln said 'my great concern is not whether you have failed, but whether you are content with your failure,'" Clark said. "Your mistakes are not as meaningful as what you are willing to do with them. The important moment of being a failure is taking your embarrassment or ignorance and to develop a determination never to let a failure stop you from moving forward."
Principal Katie Moore stood up in front of the graduating class and spoke of how they all have worn many different hats of responsibility.
"You have worked and studied, practiced and played and grown," Moore said. "Now you are here and ready to begin your lives as members of the adult community."
She gave those in attendance a few facts about this year's class including the following.
» Collectively, the class was given 1.3 million in academic and athletic scholarships to either four-year universities, community colleges or technical schools.
» Forty-four percent of the seniors plan to go to a community college or technical school
» Twenty-six percent of the seniors plan to go to a four-year university
» Twenty-two percent of the seniors plan to go into the workforce
» Five percent of the seniors will be enlisting into the United States military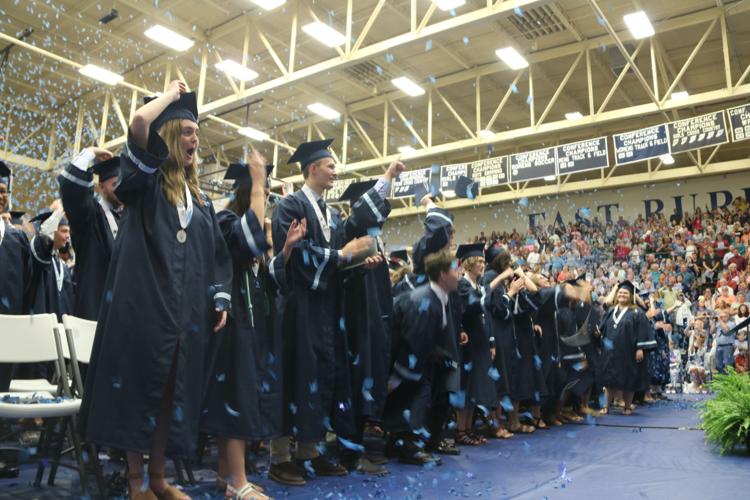 "We are extremely proud of all of our seniors," Moore said. "Whatever course your future takes , it is my sincere hope that you will look back on your years at East Burke High School as having prepared you to meet and build on the challenges that life presents."
Graduates then , one by one , walked across the stage to accept their diploma and be greeted and congratulated by members of the Burke County Board of Education and BCPS administrators.