Panther pride was felt all around as the seniors at Patton High School officially became high school graduates on Saturday morning.
Once seniors entered the gymnasium, the national anthem was played, an invocation was given and the Patton High School Chamber Singers performed "A Parting Blessing."
Senior Delaney Medina welcomed graduates and their family and friends to the ceremony.
Student Body President Mason Streppa thanked his classmates for making Patton "feel like home."
He spoke of all the athletic success many of the sports teams have accrued over the past four years, how the band received 19 superior ratings at musical competitions and how the senior class was responsible for the highest ACT test scores in school history last year.
"All that to say that this class has not settled for the status quo, but has in fact pushed their limits and reached new heights," Streppa said. "So, class, I encourage you to continue striving for greatness and to not ever let someone tell you you can't do something. Class of 2019, we've made it here, together."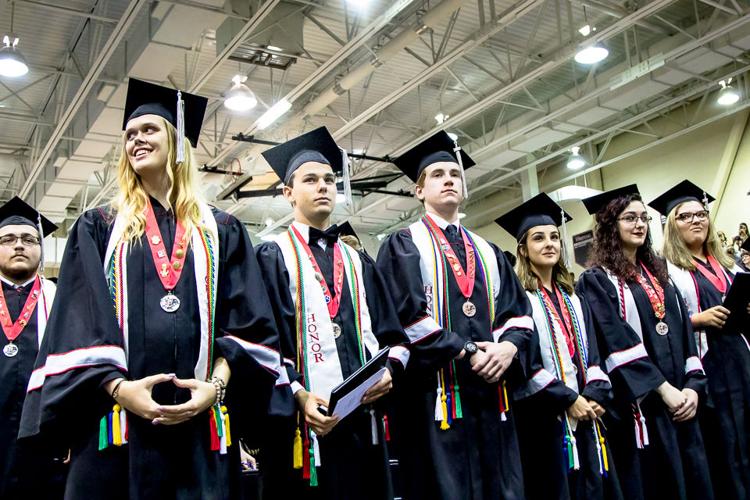 Student and the audience then heard from Caitie Thompson, the class salutatorian, who gave a look into the past four years and the memories made.
"So… to the class of 2019… here's to us," Thompson said. "Here's to the long nights of studying, here's to the early morning practices. Here's to our teachers and all of their efforts and hard work to support us, here's to the classmates who are no longer with us, we know you are in our hearts, here's to the bonds made throughout these four years, and here's to the future!
Before the grads were sent off with their diplomas in hand, Valedictorian Beth LeCroy told students that Patton High School gave them something that nothing else could.
"This physical entity created a community with which we will be bonded forever," LeCroy said. "It gave us acquaintances that turned into friends and teachers and faculty that turned into role models."
No matter the path that the members of the class of 2019 take in their lives, LeCroy said she hopes that they follow their dream.
"Find the small moments of kindness, love, compassion, thoughtfulness, boldness and happiness," she said. "Celebrate, cherish and remember those times too, for that is what community is laid upon. So go and build these new communities wherever your feet take you, using what you learned here, at these hallowed halls of Patton High School as your foundation. You are ready. We are ready."