Volunteer firefighting has been a pillar in the Lake James community for 50 years, something the department looks to celebrate Saturday.
Lake James Fire and Rescue will hold its 50th Anniversary Celebration at the department Saturday from 11 a.m. to 2 p.m. Anyone living in Lake James' fire district is invited to attend.
A barbecue lunch will be offered at noon after a short program to honor the department's four founders and recognize current volunteers, said Jim Powers, president of the department's board of directors.
The department's four founders – James Davis Jr., Lewis Fullwood, James Kincaid and Carl Crisp – started in 1969, building the department up from scratch.
"Originally those four founders … they envisioned this need for this service in this community," Powers said. "They talked about it, organized, researched the beginning of fire departments, actually bought (the original) fire truck and secured the land to build the fire department on."
Fire Chief Alexander Corpening has been with the department for 49 years, and has served as chief for 23. He joined after his father-in-law got his family involved.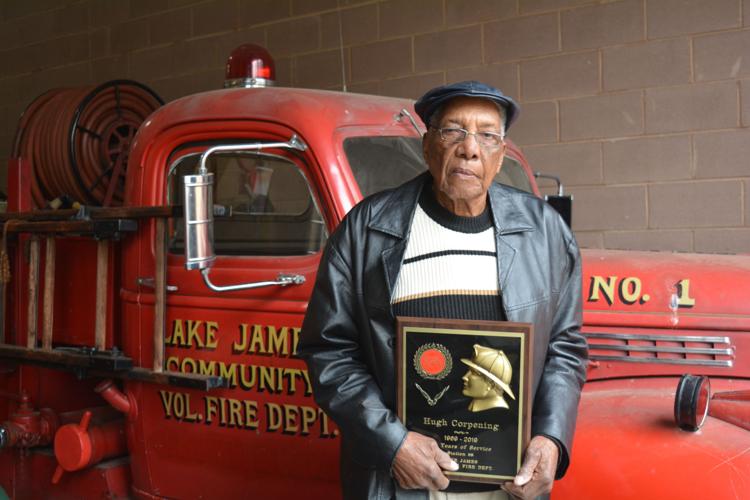 "Those guys, when they started, they didn't have anything," Corpening said. "Actually, when it started, the majority was black. I think they had a couple of white guys there. I just decided to join it and see what help I could do. I thought we did pretty good from that time on."
While the department today has a building with multiple truck bays to house fire engines and rescue vehicles, its beginnings were more humble.
"[The founders] got the … Oak Hill High School masonry class to actually lay the blocks or brick for that building," Powers said.
Department members originally went door-to-door to fund the organization.
"At that time, the fire department was financed completely from volunteer contributions from the community and some of the businesses in that area," Powers said.
But as the department has evolved, so has its revenue sources. Now it collects tax money from Burke County to help keep equipment in tip-top shape.
Corpening said he could remember the early days when the department only existed to fight fires.
The department now answers an average of 226 calls per year, ranging from first responder and rescue calls to fire calls, Corpening said.
Some of those calls may turn out to be false calls, but Corpening said that doesn't matter when you're responding to the call.
"You have to take every call serious, whether it's a false call or … a prank call," Corpening said. "But you've got to take them serious because you never know what you're going to run into."
Corpening has high hopes for the department moving forward.
"[We need a ] fire boat with rescue capabilities, that's going forward," Corpening said. "And a substation and paid personnel. [Those] three things, we're looking forward to. That's in our long-range plan."
That's all in addition to continuing to train, keeping up with equipment maintenance and staying alert.
Anyone interested in joining the department can stop by the station to pick up an application or contact Corpening for more information.
"You have to have a neck to help people," Corpening said. "I like to help people. Through the years, we help a lot of people, and people need help in times of distress."
Chrissy Murphy is a staff writer and can be reached at cmurphy@morganton.com or at 828-432-8941. Follow @cmurphyMNH on Twitter.