For the 119th time, the North Carolina School for the Deaf graduated its senior class on Wednesday night to help them start a new journey in life.
The eight graduates , including Andres Felipe Cantillo Navarro, Walter Jarib Giron, Nycobian Tazir Lineberger, Gustavo Lucha, Henderson Alexander Maldonado Perez, Jose Francisco Ramirez Zarate, Claudia Nayeli Romero Elvira and Dayna Karolina Woy, were able to share their favorite memories at NCSD, look back on special moments through picture slides and give encouragement to their classmates.
John Serrano, Atlanta Area School for the Deaf superintendent, gave the commencement speech and talked with the graduates about how success can be theirs even though they may face obstacles in life. He gave examples of some very prominent and accomplished public figures who overcame many difficulties including Supreme Court Justice Sonia Sotomayor; Leah Katz Hernandez, White House receptionist who is deaf; Nyle Dimarco, winner of Dancing with the Stars who is deaf; and Julia Velasquez, the first deaf astronaut.
He encouraged them by saying that having hope will help them get through the negative times in life.
"I want to give you all a little secret," Serrano said. "With all the negativity in the world, how do you keep going and move past that? This secret ingredient is hope."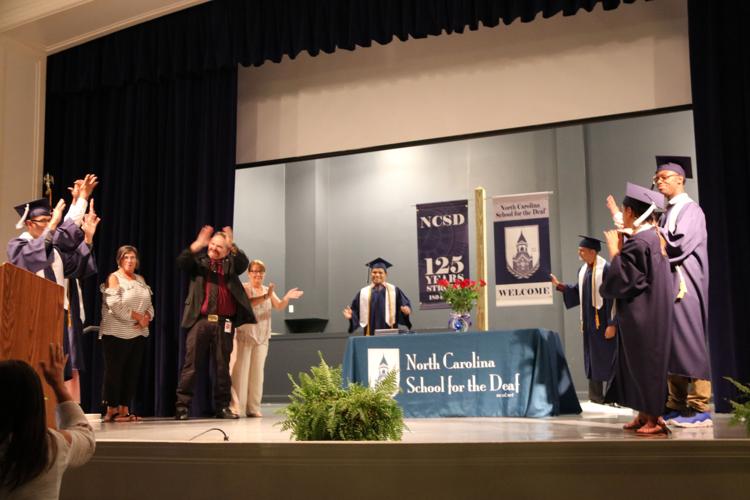 There will be successes and barriers in your future, he said.
"But most importantly you have to have that mind set of what you want and work for it," Serrano said.
He encouraged the graduates to use their support system, remember their roots and realize that their teachers invested in them so they can give back to their communities.
Gustavo Lucha, class valedictorian, spoke about how he was scared when first becoming a part of the NCSD family.
"Teachers and staff had to encourage me to be social with the other students," he said. "The teacher taught me American Sign Language … I learned it and became better and I learned math, reading, social studies."
He thanked his mother and teachers for helping him to create a better life for himself and for helping him realize that even though he is deaf, he can do things he thought were impossible.
Each senior made a video that expressed their favorite memories from their time at NCSD to share with family and friends.
Scholarships from the NCSD Foundation were given to Lucha and Claudia Nayeli Romero Elvira. The Tim Shane Scholarships was awarded to Walter Giron. The Southwest College for the Deaf Scholarship was given to Nycobian Tazir Lineberger. Lucha was selected again to receive the Governor Morehead School Alumni Association Scholarship.