VALDESE — Out of 32 participants in last month's N.C. High School Firefighter Challenge, four came from Draughn High School.
The four Wildcat firefighters — Jordan Hensley, Matt Kizer and Ben Whisnant and junior Harley Kestner were chosen from a highly competitive statewide application process by the N.C. Fire Marshal's Office, according to a press release from the DHS Fire Academy.
The release, which came from Draughn Firefighter Technology Instructor Chris Treadway, said Hensley, Kizer, Whisnant and Kestner were selected based on their ability and skill development. Treadway's fire academy students complete coursework and train just like any other firefighter, except they do it at school. The training is described as rigorous and demanding.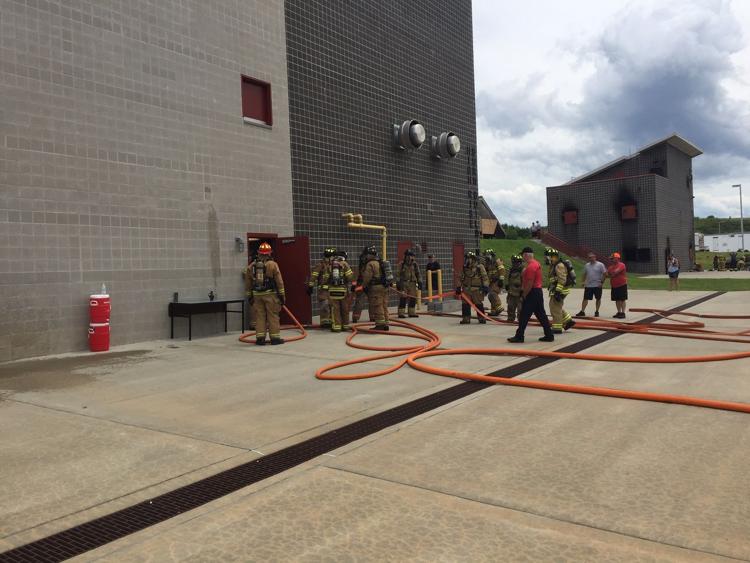 The students attended the firefighter challenge during the week of June 24-28 at the state-of-the-art Asheville-Buncombe County Emergency Training Center. They were housed for the week at Mars Hill University. Each day, students reported for roll call at 6:30 a.m., ate breakfast at 7 a.m., recited the Pledge of Allegiance and did a devotional at 7:30 a.m. and were in engaged in training by 8 a.m. Students returned to dorms at 6 p.m. for dinner and review of daily activities at 8 p.m.
The firefighters' week consisted of extensive and demanding training that had a team challenge built in for daily competition. All of the training was conducted by the staff of the state fire marshal's office. The instructors were specialists in all technical areas of fire and rescue training.
Students received training in fire behavior and flow paths, tying knots and using ropes, ventilating roofs, forcible entry, hose handling and nozzle control, engine and ladder company functions, firefighter survival including rope and ladder bailouts, search-and-rescue with victim removal, rapid intervention teams, anchoring and rope rappelling from roof of five-story building, vehicle extrication, and job application and interview skills.
"This was a huge accomplishment, and I cannot emphasize enough how difficult the training was they participated in," Treadway told The News Herald in an email.
Treadway said the training was some of the best the students ever will experience and was physically demanding, with only 26 students completing the challenge. A graduation ceremony was held with guest speakers and family in attendance. Certificates were presented by Brian Taylor, the chief state fire marshal and assistant commissioner of the N.C. Department of Insurance.