Perhaps former Hall of Fame chair Gary Leonhardt put it best: "The Burke County Sports Hall of Fame did itself a service by inducting these two new members."
Thursday's induction ceremony at the Morganton Community House served as a celebration of the lives and careers of a pair of local legends, Eddie Holbrook and Rev. Willie Flemon McIntosh Jr.
Holbrook, 80, was inducted into his fifth hall of fame. He was already a member of the Cleveland County Sports (1972), Gardner-Webb (1991), Lenoir-Rhyne (2004) and NC American Legion Baseball (2012) halls of fame.
He played basketball at Hildebran High School, from where he graduated in 1958, before accepting a scholarship to play for Wake Forest. He instead transferred to L-R, leading the Bears to two conference championships and a pair of NAIA district runner-up finishes on the hardwood.
Holbrook then coached Gardner-Webb from 1964-78, leading the program's transition from the junior college to NAIA ranks. With the Runnin' Bulldogs, his teams won 343 games and sported an .841 winning percentage, finishing with season-ending top-10 national rankings on 12 occasions and winning 30 or games in four different seasons.
"The year before I went, Gardner-Webb had won one league game and about three total games," Holbrook said. "I got the job late and our staff put together (a recruiting class of) Terry (Rogers) and a couple other guys. We weren't the most talented or the biggest, but we were going to be the toughest and best-disciplined team.
"Terry came in weighing in the 190s, and I told him after that first year, if you want to play next year, you come back weighing in the 150s. And he did it. That example I will never forget. We had won the conference championship that first year, and we all wanted more. We won it again that next year. It showed me that guys who buy in to what you're trying to achieve will make you look good and send a message what you're all about. That ended up being integral part of my coaching philosophy for 20 years."
Holbrook played for fellow Burke County Sports Hall of Famer Melvin Ruggles at Hildebran. Rogers, who played at George Hildebrand before his time with Holbrook at Gardner-Webb, went on to lead Freedom to two 4A state titles and is also in the Burke County Sports Hall of Fame.
"I feel like (Ruggles' and Holbrook's) grandson when it comes to coaching," Rogers said, "and that feels awfully special."
Rogers said faith, family and hard work were staples of Holbrook's coaching, calling him "the best coach I've ever known."
Rogers noted Holbrook's winning percentage is an all-time NAIA best and said his 1971-72 team averaged 104 points per game. He also noted a span of 82 straight home wins by Holbrook's Bulldog teams.
Also the Gardner-Webb athletic director, Holbrook hired Morganton native Oval Jaynes as football coach in 1975. Jaynes said upon his first introduction to the team, he preached to them the need to get in the weight room and on the running track to get in better shape.
"We're going to outwork everyone, I told them," said Jaynes, also a Burke County Sports Hall of Famer. "The next morning, I hear some clanging in the weight room at 6 a.m. … It was Coach Holbrook. I thought I'd made an impression on the kids, and I'd only made an impression on the AD."
Jaynes went on to become a college AD himself, later offering Holbrook the Auburn basketball job (which he would turn down). Jaynes said he learned a lesson from that morning in the weight room: "Be the first one in the office."
Holbrook later coached at Furman for four years, leading the Paladins to the 1980 Southern Conference regular-season and tournament titles and an NCAA Tournament berth.
In the early part of this decade, Holbrook co-headed the committee that brought the American Legion World Series to Shelby starting in 2011. And in 2015, Gardner-Webb renamed its basketball court, "Eddie Holbrook Court."
Holbrook was awarded the Order of the Long Leaf Pine award, the highest award for a North Carolina resident, and served four years on the Cleveland County Board of Commissioners, the last two years as chair.
 "I didn't want to coach all my life. I wanted to do other things," Holbrook said. "I felt like the world is full of opportunities, and I wanted to take some of them. Those opportunities for me began here in Burke County. I want to thank you from the depth of my heart for this honor. You probably don't understand what this means to me. It takes me back to my roots."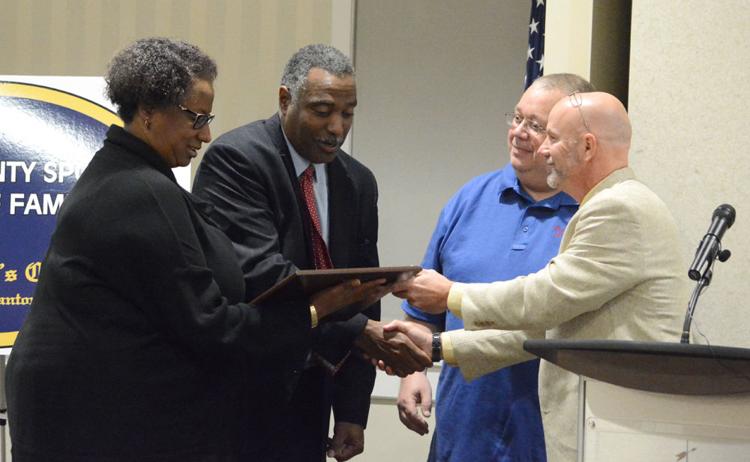 McIntosh was an offensive lineman in football at the high school level at Marion County Training Center in northeast South Carolina and later at Johnson C. Smith University in Charlotte, where he graduated in 1949 after a tour of duty in the Army on both theaters in World War II.
Upon graduation, he moved to Morganton and served as a football coach and math teacher at Olive Hill High School. While there, his best team went 12-1 in 1963 and lost in the state championship game. He later coached the offensive line under head coach Earl Broome on Morganton High's football squad post-segregation.
McIntosh then took to the press box the year that Freedom High opened in 1973, when he worked with the school's first public address announcer Graham "Pee Wee" Anderson for 11 seasons. In 1984, after Anderson left the press box, McIntosh headed things up solo for the next 23 seasons until 2006, making famous his call: "On the banks of the majestic Catawba River."
"He let the good times roll from the press box," said McIntosh's daughter, Willette. "We knew Freedom High School very well as children before we ever knew it as adults, and our memories are filled with dad wearing his Freedom hat and that Freedom red jacket.
"We knew on his daily tour of the radio station, The News Herald, AJ's, everyone had a Coach Mac story they could tell. … We couldn't be more proud of the man he was."
After leaving the PA job, McIntosh still spoke to the Patriots football team each preseason until 2011, and in 2015, the FHS football press box was named in his honor. McIntosh passed away at age 90 in June 2016.
"When you talked to him, Mr. Mac always gave you something to think about," said Maurice Beam, one of the speakers honoring McIntosh. "I'm sad he doesn't get to be here and see this, but it doesn't diminish it a bit."
McIntosh's son, Willie III, called his father's HOF honor "very humbling."
"I remember dinners from the Freedom vending machines, dad calling the Associated Press to report all the football scores from the area, him staying late to wash uniforms," Willie said. "Why would someone do that with so much of their time?
"It wasn't just his love of the game. He believed football was a tool to impact lives outside the game. Our country is in crisis right now. But one thing we can agree on is sports. What he believed was giving ourselves to our communities no matter the sacrifice.  You as teachers, coaches, community leaders have to go find that kid whose grandparent just died, whose family split, who's struggling, because he could be what saves our community."
The Men's Club and the Morganton Parks and Rec Department co-sponsor the local Hall of Fame. Thursday's were the first inductions in almost four full calendar years.
The HOF, established in 1993, now has 24 members. They also include Billy Joe Patton (1993), Doug Cline (1994), Ralph "Jug" Wilson (1995), Joe Cheves (1999), Ruggles (2001), Marsha Crump (2002), Charlie Horton (2003), Perk Reinhardt (2003), Bill Cline (2004), the 2004 Morganton Little League All-Star baseball team (2004), Roy Waters (2007), Jaynes (2008), Rogers (2008), Leon Johnson (2010), Clinton Foust (2010), W.A. Hord (2011), Charlie Crowe (2011), Joe Brown (2012), Earl Causby (2013), Johnny Jacumin (2013), Durward Buck (2015) and the 2015 Morganton Big League All-Star softball team (2015).