VALDESE — After almost a year in the making, 8,000 pounds of iron has been cut, welded and assembled into an art piece that symbolizes what was the start of a new town 125 years ago.
The silhouette of a train, standing at 12 - feet high and 30 - feet long, and several Waldensians is being constructed out of iron and placed near the Valdese Town Hall as part of the 125th anniversary celebration of the town of Valdese.
The art piece represents the first Waldensian settlers arriving by train to found the town of Valdese.
"When thinking about what represented the t own of Valdese I couldn't help but be drawn to the theme of uniting to overcome adversity," said Town Manager Seth Eckard. "Valdese is an emerging and very strong community. We wanted to make something that represented the history of our community as we celebrate the 125th anniversary."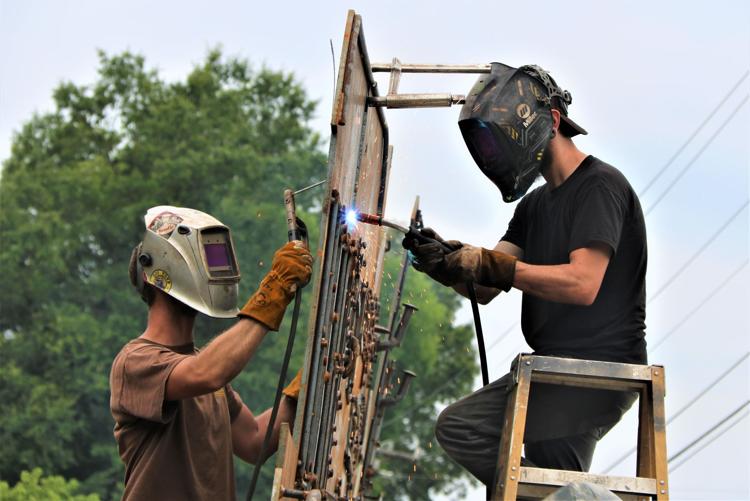 The design was created by Greg Mastin, of Valdese, who is on the Valdese Public Arts Committee.
Mastin started his research by looking at other small town art projects around the country and quickly came to the realization that silhouette motifs were a popular choice. He made a small scale model of the train for the town to look at, which led to a partnership with Oak Hill Iron and Wood in Morganton.
He channeled his childhood memories of what he remembered a train depot looking like and put that into his design.
"It has been really fun and working with Oak Hill Iron has been a real treat, too," Mastin said.
There will be 10 iron silhouettes of Waldensians on a platform in front of the train representing the first 29 settlers in Valdese, said Dean Curfman, owner of Oak Hill Iron and Wood.
"This is truly an artistic representation of the train that came through (125 years ago)," said Lynn Curfman, also an owner of Oak Hill Iron and Wood. "This is just an artistic moment in time."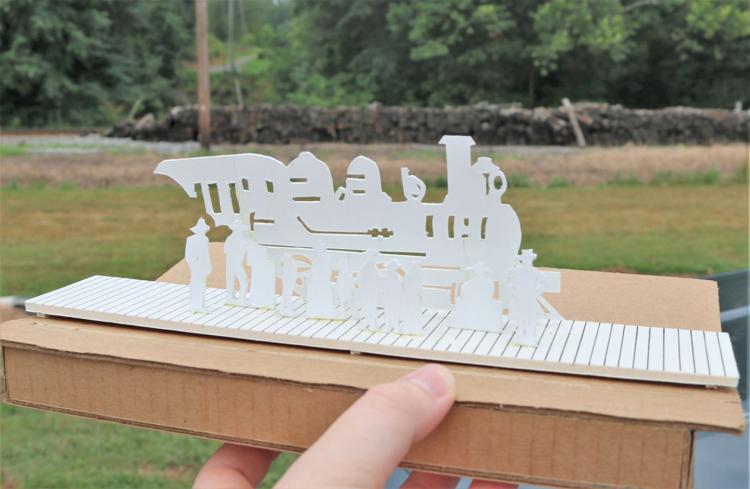 Both Dean and Lynn give credit to their whole crew for making the project happen.
"Everybody on my crew from either cutting it out to embellishment or ideas … I made sure they had a lot of their own input," Dean said. "The crew is what makes it (happen)."
The cost of the project, including a new expansion, is estimated at being around $100,000, said Morrissa Angi, town of Valdese community affairs director.
The iron piece has been estimated at $50,000 and a new addition, including a boardwalk that leads to a depot-like gazebo, will be the other $50,000, Angi said.
The iron train and Waldensians silhouettes have been funded by the Valdese Public Arts Commission, the town of Valdese and Waldensian Heritage Museum. The boardwalk and gazebo are being funded by private contributors, she said.
"We understand that our public spaces need to be appealing and attractive," Eckard said. "Art is an important part of that effort, and we hope that this sculpture is just one of many public art installations we can look forward to in Valdese in the future."
They plan on officially dedicating and debuting the iron piece during the Waldensian Festival in August.