"I fought for this freedom and I'll fight again," a man shouted from the passenger seat of a truck while driving through downtown Morganton Saturday, the site of a Reopen N.C. demonstration organized to protest the state government's closure of businesses.
More than 40 protesters showed up for the protest Saturday, which began at 11 a.m. at the old courthouse square.
Shanon Stanbury, who organized the Morganton protest, said she showed up Saturday to make people aware of the Reopen N.C. movement locally.
"It's time for us to be able to reopen our businesses and life to get back to normal – not just a new normal, but normal," Stanbury said.
Reopen N.C. is a statewide political movement which was first started in early April as a Facebook group. The group, which was co-founded by Morganton resident Ashley Smith, now has more than 73,000 members in its private Facebook page. The movement, which first started with weekly protests in Raleigh, was started with the goal of applying administrative pressure – to be a "squeaky wheel" or an "administrative headache" to governments, according to Smith.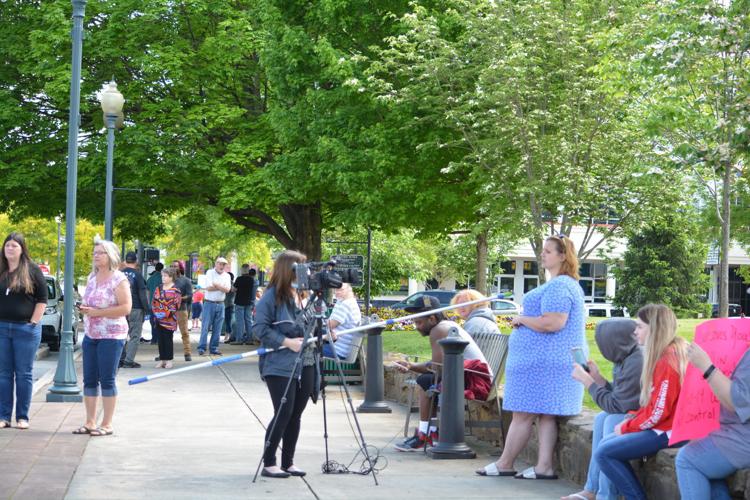 The Reopen N.C. group is "mostly business owners and employees that are losing our income and denied our right to provide for our families (who) have come together to demand action from their elected officials," according to its Facebook page.
Marine veteran and Burke County resident Corey Carswell, 26, said he came out to the protest Saturday because he felt like it was important to stand up for the Constitution.
"I came out to help fight for the values we believe in, including the right to worship God," Carswell said. "I don't believe any government should ever be able to dictate how you worship God. I don't think the government should be able to tell the people they have to do anything, as long as people aren't breaking laws. I'm out here defending the Constitution and the oath that I took as a veteran. I support everyone who's trying to reopen here in Burke County and all across the U.S."
Shaun Simons, 39, owns Your CBD Store in Morganton and another location in Concord, N.C. Simons, who started the local store in Oct. 2018, said he showed up Saturday to protest even though both of his stores remain open.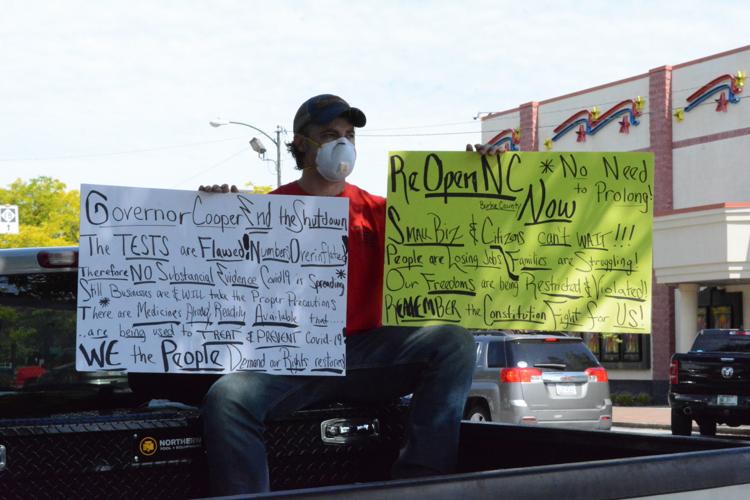 "I'm out here showing support to all the local businesses and (let them know) that there's a big voice behind the ability for them to be able to reopen and work off the same restraints as "big box" stores and a lot of other businesses who have been able to stay open," Simons said. "Who gave anybody the right to decide which business was essential or nonessential and basically, which ones we were able to lose? That's what we did – we closed businesses and we shut things down originally to figure out what the capacities are in the health care system."
Simons said he understands both sides of the argument, as his wife works in health care as a travel lab technician. She is currently working doing testing at a small hospital outside of Bowling Green, Kentucky, Simons said.
"Now, we're stretching (the stay-at-home orders) out under the disguise that it's for public safety and the numbers just aren't adding up in our local communities," Simons said. "I think it's about time for us to regionally figure out ways to reopen county by county in areas where they weren't that badly affected."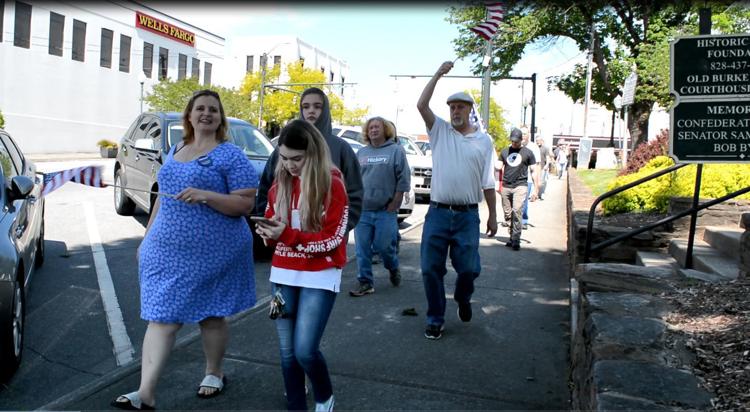 Tommy Wentz was protesting Saturday with two signs in the bed of his truck. Wentz, who is employed at Freightliner and has been working with a mask throughout the shutdown, said he wanted to show the state could let businesses get back to work responsibly.
"If I can (work), there's no reason small businesses can't," Wentz said.