The Burke County Board of Education's agenda meeting on Monday signaled the new direction the board will take throughout the course of the next two years, as board members voted Buddy Armour to be chair and R.L. Icard to be vice chair.
BOE attorney Chris Campbell conducted the election of chair and vice chair for the new board, which are decided on a majority vote. When Campbell opened the floor for nominations, Don Hemstreet nominated Armour for chair, while newcomer Wendi Craven nominated Seth Hunt.
Since the voting proceeded in the order in which nominations were received, the board first voted on the nomination of Armour. Edna Weller, R.L. Icard, Armour, Sam Wilkinson and Hemstreet voted in favor of Armour, giving Armour the win on majority vote.
Next, Campbell opened the floor to nominations for vice chair. Weller nominated Icard, while Hemstreet nominated Hunt, who declined the nomination.
"Dr. Hemstreet, with all respect and gratitude, I respectfully decline," Hunt said.
When no other nominations for vice chair were offered, the board took a vote and unanimously voted for Icard.
""I'm honored to have that privilege," Icard said. "Just to serve. It's another way to serve the kids."
Serving as the next chair of the board is "humbling," according to Armour.
"These are my peers, and they feel like I can lead them into the next place we need to go, which is onward and upward" he said. "We've got kids who are doing so well — from a state standpoint, and from a local standpoint. But, we're never satisfied. Mr. (Randy) Burns helped us get on the good side of technology and we're not going to stop. It will take all seven of us, along with (Burke County Public Schools) Superintendent (Larry Putnam,) associate superintendent David Fonseca and (administrative assistant) Linda (Huffman) to get it done."
Hunt offered some background information as to why he decided to decline the vice chair nomination.
"First of all, I was honored to have Dr. Hemstreet nominate me for (vice chair,)" he said. "I think it's going to be a good year. We've got a new board, a new board member. Honestly, I think I can probably be more effective — if not as chair — remaining as a member on the board representing the western district.
"Buddy is going to do a great job as chairman. I just really thought that I could have more impact and represent my western district, not necessarily being vice chair. R.L. is a good guy and he's going to do well (as vice chair)."
The meeting began with Superior Court Judge Robert C. Ervin holding the Oath of Office for newly elected members. Craven, Hemstreet and Icard took the oath to "support and maintain the Constitution of the United States and the constitution and laws of the state of North Carolina not inconsistent therewith," and to "faithfully discharge their duties as a member of the Burke County Board of Education."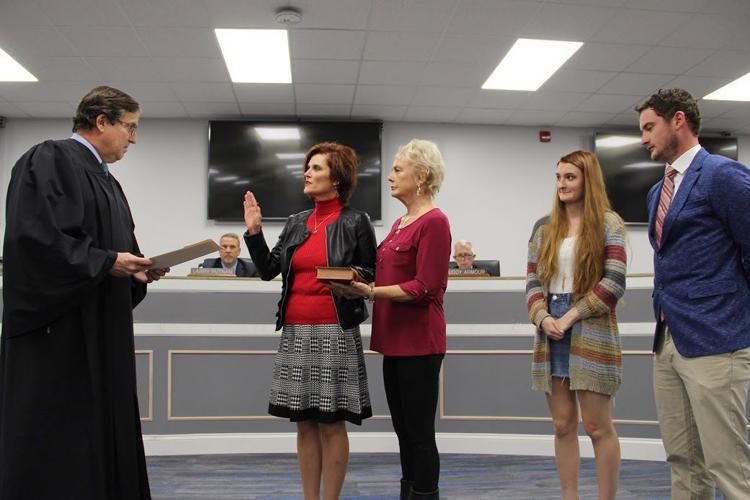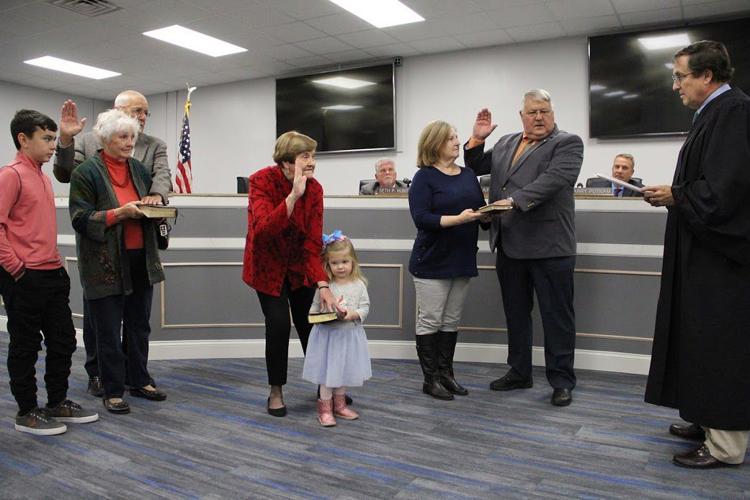 Also during the meeting, Putnam presented schools and administrators with certificates as part of the North Carolina Department of Public Instruction's recognizing schools for in the top 50 percent across the state in its metrics, including graduation rates, academic growth and academic progress.
"In addition to displaying the certificate, schools may obtain a website badge graphic that can be used on the school's website," Putnam said. "The certificates represent an impressive amount of hard work by students and educators. Schools recognized with certificates included:
» Burke Middle Colllege, for a 100 percent graduation rate.
» Jimmy C. Draughn High School, for a 95.1 percent graduation rate.
» Drexel Elementary, Freedom High, George Hildebrand Elementary, Hillcrest Elementary, Liberty Middle, Robert L. Patton High and Table Rock Middle School for exceeding academic growth.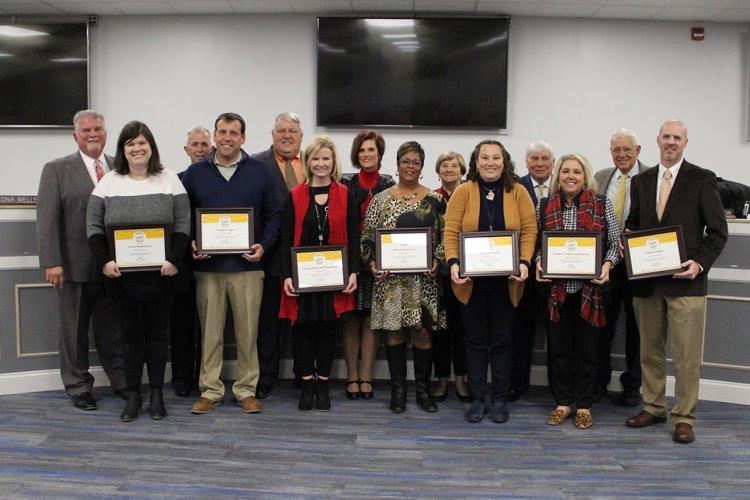 » East Burke Middle, Forest Hill Elementary, Glen Alpine Elementary, Heritage Middle, Hildebran Elementary, Icard Elementary, Mull Elementary, Oak Hill Elementary, Ray Childers Elementary, Salem Elementary, W.A. Young Elementary and Walter R. Johnson Middle, for achieving the goal of expected academic progress.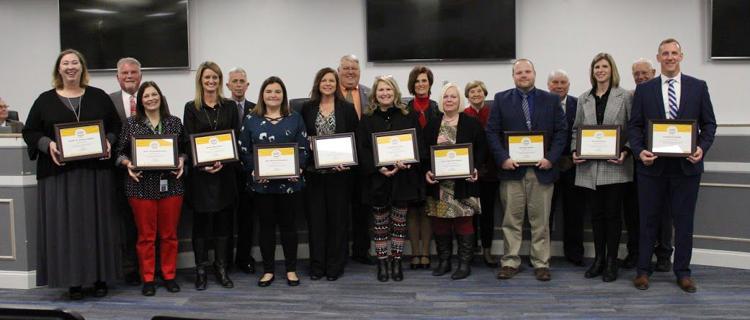 NCDPI recognizes individual principals for school performance, too. Principals awarded a bonus in 2019-20 are:
» Keith Recker of Drexel Elementary for the school finishing in the top 5 percent in the state for school performance.
» Cassandra Caldwell of Hillcrest Elementary for finishing in the top 10 percent in the state for school performance.
» Sara Lecroy of Patton High for finishing in the top 15 percent in the state for school performance.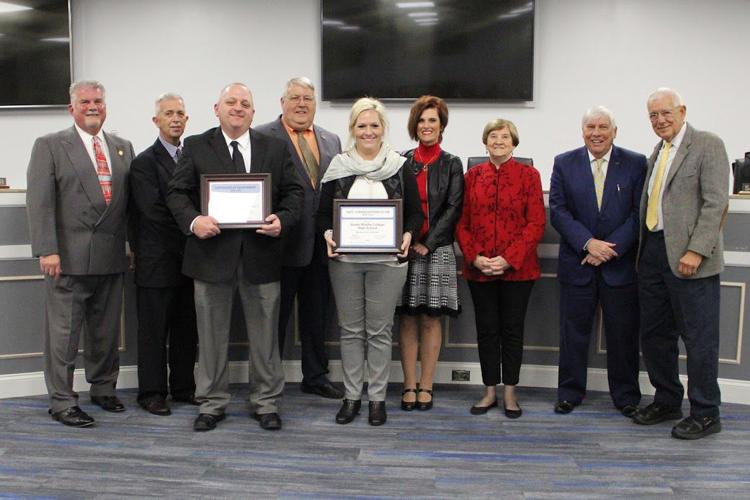 » Felicia Simmons of Freedom High, Jennifer Hawkins of Table Rock Middle, Christie Abernathy of Liberty Middle, Jeannie Jandrew of George Hildebrand Elementary, Kristin Edwards of Mull Elementary, Lora Austin of East Burke Middle, Dillon Sain of Heritage Middle, Shanda Epley of Oak Hill Elemtnary, Nikki Costello of Forest Hill Elementary, Rob Gregory of Salem Elemtnary, Randy Sain of Hildebran Elementary, Caroline Howard of Glen Alpine Elementary, Brett Wilson of Walter R. Johnson Middle and Jeanene Burris of Icard Elementary for finishing in the top 50 percent across the state in school performance.

"Leadership matters," Putnam said. "It matters. Those folks who are leading our school — I can't be more proud of the group of principals that are here tonight receiving these awards."
Also at the meeting, Director of Secondary Education Felicia Simmons recognized East Burke Middle School's sixth grader Emmalee Speigle for winning the Burke County Spelling Bee. On Oct. 21 at Patton High School, Speigle became the bee's first repeat winner by defeating 2017-18 bee winner Table Rock Middle School eighth grader Morgan Cargill.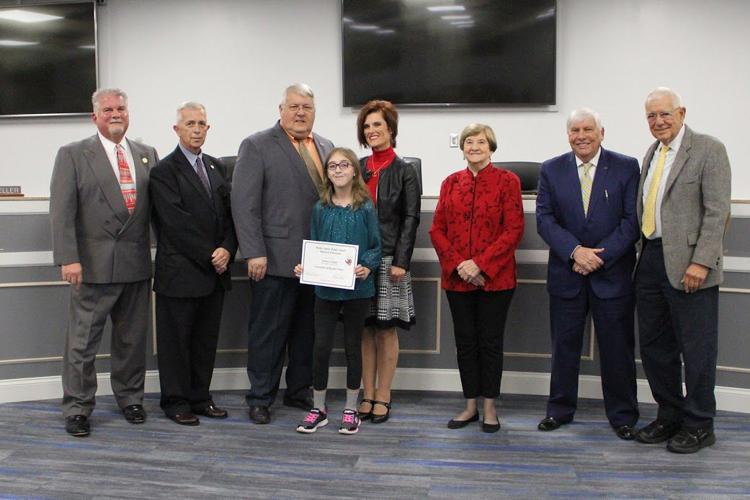 Putnam also congratulated two maintenance workers John Nowacki and Brad Pons for their "heroic efforts" in putting out a fire at Freedom High School on Oct. 15. Putnam presented the men with a gift enclosed in an envelope on behalf of the school board members.
"Two custodians from Freedom High School were going about the routine work of getting the school spic and span for the next day, when they discovered some smoke in the front office at Freedom High School," Putnam said. "The quick thinking of the men allowed them to call 911, and then put their training with fire extinguishers into action.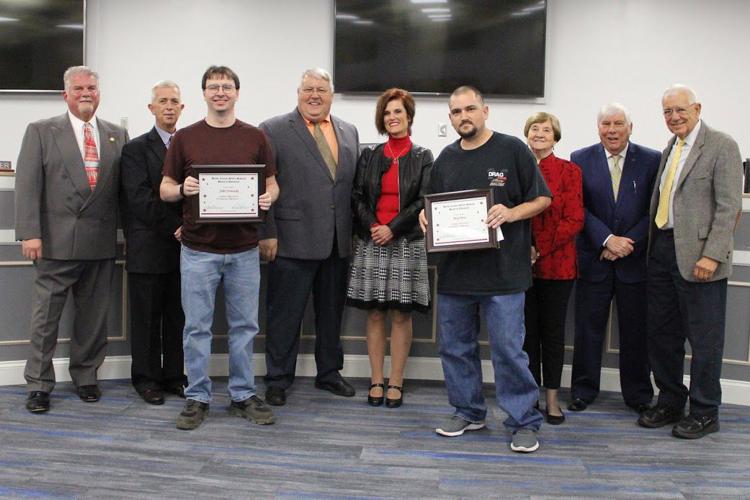 "We want to thank all of our maintenance folks," Putnam said. "We were there that night and we dodged a major bullet, as we had our clocks and some computers melt inside that records room. We're very lucky that the fire was contained in that records room."
The next meeting will take place Jan. 28.