Rising ninth-grader Qwinton Hemphill's Snapchat clocked the electric vehicle that he and his team made at 24 miles per hour - not bad for only five days of work.
The Electric Vehicle Camp for area high school engineering students was held Aug. 12-16 at Patton High School. The summer camp was the third in as many weeks that was sponsored by Duke Energy, and the first that was co-sponsored by GEAR UP, a discretionary school grant program.
Paul Gantt and Clay Nelson ran the EV camp on behalf of Project Lead The Way (PLTW), a professional development program. The engineering sector of Project Lead The Way teamed with College Board's Advanced Placement to bring applied learning programs to schools.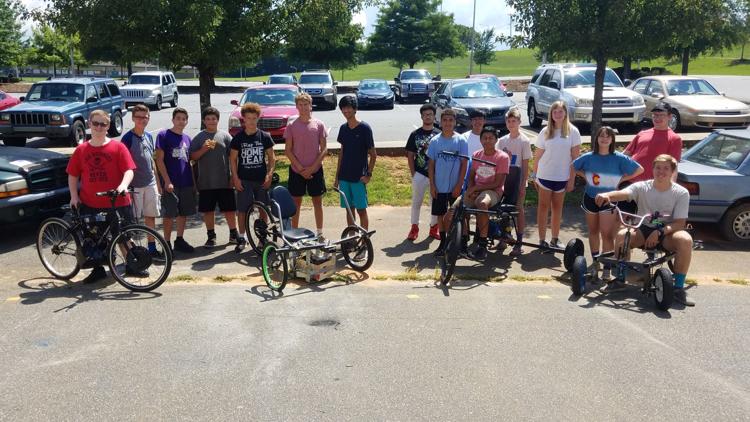 Gantt said he supplied the students with four 48-volt batteries and tried to steer them in the right direction through instructions. The rest they did on their own, including assembling the vehicles from a garage full of machines.
"To me this is what education's about - exploring and trying new things and putting yourself out of normal, everyday zones and pushing yourself to try new things and adopt new things," said Gantt, the PLTW coordinator for BCPS and 15-year Freedom Middle School teacher.
Duke Energy issued a $20,000 Powerful Communities grant to Burke Development Inc. and Work In Burke that aimed to "provide opportunities for more students to participate in Burke County Public Schools engineering camps and competitions," according to BDI's website.
"People that work with electricity – linemen, people are aging," Gantt said. "They're needing young, energetic people to come in and transform the energy systems and infrastructure – not the way that their parents did, but in a new way."
Co-leader Clay Nelson is in his second year at Patton High School. Nelson started Liberty Middle's and Patton High School's chapter of Technology Students Association, a national program that holds engineering competitions for middle school and high school students.
"You give kids the chance and they can do whatever (they set their minds to,)" Nelson said about teaching at the camps. "It's awesome. I love doing it - I love seeing what the kids can do. It's pretty inspiring for the future."
With students like Hemphill and Karsen Hallyburton, also a rising ninth-grader at Patton, the new forward-thinking generation of aspiring engineers is in good hands.
Hallyburton said she is interested in doing electrical and solar engineering, and was introduced to engineering through Technology Students Association, a national engineering competition for middle and high school students.
She lists Purdue, NC State and Georgia Tech as potential college choices, and she is interested in studying aerospace engineering.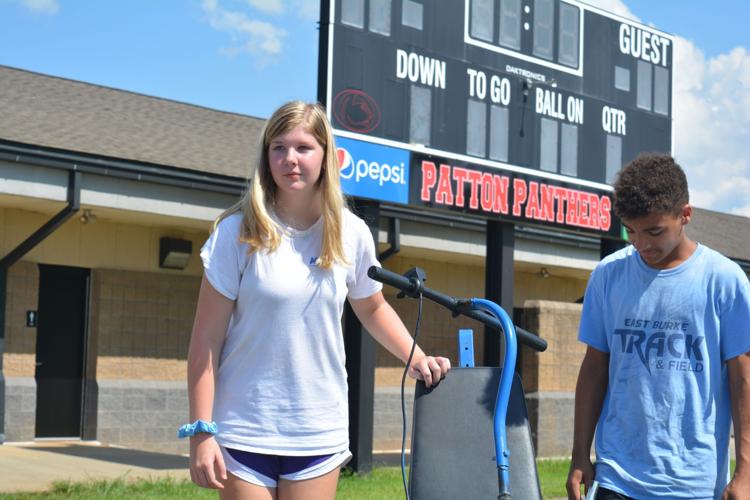 Hemphill is interested in aviation engineering and has his eyes on NC State and Elizabeth City.
The students were treated to a surprise from electric vehicle enthusiast Harold "Mule" Ferguson when he let the students get in and take pictures with his Tesla 3.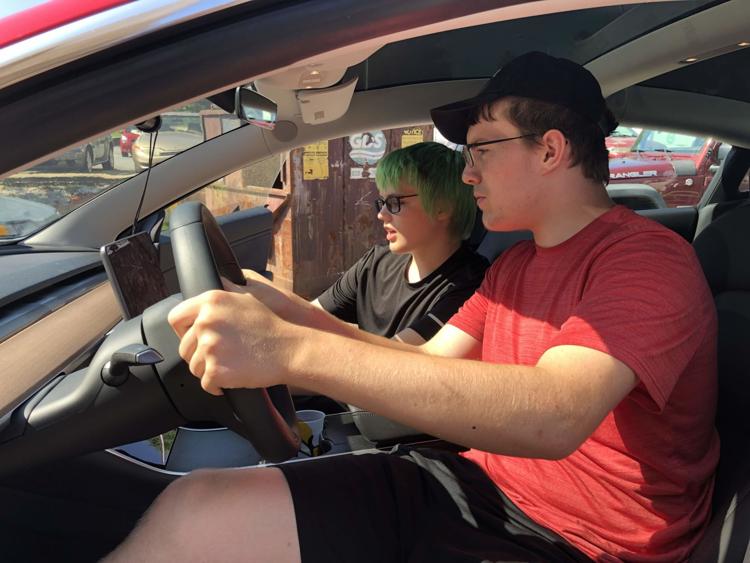 The previous two Duke Energy-sponsored camps were the Hydroelectric Camp from Aug. 5-8 and Tiny House Camp from Aug. 12-16, both for middle school students. These camps were at East Burke Middle School and were led by EBMS PLTW teacher Andrea Gladden and Freedom High PLTW teacher Melissa Smith.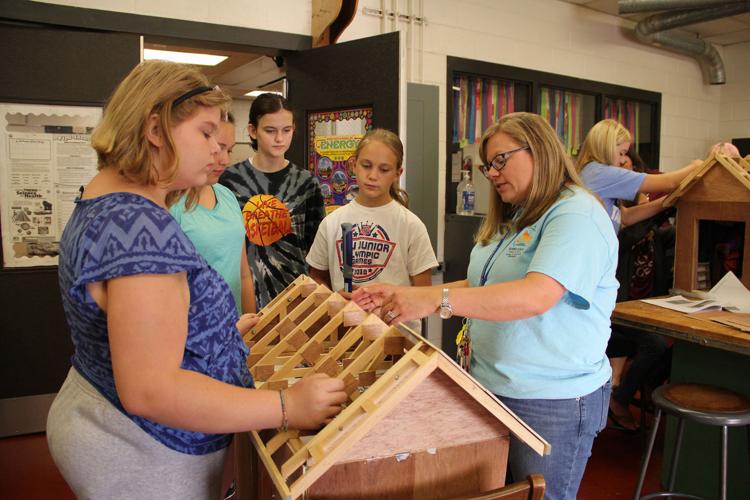 Gladden's Hydroelectric Camp saw students working with water to generate electricity. In the Tiny House Camp, which was aimed at girls, students designed and built a 4-square-foot model of a tiny house. The small abode even had lights, furniture and an overhead fan.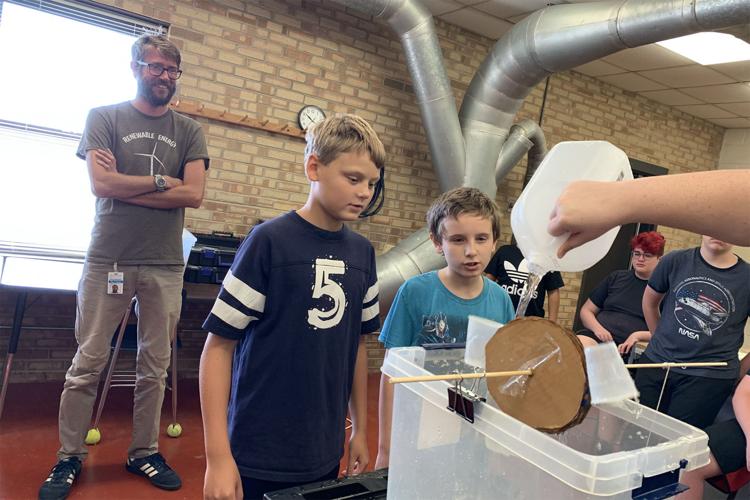 "Our teachers never cease to amaze me with their creativity, ingenuity and talents," BCPS Superintendent Dr. Larry Putnam said. "Their end products from all three of these summer engineering camps are amazing.
"Again, we thank Duke Energy, Work in Burke and GEAR UP for helping make the camps possible and our Project Lead the Way teachers for giving up part of their summer to guide these young engineers through a new learning experience."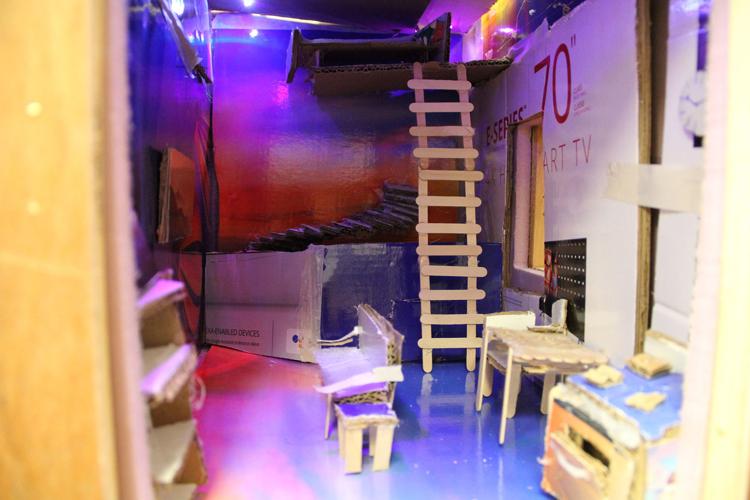 Gantt announced for the second consecutive year, engineering students will compete in the Morganton Arts Design and Engineering Competition, in conjunction with the Historic Morganton Festival and BCPS.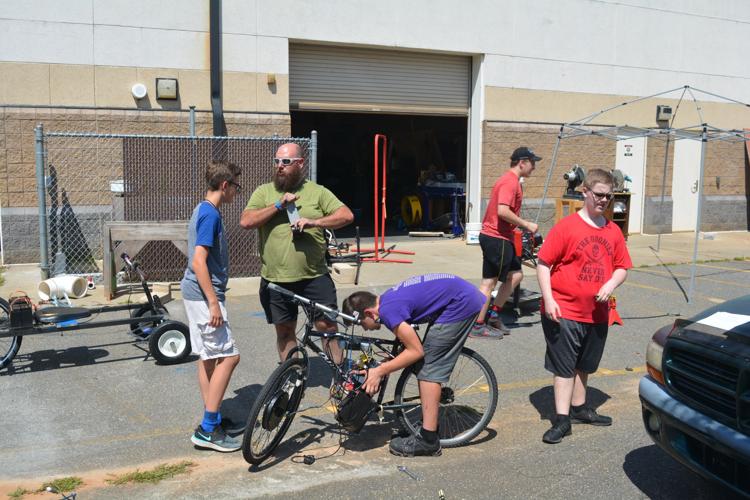 On Sept. 6 and 7, area middle and high school students will compete in the "Junkyard Design Challenge" and the event will feature live design, similar to how the students at the Electric Vehicle camp conducted their work.
Hemphill said he learned ingenuity at the summer camp. "It's fun and you can let your imagination go and put stuff together and be yourself," he said.
"Use your brain and have fun."