RHODHISS — Two people were indicted on murder charges after a man was found beaten to death last week.
Tristian Claude Eugene Shoup, 20, of Granite Falls, and Matthew Dylan Buckles, 20, of 2581 Raintree Drive in Connelly Springs, were indicted on charges of first-degree kidnapping and murder Monday in the killing of Dylan Thomas Deaton, 19, of Connelly Springs, on Thursday, according to information from the Burke County Courthouse.
Ryleigh Elizabeth Waldrop, 28, of 725 Tron Ave. NW in Valdese, was indicted on a charge of accessory before the fact of murder, courthouse documents said.
Search warrants indicated that Shoup and Buckles beat Deaton to death because they were all "flipping out on meth" and Deaton was saying that the devil was in him.
Sheriff Steve Whisenant said Friday that Waldrop restrained Deaton befoe he was killed.
Buckles and Shoup a llegedly put Deaton's body in the bed of Buckles' truck and dumped his body on Weaver Lane above the boat access, the search warrants said.
Chris Simmons, who is dating Buckles' aunt, said Buckles' involvement in the killing came as a surprise to him.
"We've always been here for him, he's been here for us a million times," Simmons said. "We would've never thought in a million years that Buckles would have done this or been an accessory to it. He's more the type of person to help somebody that's in need … not to be the person to hurt somebody."
Simmons put a cross in front of the house on Raintree Street in Rhodhiss where Dylan Deaton was killed.
Deaton had known Buckles and Shoup since he was in kindergarten, said Scott Deaton, Dylan's father.
"These are people that he considered friends," Scott said. "That, no matter how many times we told him to stay away from them, he would defend them … he did grow up with them, playing sports together pretty much all the way from Ray Childers all the way to East Burke."
Scott said it hit hard when he found out Shoup and Buckles were involved in the murder.
"It hit, and it was just one of those things where there's no way to really describe it," Scott said.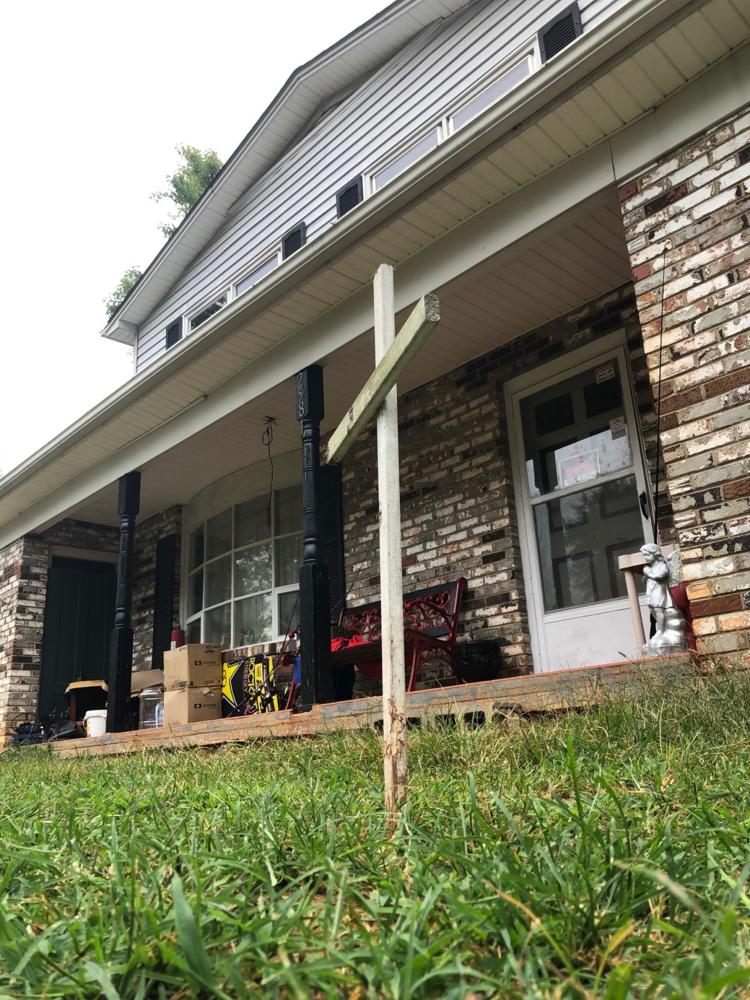 Scott Deaton commended the Burke County Sheriff's Office for the work in the investigation and keeping the family informed.
"The Burke County Sheriff's [Office] has done an excellent job following this up," Scott said. "They've kept us informed, and we do appreciate everything that they've done."
He said he didn't have any questions for the accused murderers, but he wouldn't be forgiving them.
"Not at all," Scott said.
Dylan had struggled with substance abuse, but had recently gotten a job at Pizza Hut in Granite Falls and was trying to get things straightened out, Scott said.
"He had just started working about a month ago at Pizza Hut," Scott said. "He was trying to get back on track. Of course, like anybody else, there's always some problems coming up that he was dealing with."
Scott and his wife are planning to rent Hildebran Gymnasium at the former Hildebran High School building for a memorial this weekend.
"If you knew Dylan, you're more than welcome to come say a few words," Scott said. "Any funny stories would be great to hear because he was a pretty happy-go-lucky person."
There also will be someone at the event to talk about substance abuse, and Scott said he hopes to hand out literature about Narcotics Anonymous.
"Maybe we can turn this into something positive," Scott said.
The memorial for Dylan Deaton will be held from 6-8 p.m. Saturday at Hildebran Gymnasium at 208 S. Center St.
Chrissy Murphy is a staff writer and can be reached at cmurphy@morganton.com or at 828-432-8941. Follow @cmurphyMNH on Twitter.