A man who was shot by a SWAT officer and walked out of a hospital without being charged last week was found with a weapon in Catawba County.
Johnny Allen Kaylor, 50, of Airport Rhodhiss Road in Hickory, was taken into custody Friday by the Catawba County Sheriff's Office, according to a Tuesday release from the Burke County Sheriff's Office.  He was arrested with a firearm.
Due to Kaylor's medical condition, he was taken to Catawba Valley Medical Center by EMS, where he was transferred to Baptist Hospital in Winston Salem, the release said.
Deputies with Burke County Sheriff's Office were sent to the hospital with Kaylor and remained with him until he was released from the hospital.
Kaylor was charged with trafficking opium or heroin, trafficking in methamphetamine, possession with intent to manufacture/sell/deliver methamphetamine, possession of methamphetamine, and maintaining a vehicle/dwelling/place with controlled substance. He also was charged with misdemeanor possession of marijuana up to a half ounce and possession of drug paraphernalia.
Kaylor stayed in a sheriff's office car while his charges were read to him.
Charges against Kaylor came after a no-knock search warrant was executed on May 22. When police entered the home, they found Kaylor and a female companion in the bedroom. The female was escorted out of the bedroom, according to a previous News Herald article.
Kaylor was shot when he made a sudden movement after 25 minutes of negotiations, the article said.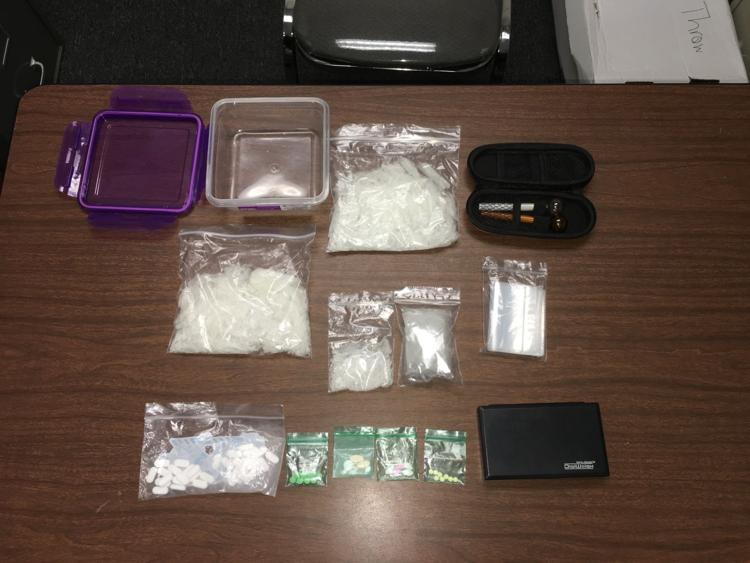 Investigators seized a semi-automatic handgun, 273 grams of methamphetamine, an assortment of prescription medications and a small amount of marijuana. The methamphetamine located has a street value of $27,300, the article said.
Kaylor's bond was set at $40,000, but he posted the bond was posted early Tuesday morning. His first court appearance is set for Wednesday.