The 2019 graduating class of Draughn High School met on Saturday morning to be awarded their high schools diplomas and turn the page to a new chapter in life.
The seniors marched into the gymnasium to the traditional "Pomp and Circumstance" and an invocation was given to start the ceremony. Assistant Principal Gretchen Reiss led a moment of silence for Cade Arrowood, a student who died in a car wreck in 2017.
After the commencement address was given by senior Rikza Sohail, Salutatorian Sydney Bridges and Valedictorian Mallory Hartman gave words of advice to their fellow classmates before they parted ways.
Bridges eluded to how parents, teachers and staff have all been there to support students, whether it be academically, athletically or in a time of need.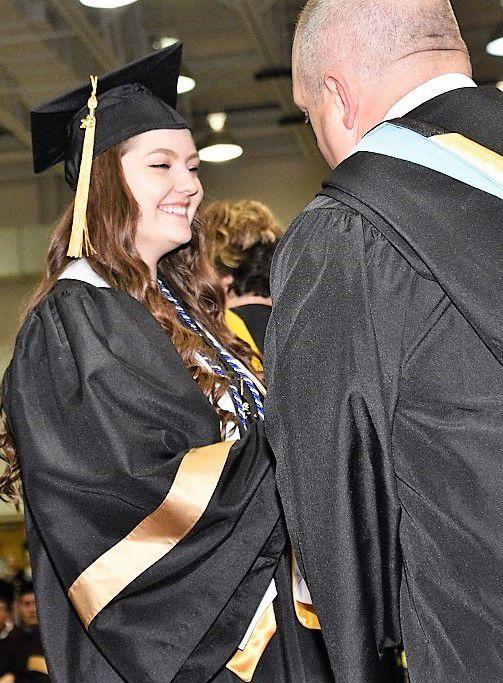 "So now it's our turn to take action," Bridges said. "Whether you're going to college or straight into the workforce, there are always instances when we need to get off of the sidelines, take action and stand up for what is right. As a return on our parents' investment, we should take action by demonstrating good character, integrity and honesty in all elements of our lives."
She told students to take what they have learned at Draughn and use it in the future.
Hartman gave students a piece of advice that she said she learned when she was younger by a character many know.
"It felt like it would take forever to be seniors , however, now that we are here on the threshold of adulthood, I am reminded of an important lesson I once learned in my cartoon days from Peter Pan . . . ' Never grow up, ' " she told students. "First, let me get this straight when I say 'never grow up,' I don't mean act like a goofy kid your whole life. What I do mean is that we should never let go of our dreams of having at least a little fun each and every day."
She wants her fellow classmates to dream and never give up even in the face of failure.
"If you have a dream, any type of dream at all, you should pursue it," Hartman said.
Find your dream or passion and make a plan to accomplish it, she said.
"We must take on adult responsibilities and become productive citizens in the world that will make a difference in the home, workplace, and community, but that doesn't mean that we cannot return to our dreams, our laughter, and our youth, and we must always remember to grow wise and grow strong, but never fully grow up," she said.
Each senior was then invited on stage one by one to accept their high school diplomas and then pronounced as official graduates to start the celebration.