A woman who was charged in a December 2017 car crash that killed a 4-year-old pleaded no contest to reckless driving Monday.
Peggy Belcher entered the no contest plea to misdemeanor reckless driving in Burke County Superior Court in connection to the crash that killed Brayden Dennis on Dec. 14, 2017, the day of the Morganton Christmas Parade.
According to the facts read by Assistant District Attorney Lance Sigmon, Belcher was attempting to cross North College Street at Collett Street in a white Kia Optima at around 4 p.m. She had stopped at a stop sign and attempted to cross the road, apparently not seeing the Dodge Journey that Dennis was inside.
When Belcher's car struck the Dodge Journey, the Journey started fishtailing before rolling two and a half times before coming to a rest on its passenger side. As the Dodge was going into its third roll, Dennis was ejected out of the vehicle, Sigmon said. Other passengers in the Dodge had minor injuries.
Maj. Ryan Lander with the Morganton Department of Public Safety told The News Herald in December 2017 that while Dennis was in a child safety seat, he was not properly restrained at the time of the crash, according to a previous News Herald article. Two other children, a 7-year-old girl and 2-month-old boy, also were in the car and were properly restrained.
Belcher's car was travelling about 17 mph at the time of the crash, while the Dodge's speed was about 32 mph just before the impact, Sigmon said.
The family was not pleased with the outcome of the case, with several family members speaking up after the facts of the case were read.
Dennis' maternal grandmother, Otela Flanders, was one of the family members who spoke to the court.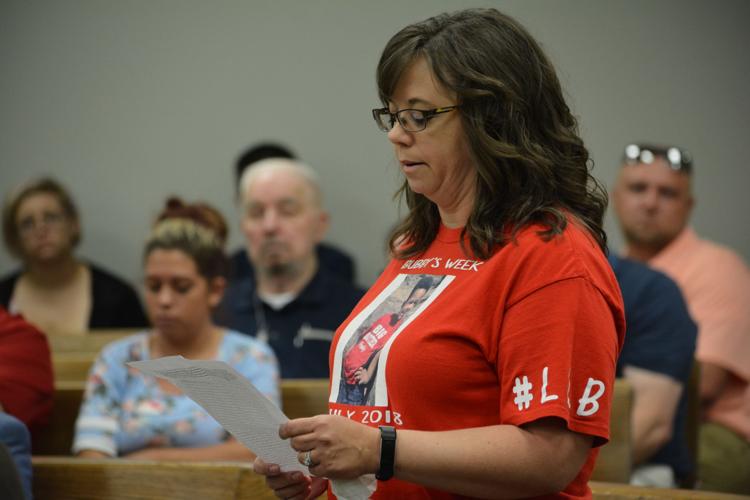 "How do you express that every day you wake up hoping that this is the day that the nightmare is going to be over and that it was all just a bad dream?" Flanders said. "How do you express the heartache of never getting to hear him say Nana and Pawpaw again, how you'll never get to make him macaroni and cheese and give him Sprite, how you'll never get to hear him sing his songs and watch his dance moves, you'll never get to witness him [growing up]?"
Belcher's defense attorney, Richard W. Beyer, said Belcher had no driving record before the crash. He said since the crash, her licensed practical nurse status was suspended and she has been out of work. Beyer also said Belcher has dealt with  the impact of Dennis' death.
"After the accident, things were posted online," Beyer said. "I don't know who did that, but they were unkind, threatening."
Based on the posts, Beyer said someone would think Belcher had done something with disregard for her own safety or that of her 17-year-old son who was riding in the passenger's seat of her car. He said Belcher never wanted anything like this to happen to Dennis' family, or any other family.
Superior Court Judge David Phillips gave Belcher a suspended sentence of 30-days in jail custody should she fail to meet the terms of her unsupervised probation.