A woman was sentenced Tuesday to 25 years in prison for a 2016 double murder.
Icey Chennell Gooden pleaded guilty in March to two counts of second-degree murder, two counts of first-degree kidnapping and two counts of robbery with a dangerous weapon in the killings of cousins Spencer Jermain Murray, 29, and Albert Alexander Austin, 35, who were found burned in a car on Sept. 18, 2016, according to a previous News Herald article.
When Gooden pleaded guilty, Assistant District Attorney Michelle Lippert said Gooden arranged for the victims to come to Morganton with the intent to rob them. When the victims arrived at a party to meet Gooden and Brandy Nicole Davis, who pleaded guilty in March to accessory after the fact of murder, Scott Hemphill and Brian Robinson also were there.
Hemphill and Robinson robbed the victims then demanded they get in the trunk of their car. Robinson and Hemphill drove the victims' car to the burn scene, while Gooden drove herself and Davis to the scene in Gooden's mother's car, Lippert said in March .
Hemphill set the car on fire with the victims still inside the trunk, screaming and kicking, Lippert said earlier.
Gooden drove herself, Davis, Hemphill and Robinson to her mother's home where they moved the victims' belongings to Davis' car. The belongings, including a social security card and bank cards, were found in Davis' apartment, Lippert said earlier.
Gooden was seen at Davis' apartment attempting to burn items from the crime. She told authorities that she and Robinson attempted to burn Hemphill's shoes at Davis' apartment complex, Lippert said in March.
Gooden addressed the court before she was sentenced, saying that she would never want what happened to happen to anyone else.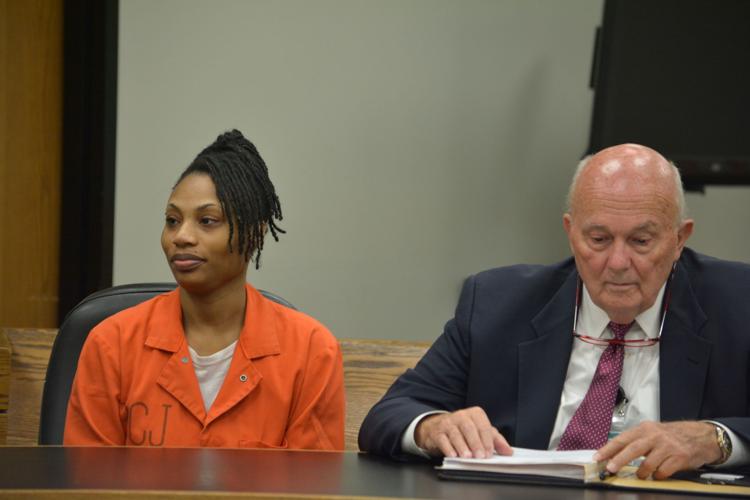 "I just wanted to say that I understand where the victims' families come from, how they feel about the situation," Gooden said. "I am very remorseful for everything that has happened."
Gooden said all she could do was apologize for the situation. Superior Court Judge Robert C. Ervin , of Burke County, added that assisting the state, which Gooden has done, is part of helping "clean up the mess."
The victims' families pleaded with the court for Gooden to receive the maximum sentence.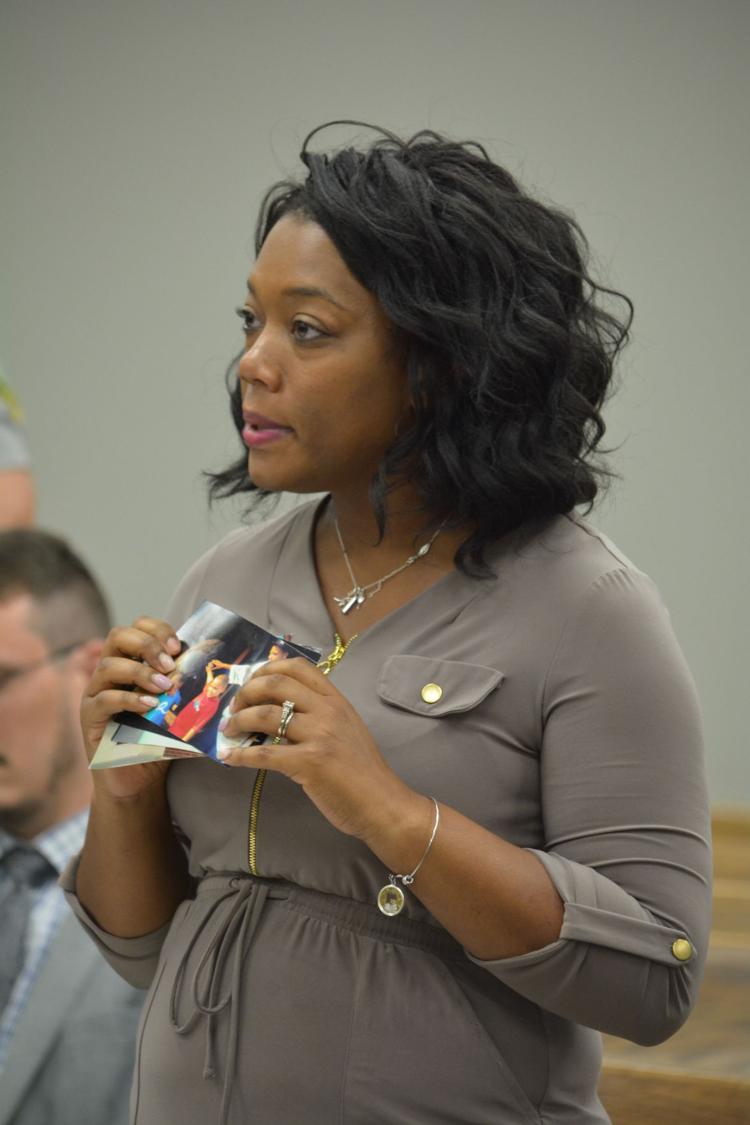 Austin's ex-wife, Shatara Sheppard, showed Ervin some photos of Austin with their children. She said even after their divorce, Ausin still would come to all of the kids' parties.
"Albert was harmless to another human being," Sheppard said. "He loved his children. At Christmastime now, I find myself often smiling, especially if it snows because he was like, even as a 6-foot-2 grown like 200-pound man, he enjoyed, anticipated Christmastime. Just to see the lights, it's almost like he's still around."
She said Austin's murder left a "burning hole" in her soul.
"My children are so desensitized, they can't even talk about it," Sheppard said. "I try to keep him alive through memories and pictures."
She asked that Gooden be given the maximum sentence possible, saying that she had the opportunity to intervene in the killings and didn't.
"They did not deserve to have their life taken," Sheppard said. "And to hear a mere 'I'm sorry and I'm not this type of a person,' just won't do it. I hope this individual gets her maximum sentence and serves every last bit of it because she's a danger to the people surrounding her."
She said she thinks Gooden is more dangerous than the other defendants because she looks vulnerable.
"She looks like the kind of person you would have to keep your elderly loved one or babysit your children," Sheppard said. "And that's what Albert thought. He trusted that she was innocent, and she wasn't."
Lakeisha Hill, Murray's girlfriend, and his two sons also addressed the court at the sentencing hearing. She said ever since the murders, life has been like a roller coaster.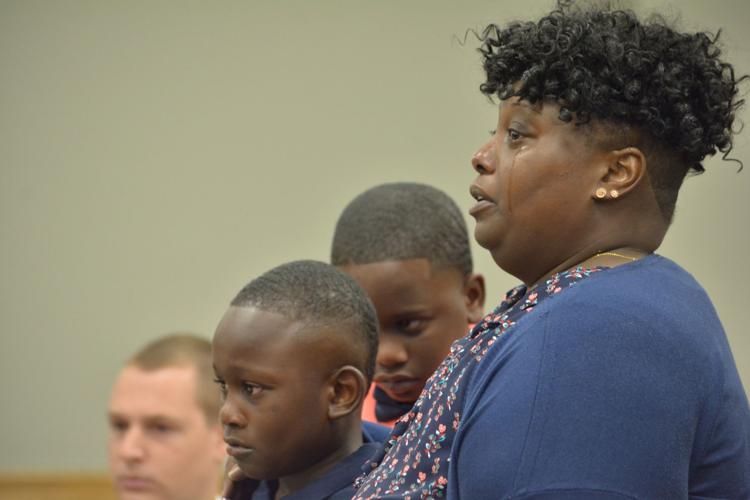 "I never know what to expect on a daily basis," Hill said. "My son has tried to commit suicide, he's tried to run away from home. He has to go to counseling and therapy. It's just been a struggle."
She said she wished Gooden and the other defendants had thought about the damage the murders would cause to the victims' families.
"The amount of damage that this has caused me and my children is just unbearable," Hill said. "Day-to-day life is just a struggle. Even for my kids to go to school is a struggle."
She said they can never be sure if anything will trigger them, and that her kids shut down and don't want to talk.
"We never knew that day that he left that would be the last day we would see him," Hill said. "To me, 25 years is not enough, but I'm not going to judge and I forgive the ones who done it because we all reap what we sow."
Hill and Spencer's 10-year-old son, Ashton Murray, told The News Herald after court about the last day he spent with his father.
"He had finally taught me how to ride my dirt bike, I was riding up and down the road," Ashton said. "He cooked out for us, we played football in the yard. Then all of a sudden he had left and I never seen him again. I was going to tell him not to leave, but I just didn't say it at the time."
When Ervin was sentencing Gooden, he told the family that in cases like this, a resolution to a court case doesn't always solve the problem.
"Any resolution of the court case doesn't fix the problem that you've got young men growing up without fathers," Ervin said. "You can't fix that. I can't really begin to comprehend what life's like on a daily basis for those young men."
The victims' families said they were thankful with how the case has been handled.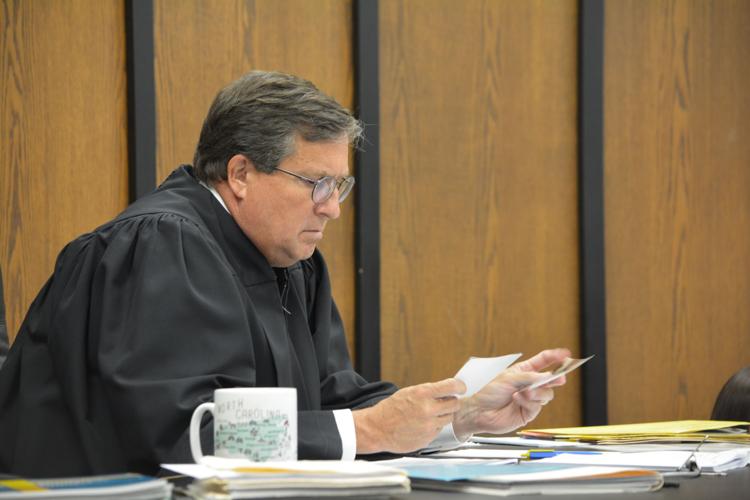 "I do thank Burke County for acting so swiftly in this matter," Sheppard said. "They have been caring and compassionate and supportive. I know, within the law … they have to go by certain guidelines. With sentencing her to only 25 years, it kind of felt like a punch in the stomach, but I do understand the legal system."
Hill agreed, saying that her life has changed forever.
"I just wish [the defendants] would've thought about what they were doing when they done it," Hill said. "Not only are our children going to be affected, but their children are going to be affected as well."
This isn't the last court date the families will go through in the case. Hemphill has his next court date set for Sept. 9, and Robinson has a court date set for Aug. 12. A sentencing date has not yet been set for Davis.
"It's just a chapter and the book is still being written," Sheppard said. "I don't think it'll ever close."