ICARD — The 2018 East Burke football team saw its first live action Thursday morning, hosting Bandys in a scrimmage that was postponed due to inclement weather Wednesday night and lasted about an hour.
The scrimmage started with three offensive and defensive sets before moving into a game situation period.
Brett and Chase Childers along with Ricky Sexton, Dalton Teague, Cody Huffman and Damian Young were key Cavalier defenders early on, while the rising junior duo of quarterback Seth Pruitt and running back Josh Moore advanced the ball downfield offensively.
In the game situation period, Pruitt started with a 4-yard completion to Jaylan Jefferson.
The Cavalier offense was held after that, committing an automatic punt to Bandys, and the Trojans followed with a long touchdown run.
Moore made a couple nice runs on EB's second drive before another Pruitt to Jefferson pass for 5 yards. That was all the EB offense could muster before Bandys took another drive in 14 plays ending with another touchdown run.
The Cavaliers have one more scrimmage today at Draughn in the Burke County Jamboree, facing off with South Caldwell at 7:30 p.m.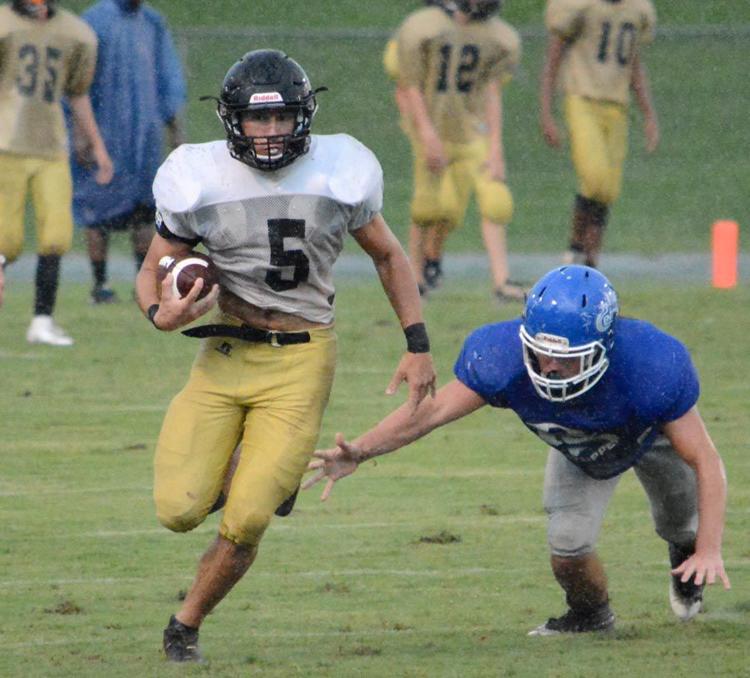 After allowing a few sizable gains on the ground early in Wednesday's scrimmage at R-S Central, the Draughn defense rose up and became the story.
The teams alternated offense and defense for a pair of half-field 20-minute, then 15-minute sessions with five-minute breaks in between prior to two 15-minute full-field quarters played as game situation.
In the early portions, the Wildcats' Daniel Melton, Carter Cooper and Tyler Warlick made tackles for loss. Melton had three such stops, including a sack and forced fumble. Tyrese McCorkle added a pass breakup on a would-be Hilltoppers touchdown.
Hunter Jensen opened the game-situation portion by recovering a backward lateral pass near the guests' sideline and sprinting 50 yards to the end zone. Nick Chrisco later recovered a fumble deep in R-S territory, Trent Corn had a tackle for loss and Colton Singleton had a strip sack.
"I was most proud of our defense," Draughn coach Chris Powell said. "We forced about seven or eight turnovers in all. We've been preaching getting 11 hats to the ball. The defensive line did a good job of keeping the linebackers free, and the linebackers did a good job wrapping up."
Rain throughout the event bogged down the Wildcats' new passing game to a large degree.
Early in the scrimmage, Braxton Cox completed an improvised screen pass to Tyler McKinney and found Singleton for a good gain before hitting Khe-Nai Banks for a short TD pass over the middle. McKinney broke off several nice runs, including one on an option pitch right to set up the score.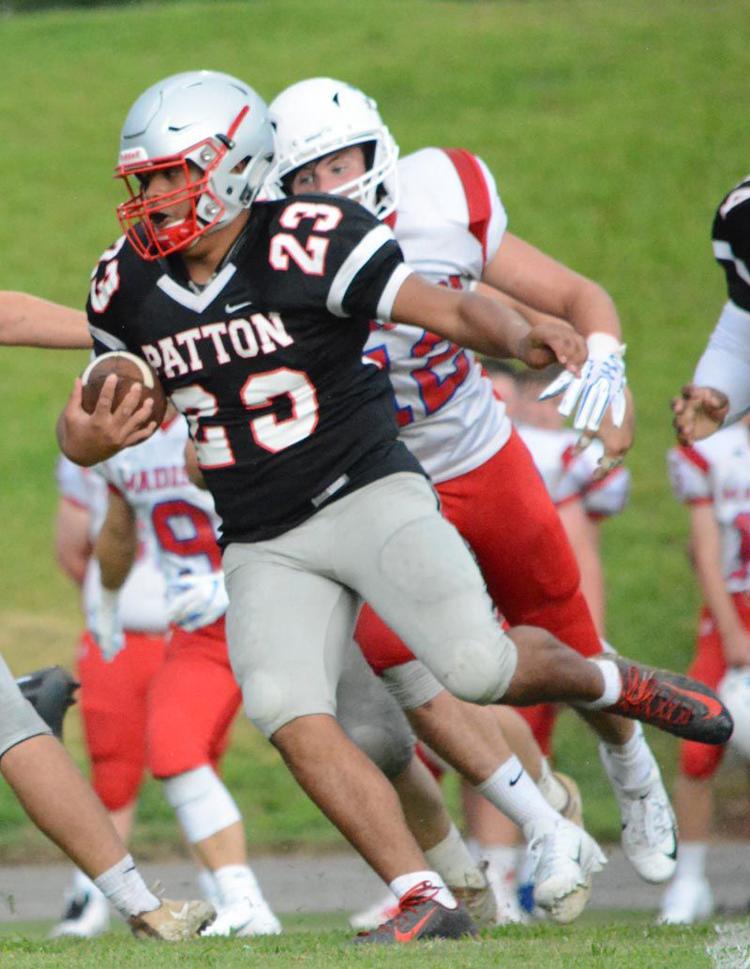 At East Rutherford on Wednesday, Patton and Madison scrimmaged for two 12-minute periods, the first one being 10 plays of offense and 10 plays of defense and the second being down and distance with non-live special teams.
At the beginning of the game-situation period, Panthers quarterback Weston Fleming streak down the left sideline for a long rushing score before Jamir Epps took a toss inside the right pylon for the conversion.
After a Madison three-and-out, Fleming kept on another option left to pick up a first down then found Pierce Memmel over the middle on a long pass to convert on a third down. The drive was capped by a short rushing TD and conversion, both by "B" back Alex Flores.
Madison again failed to gain a first down before Epps started the next drive with a big gain on the ground. Mason Streppa, who played QB the third series, went in for a sneak to cap another possession with six points. Madison scored only on its third and last possession as the final scoreboard read 22-6.
"I want us to be able to play a little faster than what we did, but I was pleased with the execution," Patton coach Jonathan Browning said. "We got a lot of guys in with very little drop-off in terms of what we saw from the second team. There's still a lot to work on, of course."
Easton Wilkins' late tackle for loss led Patton defensively.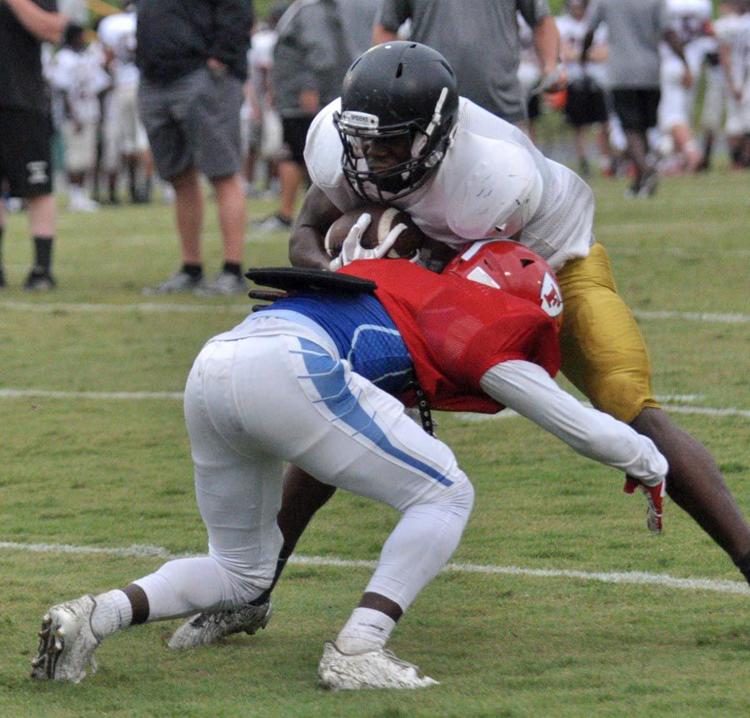 On Wednesday in Shelby, Freedom had to wait out the weather before running the gauntlet in a five-team scrimmage at Crest. Trading off 10 snaps of offense and 10 snaps of defense starting at the 35-yard-line, the Patriots faced state title contenders Concord, Crest and Hibriten before finishing off against Northwest Cabarrus a week before starting the regular season at powerhouse Shelby.
"This was great," said Freedom coach Luke Little. "I know Watauga and Alexander Central and Shelby are good, but these teams right here are just as good. Other than cleaning up some false starts and that kind of stuff, I thought we did well. We missed some touchdowns on passes, but other than that, I thought we competed well."
After a sluggish start that included multiple fumbles and flags, Freedom's high-octane offense looked itself by the end of the scrimmage as Desmond Caldwell snagged his second and third touchdowns of the night on back-to-back plays from Jayden Birchfield down the left sideline. Caldwell snagged another long pass from backup quarterback Desmond Hedrick. Defensively, Freedom allowed two rushing scores to Northwest while Kevin Hover notched a sack.
Against the Spiders, Caldwell caught his first touchdown of the night on the final offensive play as Birchfield rolled to his left and found the receiver on a leaping grab in the end zone. Freedom's defense held its own as Concord's lone touchdown, a rush to the right, was called back by penalty.
On the ninth offensive play against the Chargers, a long pass from Birchfield to Christian Fox set up a 3-yard touchdown run by Traevon Lytle to end the sequence. The Patriots' defense allowed Crest one touchdown through the air and one on the ground before Damien Dula snatched an interception on the final play.
In the offensive sequence against the Panthers, long passes from Birchfield to Jaxon McMahan and Demorian Burgess set up a short Larry Luke rushing score as the Patriots rebounded from losing senior running back C.J. Hayden to an ankle injury. On defense, Hibriten scored once on the ground and once via pass.