VALDESE — For the second time in six games, Freedom quarterback Jayden Birchfield scored a county-record seven total touchdowns in one contest.
And just like against West Caldwell at home last October, the senior signal-caller did it all in one half, throwing a new county single-game record six touchdown passes and running for one more in the Patriots' 60-14 road nonconference win over Draughn on Friday night, which moved them to 11-0 in the series all-time.
Birchfield and the rejuvenated FHS offense scored twice in the first 40 seconds of the game as a 16-yard Chase Young run on the first play from scrimmage moved Freedom past midfield and set up a 44-yard scoring strike to junior wide receiver Desmond Caldwell. Then, after Kevin Hover recovered a fumble on Draughn's first play, Birchfield immediately hit Saiveon Pitman from 11 yards out to make it 16-0.
"We just have a lot of athletes who can make plays," Birchfield said. "I just get it up, and they make me look good."
It began a scoring avalanche that saw the Patriots (1-1) put up 30 points in the first eight minutes and launch out to a 54-8 advantage by halftime. It was exactly what the doctor ordered after a dismal home loss to Shelby in Week 1.
"I thought we played a lot cleaner," said FHS coach Luke Little. "I thought we had a lot of busts last week. But Shelby will do that to you because they make you think so fast. We've got some good players, but a lot of them don't have a lot of varsity experience. … Mentally, it's going to take some time to see and digest everything."
Later in the first, Birchfield again hit Caldwell from 82 yards out before tossing a 22-yard TD to Damien Dula. And in the second frame, Birchfield distributed a 33-yarder to Caldwell and a 31-yarder to Dula before running his seventh total touchdown in from 18 yards out.
"It was just a good game to get back in rhythm," Caldwell said. "We had good connections with the quarterback early. It led to good things in the end."
Birchfield finished the half — and the night — 12 of 17 through the air for 316 yards. Caldwell, who caught five passes for 171 yards and three scores, and Dula, who reeled in four throws for 69 yards and a pair of scores, also did all of their work in the first 24 minutes. Desmond Hedrick (37 yards) and Chase Young (28) also reeled in long gains from Birchfield.
"We played more as a team," Dula said. "We were on the ball fast, and we didn't have as many mistakes. We didn't turn the ball over as much. Everybody was focused on what we came to do."
Freedom went 6 of 8 on two-point conversions as Birchfield and Chase Young (2-39 rushing) ran in two apiece, Mekhi Spates added a conversion run and Cam Silvers dove in for another.
Freedom's defense also flipped the switch from a week before, holding Draughn to just 160 yards, including only eight on the ground. Hover's fumble recovery later was supplemented by Noah English's interception, which fell right into his hands as English's teammates harried Wildcats quarterback Braxton Cox. The takeaway directly set up Freedom's last TD, a 3-yard run by freshman backup QB Ty Little.
English finished tied for the team lead with four tackles and headed up the charge toward Cox with a pair of sacks.
"I liked the unity that we had, the teamwork we were showing and all the effort we put together from practice," English said.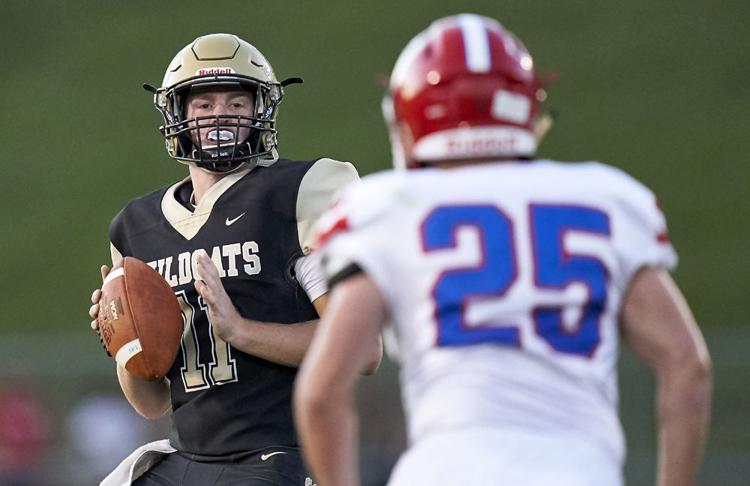 Hover (sack, 3 TFL) and Titus Walker (pass breakup) also finished with a quartet of stops. Spates (sack, PBU, QB hurry) and Bryce Griffith (three tackles, 2 TFL, QBH) padded the defensive stat sheet for Freedom. Sacred Baylor, Hunter Taylor and Lei DeJesus also broke up passes and Gabe Longsoldier added a QB pressure.
And, on special teams, Chase Young blocked a punt and Curt Young recovered a fumble.
Draughn's first scoring drive covered 58 yards in five plays including Cox passes of 11 yards to Nick Chrisco and of 30 and 15 yards to Denver Treadway before freshman power back Donnell Wilkins cashed in from 2 yards away. (Cox hit Donavan King on the two-point conversion pass).
The hosts' other score came when senior speedster Khe-nai Banks opened the second half with an 85-yard kickoff return.
The Wildcats (0-2) had a few flashes — like that — that they need to extrapolate to whole games as they jump into Northwestern Foothills 2A Conference play this coming Friday at Foard.
"At the end of the day, we've got to find a little bit of heart and a little bit of effort," said DHS coach Chris Powell. "Over half of the big plays that Freedom had tonight, we had at least four missed tackles on. We rep it every day in practice, but at the end of the day, the kids have to go out there and do it."
Cox finished the night 18 of 38 through the air for 152 yards. He hit a variety of receivers, led by Treadway (3-59), Chrisco (5-49) and Beckett Nelson (2-22).
Defensively, Draughn was led by King, who made five stops (including one for loss) while forcing and recovering a fumble. Omarion Conley registered a sack.
The Patriots next return home to face East Burke in Fat Friday XLVI, seeking a 10th straight win against the archrival Cavaliers.