For Chuck Buchanan, racing had to wait a little while.
The Hildebran native graduated from East Burke High School in 1979, and then he turned his attention to pharmacy school at UNC-Chapel Hill. While in college, he continued living in Burke County during the summertime up through 1984 before moving to Winston-Salem.
Eventually, he moved to Virginia where he now owns three pharmacies, including Spring Drug in Patrick Springs, and lives near Stuart, the home base for legendary Wood Brothers Racing and new driver Matt DiBenedetto.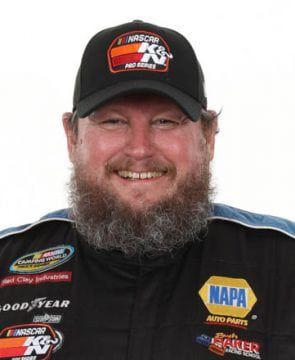 The hard work and waiting game allowed Buchanan, 58, to begin racing part-time in recent years. He mostly has tackled the short tracks of the southeast in NASCAR's K&N Pro Series East, making a couple speedway appearances at Rockingham and Gateway along the way.
But the biggest step of all came this past weekend.
After NASCAR merged its K&N regional series under the ARCA umbrella, Buchanan used that to make the leap to stock car racing's biggest stage: Daytona.
Driving his self-owned No. 87 Spring Drug/Adams Tree and Landscaping Chevrolet, Buchanan made his ARCA Menards Series debut at the World Center of Racing on Saturday in the season-opening Lucas Oil 200, avoiding the race's quartet of wrecks and bringing home a solid 13th-place finish and an intact race car.
"It was great running there," Buchanan said. "There's no other track other than Talladega where you can just put your foot on the floor and let it stay there. When you carry all that speed into the corners, it's very exciting."
The chance to race at Daytona was rooted in a relationship with the 1956 and '57 NASCAR Grand National Series champion and Hall of Fame inductee, and that racing legend's son — the 1980 Daytona 500 winner and now a Hall of Famer in his own right.
"I started off working at the Buck Baker Racing School and got some years of experience there," Buchanan said. "I met Buck Baker and Buddy Baker. Buddy was around every so often, and they were kind of an inspiration to try to move forward. Buddy said I was real smooth on the wheel, and that helps out a lot when you're racing.
"They kind of gave me encouragement. I don't know if they knew they were encouraging me or not."
Buchanan's team is small and often relies on volunteers, but he has an experienced racer guiding his team. Craig Wood, who has some NASCAR Truck Series starts to his name, wears multiple hats — crew chief, spotter and hauler driver — and helped Buchanan and the No. 87 bunch persevere through some early-weekend mechanical concerns and superspeedway inexperience to find the right balance for the race car.
"My crew chief put a perfect setup on it," Buchanan said. "We had the right camber. We struggled early and didn't think we were going to even be able to qualify for the race. You had to make a (practice) lap to be able to qualify, and we had an issue with the clutch. Friday, I only got two laps out there. That's all I practiced all day long.
"Before the race, I had two laps in practice and got about four laps in qualifying. Basically, when I started the race, I had about six laps of driving at Daytona. ... The crew just kept me safe. They gave me the time I needed to learn the track."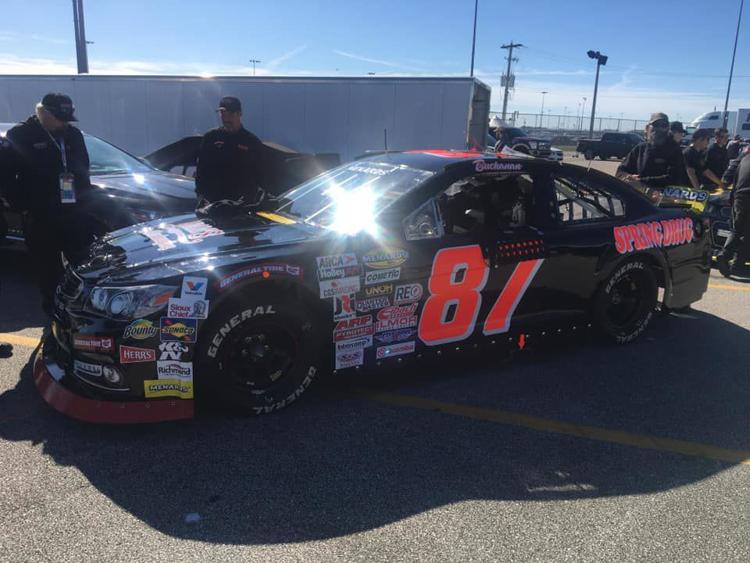 Gremlins weren't the only obstacle Buchanan overcame en route to his good finish. At Daytona, a drafting partner can make a world of difference. Buchanan lost his would-be buddy to a first-lap crash when outside polesitter Andy Seuss spun through the backstretch grass and back across the track, collecting a couple other cars.
"Unfortunately, the guy we made a deal with to do a lot of drafting, pushing and following was the No. 88 car of Scott Reeves, and he went out on the first lap. I looked down and was like, 'Darn, that was the only guy who was willing to draft with the rookie here.'
"But throughout the race, the 10 (Ryan Huff) and 12 (Jason White) cars, we drafted and were able to keep on the lead lap for a long time. But I did lose power steering about two-thirds of the way in, and it got harder to drive. That scrubs off a little more time when you're having to wheel it manually."
Buchanan said he and his underfunded-but-hard-working team were "ecstatic" to come away from Daytona with a top-15 finish and a car that was completely unscathed, save for a few scratches that came late as a result of a debris-filled track.
His team also was thrilled with the chance to meet Richard Petty and his grandson Thad Moffitt, whose car was in the adjoining garage stall, while Buchanan was in meetings.
Moving forward, the K&N-ARCA merger has opened up both some questions and possibilities for Buchanan's 2020 racing schedule. He still is planning on tackling some of the regional short tracks in what now is called the ARCA Menards Series East, but some of the engine rules that made the trip to Daytona possible may also allow Buchanan to run the big series' stops at Charlotte and other places.
"We weren't sure what was going to happen with the ARCA East as far as the engines," Buchanan said. "I think Yates may be coming out with a different version of their engine that we run in that series. So, instead of buying an obsolete engine this year for that series, we still have one good one left. We'll be running some ARCA East races, probably Bristol twice, and be able to use that car.
"We decided to go ahead and invest in an Ilmor motor. Now, the Ilmors are valid for trucks and ARCA. We decided to invest in that, then the body-hanger we have found a chassis for us that was a superspeedway chassis."
Between his businesses and racing, Buchanan still finds time to come back home to visit occasionally. His parents still live in Hildebran, and he has a sister who lives in Conover. He has fond memories of his hometown and playing football at EB for legendary coach Danny Williams.
"I enjoyed East Burke and all the teachers there. They were wonderful," Buchanan said. "All the people in Burke County have been great to us."