CHARLESTON, S.C. — Freshman guard Fletcher Abee (Freedom H.S. 2019) hit for double figures twice in a pair of recent narrow losses by The Citadel men's basketball team against teams near the top of the Southern Conference.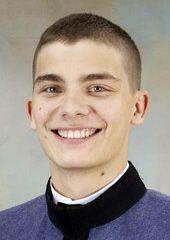 In Wednesday's 79-69 home loss to 2017-18 SoCon champ UNC-Greensboro, Abee scored a team-leading 20 points in 34 minutes and added six rebounds, two steals and one assist, shooting nearly 50 percent from the floor and draining four 3-pointers.
This past Saturday in a 73-71 road setback against reigning SoCon regular-season and tournament champ Wofford, who won at North Carolina this year, Abee scored 14 points and made three 3s.
For the year, Abee has started all 16 games for the Bulldogs (6-10, 0-5) and ranks fourth on the team at 12.1 points per game.
Sullivan earns 50th win with L-R men's hoops
WISE, Va. — The Lenoir-Rhyne men's basketball team defeated Virginia-Wise 81-64 on the road Wednesday as head coach Everick Sullivan garnered his 50th career victory with the Bears (8-6, 4-5 South Atlantic Conf.). 
R.J. Gunn scored 14 first-half points and finished with a team-high 21, Darius Simmons scored 12 points, all before halftime, and dished out a career-high seven assists with just one turnover and Davion Bradford had his first-career double-digit rebounding game with 10.
The L-R women (6-9, 4-5 SAC) also won Wednesday, 68-64, as Kennedy Weigt scored 20 points and Kiara Moore (10 points, 12 rebounds) and Madeline Hardy (14 points, 11 rebounds) both secured double-doubles.
CVCC women register season-high 111 points
FAYETTEVILLE — The 11th-ranked Catawba Valley Community College women's basketball team (12-1, 5-0 Region X) scored a season-high in points on Wednesday in a 111-22 road conference victory against Fayetteville Tech.
Every Red Hawk player scored at least four points in the win, including freshman Jordan Jenkins with a career-high 20 points to lead five in double figures.
2 WCU freshmen All-Americans
CULLOWHEE — Western Carolina offensive lineman Isaiah Helms and long-snapper Kevin Thompson both collected FCS Freshman All-America honors this week from Phil Steele Magazine. It is the third consecutive season that WCU has landed a player on the team.
Helms, a true freshman from Lenoir, started all 12 games at center before suffering a broken leg on the first series in the season finale at Alabama.