The eyes of the college basketball world again turn to the ACC on Saturday night as Duke travels to Virginia, but before the main event, North Carolina will try to keep rolling and N.C. State goes on the road searching for something positive.
Here's what to watch for this weekend:
Point guard drama
Apparently that's going to be the theme when Duke and Virginia get together this season.
After Tre Jones missed the Blue Devils' 72-70 victory on Jan. 19, it's the Cavs who face uncertainty at the position as Ty Jerome's status for Saturday is up in the air as he recovers from a sore back.
While Jones' absence changed Duke's style significantly, the loss of Jerome would prove an even bigger issue for Virginia without two future NBA top-five picks to pick up the slack.
Playing without him in its 56-46 victory over Miami last weekend, Virginia's offense posted its worst offensive performance of the season and committed 16 turnovers — well above its season average of nine. Starting in his place, freshman defensive pest Kihei Clark had nine points and six assists but committed six turnovers.
Regardless of whoever plays for Virginia, expect the same type of street-fight the teams have played in recent years.
If Jerome is healthy and ready to go, the advantage certainly favors the Cavaliers in front of what should be an excellent crowd, while if Clark is forced to play extended minutes, that's a matchup the Blue Devils will look to exploit with their pressure defense and push tempo to more comfortable pace.
Duke-Virginia hasn't failed to deliver lately, and this one should be no different.
Wolfpack comeback?
Rough would be an understatement for N.C. State's past few weeks, with a couple of historically bad performances while losing three straight.
If there's any hope for getting this thing turned around and going to the NCAA Tournament, the Wolfpack has to win at Pittsburgh on Saturday afternoon and that starts with getting more from point guard Markell Johnson.
Since missing three games after taking a fall in the win over Pittsburgh on Jan. 12, Johnson hasn't been the same over the past four games, averaging 9.5 points, 3.3 assists and 3.3 turnovers as State has gone 1-3. As a team, State has posted three of its five worst games in terms of assists over that stretch.
Kevin Keatts told his team to do some soul-searching after Tuesday's loss in Chapel Hill, and if the Wolfpack plays with the kind of intensity and focus on details it showed earlier this season, there's no reason State should lose this one.
Downgraded storm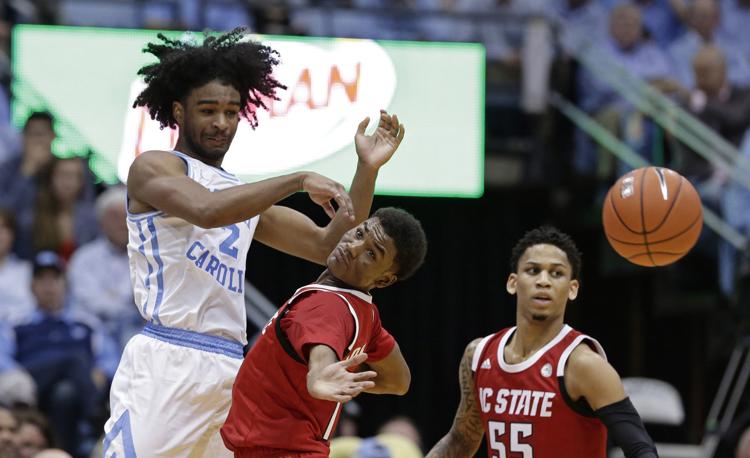 North Carolina begins its first Saturday-Monday set — always a Roy Williams favorite —with a Noon tipoff against shorthanded Miami.
As far as the 48-hour turnaround goes, this one is about as lucky as the Tar Heels can get, given the Hurricanes are down to seven scholarship players due to injury and the loss of Dewan Hernandez.
Miami is still the same tough, physical team led by human spark plug Chris Lykes, but a short bench combined with Carolina's fastest-ever pace could spell disaster for the Hurricanes.
The Tar Heels, who are playing their best basketball of the season during their current six-game winning streak, will try to get this one over with quickly and loosen up the rotation to stay fresh for Monday's meeting with Virginia.
Retro Metro
No. 16 Louisville travels to Tallahassee to meet No. 22 Florida State in a matchup of old Metro Conference (RIP) rivals.
The Cardinals bounced back from their loss to Carolina with an impressive road victory at Virginia Tech, while the Seminoles have risen from the ashes of their tough ACC start with four straight victories, using some vintage Leonard Hamilton defense to limit opponents to an average of 61.2 points over that stretch.
A win would keep Louisville in the ACC's upper tier, while FSU could put itself back into the conversation for a top-four finish with a victory.
Elsewhere…
With Virginia Tech point guard Justin Robinson still out, Clemson has a shot at its fourth straight victory thanks to improved defensive play, allowing 49.3 points over the past three games. The Tigers look like an NCAA Tournament team, but don't have the resume at the moment. A victory here would certainly be a significant addition.
Syracuse plays host to Boston College in a 2 p.m. tipoff, and while the Orange should cruise, nothing has been a certainty for a team that hasn't always played to its potential this season. On the first Sunday night of the NFL offseason, we get a Georgia Tech-Notre Dame matchup. Hey, at least it's ACC basketball right?