Whether you want to call it an upset, a surprise, shocking or something else, Justin Haley's NASCAR Cup Series win at Daytona on Sunday is the "most."
While that may seem like a bold claim, think about this: Haley was making his third career Cup start with a team that didn't exist until December and was 34th in owner points before Daytona.
In fact, Spire Motorsports had never finished inside the top 20 — including 30th or worse 14 times in 17 races — before Sunday. And Haley's only career lap led is the one under yellow before NASCAR displayed the red flag and, ultimately, called the race official.
It was the first win for crew chief Peter Sospenzo since 2003 (another rain-shortened win with Joe Nemechek) and the first victory for No. 77 since 1959 with Joe Lee Johnson.
Here are some of the other most unexpected wins over the years, along with a reason why Haley's win is crazier than them.
Chris Buescher, Pocono 2016
Driving for Front Row Motorsports, Buescher inherited the lead under a round of green flag pit stops and held on until rain hit the track. The race was called and Buescher had his first win.
Reason: FRM, in its 12th season, had won before. And Buescher, the reigning Xfinity Series champion, was in a fulltime rookie season with support from Roush Fenway Racing.
David Ragan, Talladega 2013
Front Row Motorsports' first win in Cup competition came when Ragan stormed to the front late to lead a 1-2 finish with teammate David Gilliland, a pinnacle moment for the team.
Reason: Though never a winner, the team was an established restrictor plate contender before the win. And Ragan was a seasoned veteran by this time with a win at Daytona two years earlier.
Trevor Bayne, Daytona 2011
Bayne's Daytona 500 win, which came in just his second career start, was certainly unexpected. In a backup Wood Brothers Racing car, he played the tandem draft right for his first win.
Reason: Although the team was a shell of its former self and not what it is today, either, the Wood Brothers were NASCAR's oldest team and had support from Roush at the time.
David Reutimann, Charlotte 2009
In another rain-shortened victory, Reutimann picked up his first Cup win and the first for Michael Waltrip Racing in one of NASCAR's biggest races, the Coca-Cola 600.
Reason: MWR was an established team with heavy Toyota support by the time of Reutimann's win. And the driver, who would go on to win again in 2010, had a pole and a top five already.
Brad Keselowski, Talladega 2009
A last-lap pass that sent Carl Edwards flying into the catch fence sent Keselowski and Phoenix Racing to their first Cup win. It was just the fifth career Cup start for Keselowski.
Reason: Keselowski was a known commodity as a Hendrick Motorsports development driver. James Finch's team had been around for years and scored good finishes at plate tracks.
Jamie McMurray, Charlotte 2002
In just his second career start, McMurray parlayed his role as a substitute driver for Sterling Marlin into a dominating win in the fall race at NASCAR's home track.
Reason: Chip Ganassi's No. 40 Dodge was on pace for a championship before Marlin got hurt. It had won two races earlier in the season. McMurray won two Busch Series races in 2002.
Brett Bodine, North Wilkesboro 1990
Bodine came out on the good end of a NASCAR scoring gaffe at North Wilkesboro Speedway to beat out Darrell Waltrip and Dale Earnhardt to score his first and only Cup Series win.
Reason: Although the way Bodine got to the lead was controversial, he led 146 laps in the win. His King Racing team had won each of the prior two seasons with Ricky Rudd, as well.
Derrike Cope, Daytona 1990
Cope benefitted from Dale Earnhardt's last-lap flat tire to snag a shocking Daytona 500 victory, his first career win and the first for team owner Bob Whitcomb in the sport's biggest race.
Reason: Cope had been in Cup since 1982 and had legendary crew chief Buddy Parrott atop the pit box. Cope and Whitcomb Racing also would go on to win again at Dover later that season.
Phil Parsons, Talladega 1988
Parsons, the younger brother of Winston Cup champion Benny Parsons, led 52 laps to take Leo and Richard Jackson's No. 55 Oldsmobile to his first career victory.
Reason: Parsons had several fulltime Cup seasons under his belt, including some top five finishes. And the Jackson Brothers had fielded winning cars in the past.
Bobby Hillin Jr., Talladega 1986
In just his second fulltime Cup season, Hillin led the final nine laps after passing Tim Richmond to secure his first and only career win driving for the Stavola Brothers.
Reason: Hillin was really good in '86, and the win was his eighth top 10 of the season, including a top five at the first Talladega race. He finished the season inside the top 10 in the points.
Driving a research and development car for DiGard Racing, Sacks passed superspeedway ace Bill Elliott with nine circuits remaining to score his first and only career Cup victory.
Reason: Even though Sacks never did much before or after his Firecracker 400 win, DiGard was a championship winning team and had won a pile of races before starting Sacks' R&D team.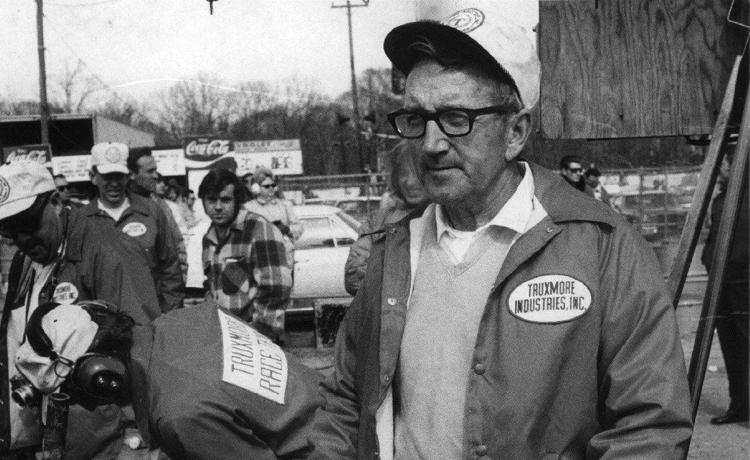 Ridley inherited the lead late after Cale Yarborough's engine expired to win for the first and only time, scoring the lone Cup win for team owner Junie Donlavey in the process.
Reason: Though never before or after a winner, Donlavey had been a fixture in the NASCAR garage since 1950 and had some great drivers in his cars. Ridley was a known late model ace.