VALDESE — Homecoming never felt so good in Wildcat Country.
Braxton Cox threw for three touchdowns, Trent Corn ran for three touchdowns and the Draughn football team won its first-ever running-clock game at home Friday over Patton, 44-6.
The Wildcats (5-2, 3-0 Northwestern Foothills 2A Conf.) extended their program-record win streak to five games, scoring on six straight possessions — including four straight to end the first half after holding a slim 6-0 lead after a quarter — and pitching the shutout until under 5 minutes to play in the game.
"This win is a credit to all those players and this whole coaching staff, especially Coach (Chris) Powell for getting us all prepared and putting in the hard work," said Draughn defensive coordinator Billy Abee, who acted as head coach with Powell serving a one-game suspension after being ejected in Thursday's JV game. Donald Brown called plays on offense for DHS.
"I know they're excited, but I'm hoping the players are staying hungry and humble," Abee added. "That's what Coach Powell has reminded us every week since Week 3 after the first win."
Cox completed 10 of 17 passes for 302 yards, finding Khe-nai Banks twice (77, 21 yards) and Nick Chrisco once (66 yards) all before halftime.
Banks' 77-yarder on a jet sweep provided the game's first points, two plays after the Wildcats defense stymied the Panthers (1-5, 0-2 NWFAC) to a single yard on a drive that started at the Draughn 24 after a PHS blocked punt.
"I know (Khe-nai's) got speed, and if we can make a couple blocks, he's going to make people miss. That's all we had to do," Cox said.
Corn's first score of 3 yards made it 12-0 early in the second period. On Draughn's next drive, Cox and Chrisco improvised and turned what looked like nothing into a game-shaping outcome.
Under heavy pressure, Cox rolled to his left. With a handful of Panthers defenders barreling in on him, Cox delivered a two-hand pass to Chrisco just before stepping out of bounds, and Chrisco covered the final 60 or so yards up the sideline to the end zone.
"Before the play, I knew their defensive end was coming off the edge and I saw linebackers coming," Cox said. "I just tried to run and kind of see what I could get and then I saw Nick last second and just chest-passed it out there. Kind of lucky I guess, right place, right time."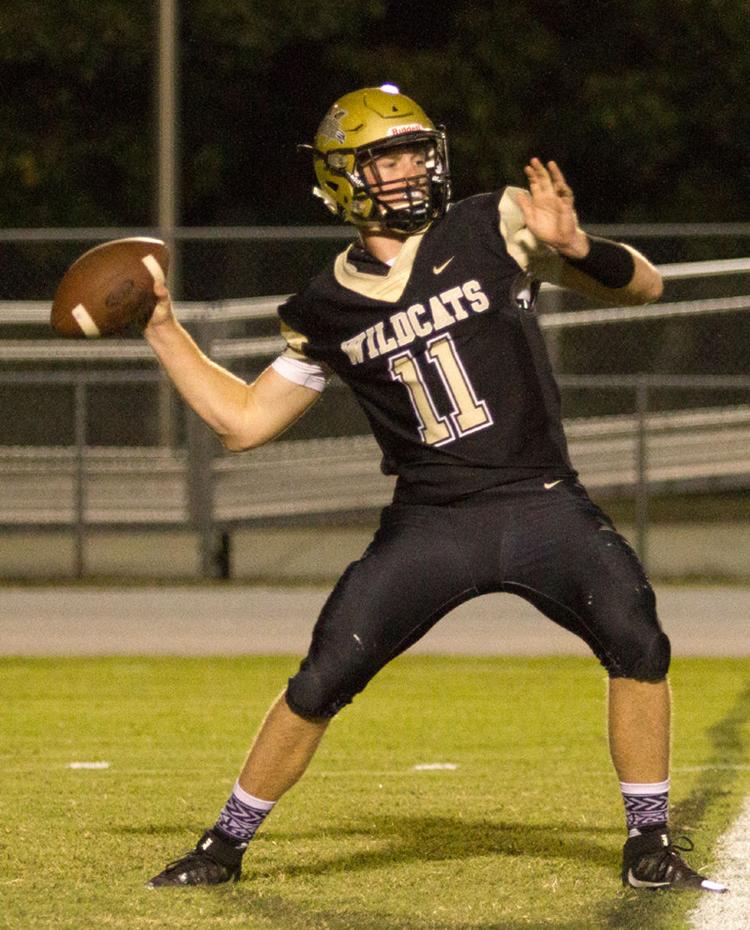 Ahead 20-0, Corn set up a Ryan Kaminske 26-yard field goal with an interception near midfield, the game's lone turnover. Then with just 1:11 left in the half, Draughn got a stop and score from Cox to Banks in the back corner of the end zone to up 30-0 right at the buzzer.
"The read was if it's zone, hit the slant, if it's man, hit Khe-nai because nobody's keeping up with him," Cox added. "I just threw it out there and he made a great catch."
Corn rushed 19 times for 65 yards, his final two scores covering 11 and 3 yards in the third period. Banks had four catches for 113 yards, Denver Treadway had three catches for 91 yards and Chrisco had two for 88.
Draughn continues to defy the odds, remaining in first place in the league on the heels of a 1-10 season and sixth-place preseason prognostication.
"To win five straight is an electric feeling," Banks said. "Nobody would've thought we could've done it, but I promise you we believed in each other all the way."
"I just feel like everyone is gluing together and bonding," Cox said. "We're having fun and winning while we're doing it."
Draughn allowed just 82 yards in all (2.0 yards per rush on 35 Patton attempts) and just one first down until PHS' last possession.
In addition to Corn (½ tackle for loss), Draughn's defensive gem was led by Mason Pratt (two sacks), Donnell Wilkins (1½ TFL), Chrisco (TFL), Zach Poteet (TFL), Donavan King (TFL), Beckett Nelson (pass breakup) and Alex Carter (pass breakup).
"I thought we played great," King said. "We were very prepared for this game. They couldn't hold our 6-2 defense."
Minus its top two tailbacks due to injury, Ethan Pons ran for a team-high 34 yards for Patton, and quarterback Weston Fleming added 26 total yards with a 12-yard TD run late.
Kalen Byrd added 17 yards, a blocked punt and a tackle for loss, Bryson Ratliff had a tackle for loss and a pass breakup, and Demetric Greene and Rico Barrino also had stops for loss.