ICARD — Pushed into the corner by East Burke again, the Draughn boys basketball team came out swinging in the third period of Friday's road rivalry game.
Led by a big night from the program's all-time leading scorer Jeremiah Daye, the Wildcats escaped a second-half deficit to avenge a home loss to the Cavaliers in 64-60 fashion and remain tied in the loss column atop the Northwestern Foothills 2A Conference.
"Last time they beat us at home and we really didn't play hard," Daye said. "I guess we took it easy thinking we're coming in and with our record, we're just going to beat them. Tonight, we didn't worry about records and we just played."
Daye finished one off his season-high established last week with 27 points and added a game-high 10 rebounds.
He helped the Wildcats (16-5, 8-2 NWFAC) stay within striking after EB opened up a five-point first-half lead, then scored nine points in the third as the guests ended the period on a 14-4 scoring run to pull ahead 49-42.
After Daye's wing 3-pointer assisted by fellow senior Eli Poteet made it 40-38, Draughn never trailed again.
Despite the team's second-leading scorer, Jaylen Abee, limited by foul trouble the whole game, Daye said he tried not to search for anything offensively that wasn't there.
"I just trusted my team, let the ball operate by itself and whoever gets the shot, gets the shot," he said. "That's how we play the game."
His coach, Yates Jensen, said Daye did a better job in Friday's rematch identifying when and from where extra defenders were headed his way in the middle of the Cavaliers' 2-3 zone.
"We're a man-to-man team, and that's what we practice a lot against," Jensen said. "I thought we executed pretty well against their zone. We wanted to take advantage of our size, get it to Jeremiah and some of our bigs. Jeremiah made some big shots. 
"He's been playing really well here the last couple weeks. The last time we played them, the whole team struggled shooting. This is the time of year you need your leaders to step up, and he did."
EB (5-18, 3-8 NWFAC) rallied to within two down twice late, at 58-56 with 49 seconds left on an Aaron Morrison 3 and at 62-60 with 6 seconds left on a Luke Coble putback. The Wildcats put the game away by making 4 of 6 free throws in the final minute, two apiece by Daye and freshman Daylin Pritchard.
"I have to give (East Burke) credit," Jensen said. "They played hard and executed well. They're scrappy, and that's a tribute to Jerome (Ramsey)'s coaching there. He said if they could bottle this up and play like it all the time, they'd be a lot better.
"The old rivalry game, I guess they just really get up for us. They wouldn't go away."
The Cavs got big nights from forward Cam Propst (17 points, eight rebounds, three blocks) and guard Aaron Morrison (16 points).
Poteet scored 14 points for Draughn and dished out a game-high six assists. Pritchard scored nine including two key baskets in the final 3 minutes, Denver Treadway made two 3s for six points and Dillon Robinson had seven rebounds. Despite playing less than half the game, Abee finished with a game-high three steals.
Draughn is now two conference wins from breaking a program single-season record and claiming a first-ever regular-season title.
"We're taking one game at a time," Jensen said. "Tuesday will be West Iredell's conference championship game. We're not looking past that."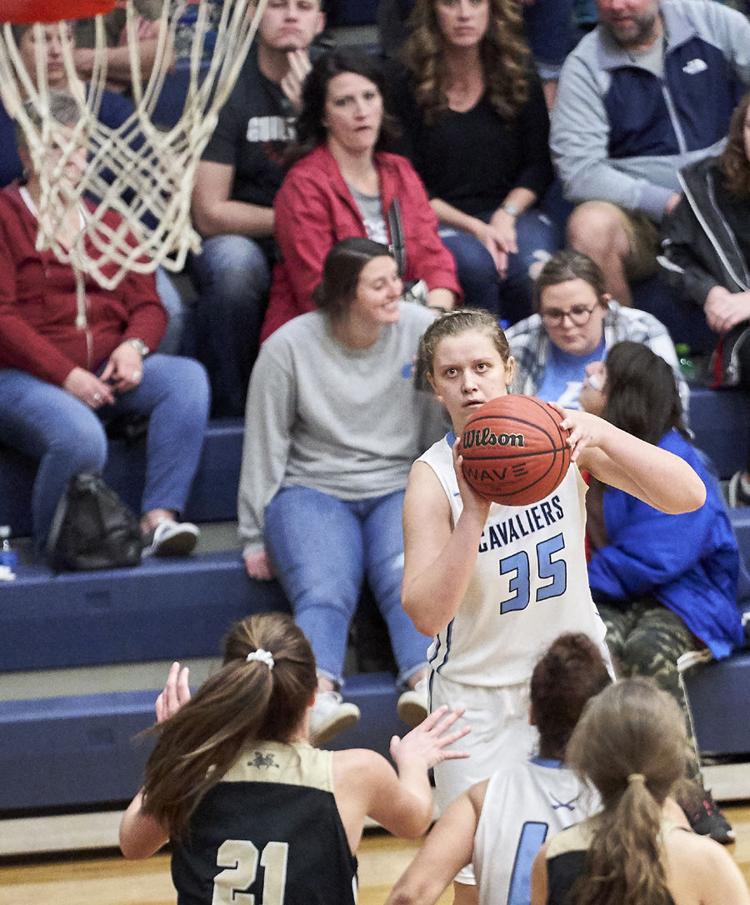 For the Lady Cavaliers (18-5, 11-0 NWFAC), it was all about some big numbers on Friday. EB burst to a 19-0 start en route to its 10th straight win in the series and 22nd in the last 23 meetings, which was also the team's 12th in its last 13 games currently.
In a 39th straight victory versus league foes, four EB players hit double figures for a second straight game. The team made 10 3-pointers, and when Ariana Hawkins' basket made it 21-1 late in the opening period, all five starters were in the scorebook before any of Draughn's had done so.
"Our offense is starting to come around because we're being unselfish for the most part," EB coach Crystal Bartlett said. "We're looking to make extra passes. And when you've got as many good players as we've got, I think that's when you get better scoring."
County scoring leader Brooke Arney hit five 3s and scored 21 points with five rebounds and four steals. Josie Hise had 13 points, seven assists and four steals and Hawkins posted a 12-point, 10-rebound double-double. Riley Haas added 13 points, five rebounds and two blocks.
"I'm feeling better than I had been. I'm getting back into it," said Haas, an all-county first-team player last season who has battled through mono for much of this season. "I've been trying to progress and get better and help the team. It's a long process to get over."
The Lady Wildcats (5-16, 1-9 NWFAC) were only outscored by three after the first period.
"I thought Draughn played a great game," Bartlett added. "They hit a lot of shots, stayed in it and competed."
Draughn switched Haley Lowman into the starting lineup as Abby Parker came off the bench. The move seemed to help both, with Parker scoring a team-high 15 and Lowman scoring nine with six rebounds and three blocks. Bailey Shuping added 10 points and Jenna Davis eight, all after halftime.