VALDESE — On Friday night, it seemed like everything was coming up Wildcats.
Draughn sewed up its first playoff berth since 2012, quarterback Braxton Cox broke the Burke County single-season passing touchdown record with 31, and the black-and-gold officially began a winning streak over their rivals from five miles down the road with a 38-7 victory over East Burke.
It was Draughn's most lopsided win in the series' history and is topped in margin all-time only by EB's 32-0 win in the inaugural game in 2009.
"For these seniors to come out here and create a streak of their own, it's just a great day to be a Wildcat," said DHS coach Chris Powell.
The win to end the regular season put Draughn at 7-4, including a 5-2 record in the Northwestern Foothills 2A Conference to tie for second place in the league. The Wildcats will enter the postseason as a wild card after the NWFAC's No. 2 playoff seed went via tiebreaker Bunker Hill, which earned it courtesy of a one-point, last-minute win over DHS earlier in the season.
Both of Cox' touchdowns went to tight end Nick Chrisco, who hit 10 TDs for the year one week after Khe-nai Banks did so as they became the first teammates with double-digit  receiving TDs in the same season in county history.
Cox tied the record with an 11-yard scoring strike in the third quarter before hitting his fellow senior on a 10-yard TD with just 14 seconds to play. Cox finished 24 of 39 through the air for 333 yards, also adding a 40-yard rushing TD to put Draughn on the board in the first quarter.
Cox surpassed Freedom's Jayden Birchfield (2017) and Michael Helms (2010), who each threw 30.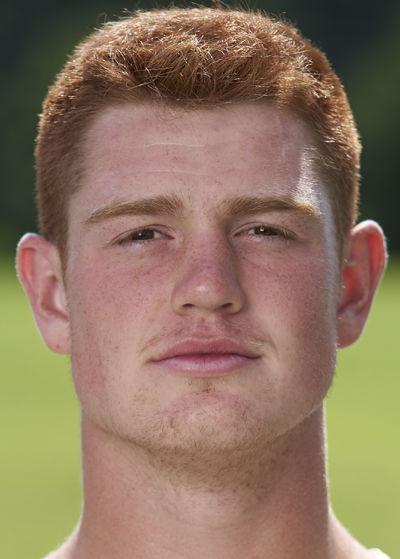 "It means a lot. I just want to say the Lord has truly blessed me this season with everything I've done," Cox said. "He's placed the right people in my life at the right time since sophomore year. I've got Coach Powell and these brothers around me. They do everything. It's not just me, it's them. So, this record is for everyone on the team."
Chrisco reeled in 10 of Cox' passes for 124 yards, Denver Treadway caught eight for 120, Khe-nai Banks corralled four targets for 52 yards and Beckett Nelson nabbed two for 37 yards.
Ryan Kaminske also added a 25-yard field goal in the second quarter to the hosts' total.
Nelson additionally scored twice on special teams, scooping and scoring from 50 yards away when the Cavaliers fumbled in punt formation in the second quarter before taking the opening kickoff of the second half 78 yards to the house.
"It was more of a team thing," Nelson said. "(Robbie) Gibby was the one who hit the punter. That's how I got the ball. I didn't do anything special. (On the kick return), there was a wide open hole because they were blocking for me."
Defensively for the Wildcats, Treadway also grabbed two interceptions and teammate Robbie Gibby added another.
"(Making plays) was exactly my mindset," Treadway said. "If we didn't perform tonight, then it was over for us. We came out and performed and got the job done."
In addition to the picks, the Wildcats made life difficult on the Cavs' passing game through the pass rush with seven sacks. Donavan King, who holds the DHS career record for that stat in just one year, tallied three of those, making a game-leading nine total stops with two additional in the backfield. Gibby (three tackles), Donnell Wilkins (seven tackles, QB hurry), Zach Poteet (seven tackles) and Mason Pratt (six tackles) each tallied a sack as well.
"The mindset was that if we didn't make the tackle, our season was over," King said. "We had to get it done on the field."
Chrisco and Nelson also added stops in the backfield, and Alex Carter broke up two passes.
EB senior running back Josh Moore also set a record, scoring his 41st varsity rushing TD to establish a new Cavaliers' career mark on a 1-yard dive in the first quarter to tie the game, 7-7.
"It means a lot. I've got to give all glory to God," Moore said. "Especially the O-line from sophomore year all the way to senior year. I never really thought about breaking a record before, but it feels good to actually do it.
"I remember freshman year, Brandon Clark was out on the practice field and I went up to him and told him I was going to break his records. I didn't get the season one, but I still got three of them. It means a lot to me."
QB Seth Pruitt, also a senior, completed 14 of 30 passes for 186 yards, hitting receivers Luke Coble (5-105), Johnny Reynolds (5-53) and Chase Childers (4-28).
Coble also grabbed an interception for the EB defense, which also got in the backfield with regularity to the tune of eight sacks. Noah Rooks made four of those, Cody Huffman (eight tackles) had two and Raelen Lo and Matthew Vue made one apiece.
Childers made two stops in the backfield and broke up a pass, Logan Johnson had a pass breakup and QB hurry, and Austin Sellers made six stops.