ICARD — In a home scrimmage pushed back two hours due to anticipated hot conditions, the East Burke football team brought the heat early versus North Wilkes on what still was a warm and humid evening late Tuesday.
Picking up where he left off last year, senior running back Josh Moore gashed the visitors in early 10-play series, taking a long carry on the Cavaliers' first offensive play from scrimmage and scoring from short distance on the fifth play on his third consecutive carry.
On EB's second 10-play series, Moore scored a 70-yard TD on the Cavs' first play.
"I liked the intensity that we had coming off the ball," Moore said. "We knew getting the ball that our goal was six points. That's on our minds. As soon as we get off the ball, that's what we're thinking about."
Senior quarterback Seth Pruitt also looked good in limited action, hitting Brett Childers on a pass and gaining big positive yardage on a couple carries during the first 10-play series before an aggravated hamstring on the eighth play sidelined him for the remainder of the evening.
"He's had that off and on," said EB coach Mark Buffamoyer, noting that keeping Pruitt out was precautionary. "We're going to hold him a little bit, but he'll be fine. He just tweaked it."
The EB defense also locked down North Wilkes early on before allowing a couple touchdowns on the second 10-play series and an additional score in a later game-type scrimmage.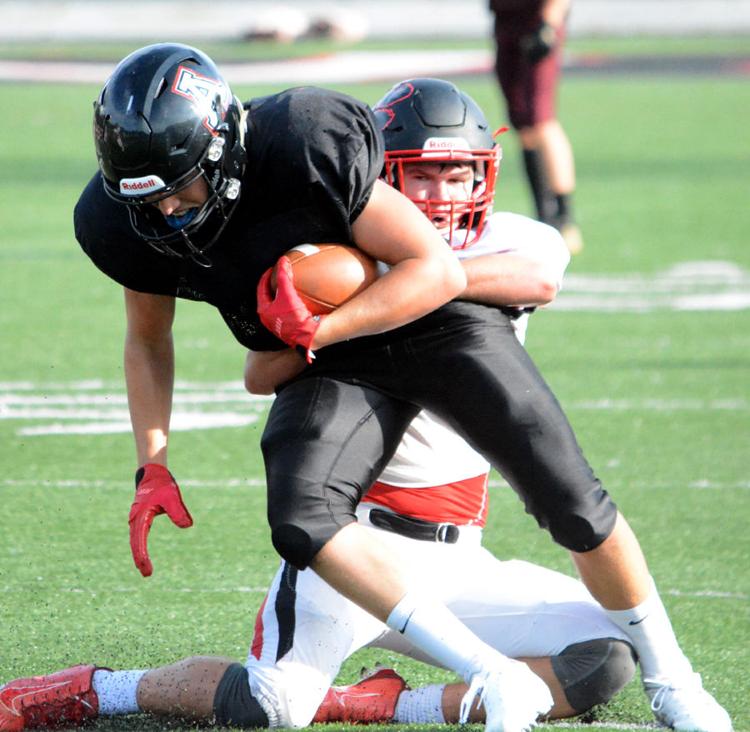 The Panthers hit the Avery County Jamboree on Tuesday night for the third time in four years, taking part in four half-four scrimmages alternating 10 plays of offense and 10 plays of defense starting on the 40-yard lines.
Patton opened with Avery, and both teams scored one touchdown. Patton's score came in the form of a 5-yard run by Bryson Ratliff. Ratliff had two sizeable gains earlier in the possession, and Weston Fleming extended a play and found Max Short with a pass for first-down yardage. Fleming hit Shawn Moody for a long pass into the red zone just before time expired.
Patton scrimmaged Enka twice. The Panthers struggled offensively in the first set versus the Jets, committing four turnovers and failing to score despite some nice gains by Short and Ratliff on the ground and a Fleming-to-Moody aerial connection.
Against Rosman, Patton hit its stride and scored three times. Ratliff caught a long first-down pass out of the backfield to set up his score, and Short added two TDs on the ground, one covering 25-plus yards.
Defensive standouts on the evening for Patton included Will Cain and Sam Elmore (fumble recoveries), Bryson Holsclaw and Ben Varsamis (QB hurries), Fleming and Jackson Vance (pass breakups) and Rico Barrino (tackle for loss). Kalen Byrd also forced a fumble that Holsclaw pounced on.
"We finally got a chance to see what we've got against competition, which was nice," said Patton coach Jonathan Browning. "I thought the first defensive series against Avery, we looked a little rusty, a little shell-shocked. After that, I felt pretty good on defense. The offensive line showed some really good things, especially against Rosman. Seeing a bunch of different fronts was challenging for them, but the effort was always there."
The Wildcats traveled to Rutherford County on Tuesday for a second scrimmage this preseason. The teams ran two varsity and JV sets of 10 plays of offense and defense, a four-minute red zone possession of offense and defense and a one-quarter game situation.
"Going from Saturday's scrimmage to (Tuesday), I thought we improved tremendously," Draughn coach Chris Powell said. "The offensive line in general was improved, which was huge as we were able to run the ball a little better. We have to sustain drives. We have some young guys with little or no varsity experience on defense, so any extended type break we can get them will be beneficial."
Powell noted the job freshman Luke Rector did filling in after an injury at center "after he hadn't practiced there all week." He said Trent Corn and Donovan King were the beneficiary of the improved O-line play, with several good runs apiece. Corn scored one touchdown, and quarterback Braxton Cox ran for one and passed for additional scores to Khe-nai Banks and Nick Chrisco.
"I thought our timing was better in the passing games too," Powell added. "And in the secondary, we moved some guys around. Alex Carter played outside linebacker, Brian Walker was at safety and Beckett Nelson played cornerback. They did a good job and were physical back there, breaking up some passes."