The Patton girls basketball team saw a season-high four players score in double figures in a Northwestern Foothills 2A Conference blowout home win over Hibriten on Friday night, 59-35.
Reece Fisher (16 points), Zakiah King (14), Claire Hawkins (11) and Nevaeh Duckworth (10) led the charge with a balanced output as PHS scored 16 points apiece in each of the first three quarters to build a 31-point advantage.
That included a 17-0 run spanning the first two quarters that gave Patton (8-6, 4-1 NWFAC) all the breathing room it needed.
"We were aggressive on the offensive boards," said PHS coach Autumn Helms. "We crashed the boards and got it inside. Our post players are learning they can score and building that confidence. Even if we get it inside and kick it back out, we can hit shots. We have a lot to work with if we will just use it."
King, a sophomore center, posted 11 rebounds to make her performance a double-double, adding three blocks and three steals. It continued her dominance against the Lenoir-side Panthers, versus whom she averaged 10 rebounds and seven blocks in three matchups as a freshman.
It also capped off a nice week in the NWFAC for King, who scored 23 in a victory over Bunker Hill on Tuesday.
"I think our passing has really helped us out a little bit," King said. "Our past couple games, we've had a couple turnovers. But I feel like we've narrowed that down and started playing as a team, pitching ahead. I think I'm finally understanding how to post up. When there's a size difference, it really helps."
Duckworth (four assists) hit double digits for the second time on the week after also scoring 10 against the Bears earlier in the week. Cierra Lail (four points) grabbed eight rebounds. Fisher and Brailey Nelson put up three steals each.
Most importantly, the victory moved PHS' winning streak to six after a 2-6 start to the season and marked the hosts' fourth league win in five conference games so far as they took over outright second place. Although there have been bumps along the way, Helms says there's a lot to like about her team when it plays together.
"Our biggest thing, especially from Wednesday night when we played North Iredell and we did not play very good team basketball that night, we really focused on that in practice (Thursday) and I thought we moved the ball better," Helms said. "We pushed the ball better and worked, overall, better together tonight. That made a huge difference."
Patton won the rebounding battle, 32-21, and came out on the good side of a 22-15 turnover margin.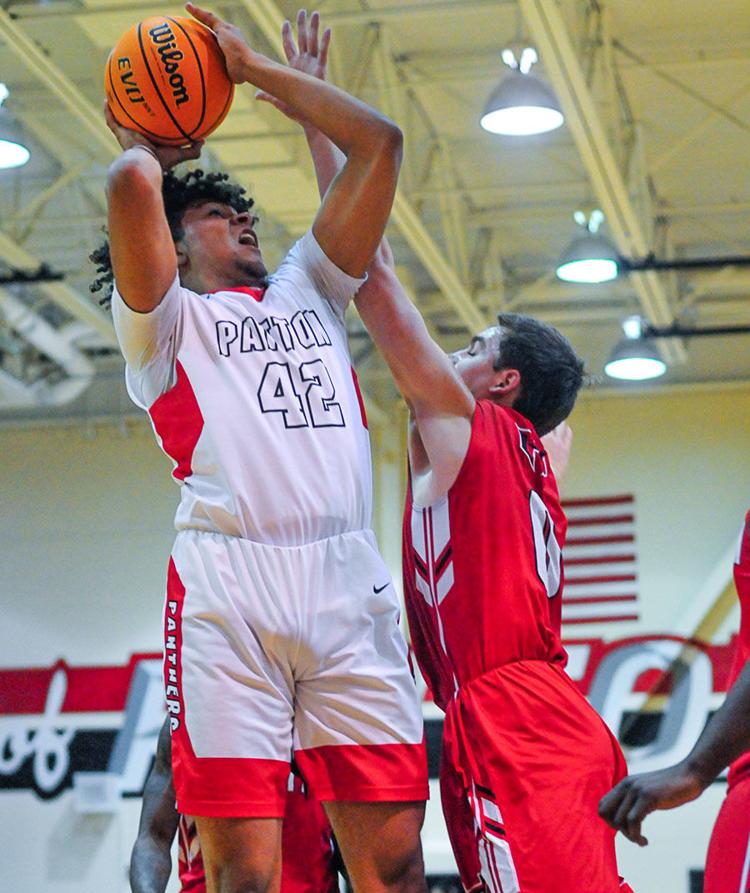 Turnovers, foul trouble and missed free throws (8 of 16) reprised their roles as demons for Patton (9-5, 3-2 NWFAC).
Hibriten tripled up PHS, 21-7, in the final frame to claim the victory going away after trailing 10-4 after a quarter, 16-13 at the half and 32-30 after three in a game where the offenses never really got going until HHS found success off steals and at the stripe in the late stages.
Patton connected on just two fourth-quarter field goals as the visitors hit a trio of transition buckets and went 13 of 18 at the foul line down the stretch.
Freshman Jayden Powell fouled out with 2:13 to play, and fellow starters Finn Rigsbee, Jackson Vance and Bryson Holsclaw each finished the game with four fouls.
It all nullified a fine defensive effort from Patton early, highlighted by a one-field goal first quarter by Hibriten.
Patton led by six at the end of the first quarter after Rigsbee scored a bucket on an assist from Powell, who was laying the ground. The lead became 12-4 just 10 seconds into the second quarter on another Powell assist to Chris Lytle. The advantage later was 16-8 after a Rigsbee free throw and still was as high as 26-18 with 3:28 to play in the third quarter when Rigsbee dished one inside to Vance.
Hibriten took its first lead with 28 seconds to go in the third before Vance responded with a 3-pointer assisted by Rigsbee, and Connor Rudisill opened the fourth quarter's scoring on a basket off a Rigsbee steal for a 34-30 lead. A Rigsbee rebound basket 90 seconds later gave PHS its last lead at 36-34.
Rigsbee (three assists) and Vance (two 3s) led PHS with 11 points apiece. Holsclaw (eight rebounds, two blocks) scored six, Powell (five boards) put up five and senior point guard Lytle scored four.