The Freedom boys basketball team started the second quarter on an 11-0 run to eliminate a thin deficit and establish a lead it would never relinquish Tuesday night in a 79-61 nonconference home win over rival Patton.
The victory moved the Patriots to 2-0 on the season and 25-0 all-time versus the crosstown Panthers.
The spark out of the quarter break was ignited by a Bradley Davis basket and capped by a pair of free throws from the senior guard, with a Nick Johnson layup, Qualique Garner 3-pointer and James Freeman steal-and-dunk in between.
Less than a minute later, a trey from sophomore Quentin Rice on a Freeman assist gave the Patriots their first double-digit lead at 34-24, and the lead later grew to 12 at halftime and as many as 22 in the middle of the fourth quarter on a 3 from Ben Tolbert.
Twenty-two was the tipping point for Freedom, as it later replicated that advantage on a Davis basket, a Kason Ledford 3 and another make from beyond the arc by Garner before settling for an 18-point win.
"(Patton) did a really good job on making some shots," said FHS coach Clint Zimmerman. "We kept losing them, so they were getting some uncontested looks. And, to their credit, they knocked a lot of them down. I don't know that we really made an adjustment other than on the defensive end. I thought our traps and our rotations were pretty good. We've got a long ways to go on just sitting down and getting stops when we need them."
The offense flowed through Freeman in the second half as he became a distributor, notching seven of his nine total assists after the break. He added 14 points and a pair of steals to the victorious effort.
"I just got some free lanes to the basket early in the game, so I knew they'd start collapsing on me," Freeman said. "Once they start collapsing, I've got guys on the outside who can just shoot the ball pretty well."
Davis was tops among that group of guys, leading Freedom (2-0) for the second time in as many games to start the season with 18 points. Garner (eight boards) finished with 17 and Rice also hit double-digits with 11.
Patton's hot shooting start included five 3s from four different players in the first quarter, including Finn Rigsbee (two), Chris Lytle, Caleb Castle and Jackson Vance. But the 21-7 deficit in the second quarter put the game out of reach for the Panthers (1-1).
PHS rebounded from a pair of losses by 47 or more points last year to give Freedom its toughest test in the series since a 14-point Patriot win on Dec. 22, 2017.
Rigsbee (six rebounds, four assists) led the effort with 17 points, Lytle and Holsclaw scored 10 apiece and Vance finished with seven. Anthony Feaster-Hicks supplied six points and five rebounds.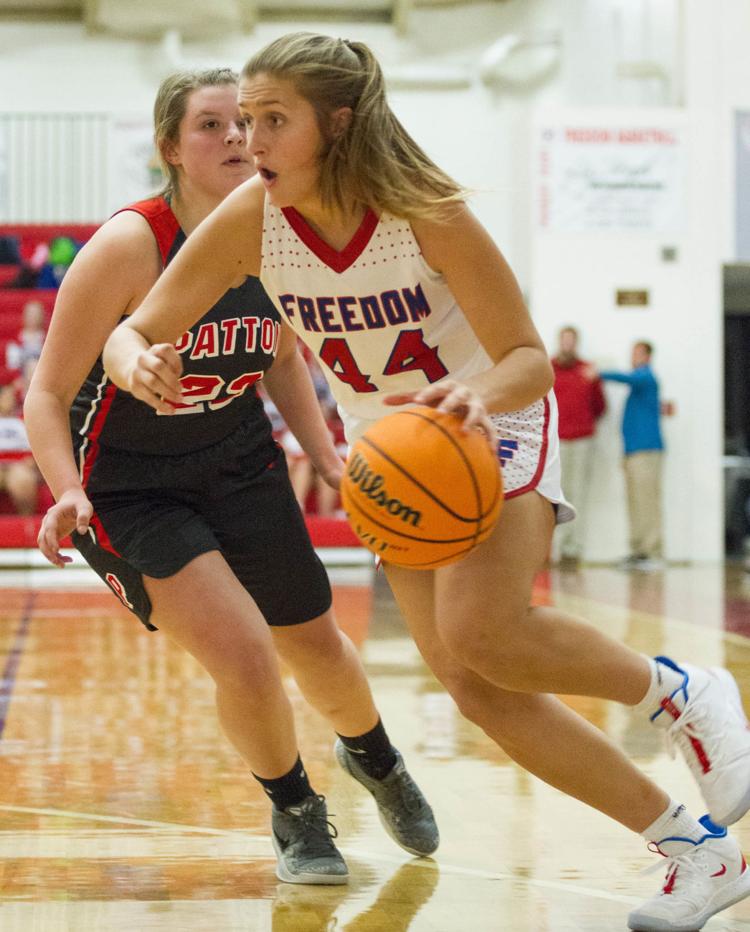 A 22-0 lead after one quarter was plenty for the Lady Patriots (2-0), who later stretched their advantage to nearly 30 in the 17-point rivalry win.
A three-pronged attack of Blaikey Crooks driving to the basket, Josie Hise making free throws and Jayda Glass hitting from beyond the arc powered the early spurt.
"We played a much better game as a team defensively tonight, I thought," said Freedom coach Amber Reddick. "We moved the ball better on offense, but the thing I was most proud of is we did a better job rebounding. We had a stretch in the second where we got a little sleepy on the boards, but overall, I thought we just played a much cleaner game tonight."
Hise led the team with 14 points, adding four steals as Freedom won the turnover battle handily, 23-8.
"We had good defense and teamwork," Hise said. "In practice, we've really been working on (those things), not fouling and getting rebounds since we only have one post. We just prepared really well and worked together as a team."
Christena Rhone (12 points) and Crooks (10) also hit double digits for the Patriots, and Glass finished with eight.
The Lady Panthers (0-2) won the game's final three quarters, including a 20-11 advantage in the fourth frame, but couldn't overcome the goose-egg to start. Reece Fisher (16 points) came alive to lead the game, and Patton also got help from Kierra Teeters (eight points) and Claire Hawkins (seven) late.