Quarterback Jayden Birchfield lit up a county foe for the second straight week as the Freedom football team completed its decade of dominance in the Fat Friday rivalry by defeating East Burke at home Friday night, 56-7.
The Patriots extended their series-record streak to 10 wins, all of which have come by at least 28 points.
Freedom (2-1) came within one point of the single-game scoring record in the rivalry, and the entire second half was played under the mercy-rule running clock with the margin at 43-0 by halftime.
"I wanted to see what I saw in the first half," FHS coach Luke Little said. "East Burke is a lot better than last year and is going to have a good season in the league they're in. But with us playing a 2A school, we should dominate the first half. We did have too many penalties, but we moved the ball at will and held them."
Birchfield passed for four first-half touchdowns and ran for another, completing 15 of 22 attempts for 221 yards and adding four carries for 61 yards.
The senior signal-caller has now totaled 12 TDs over his last two halves of football, and ends his head-to-head series with EB with five TDs in all three appearances dating back to his sophomore year.
"A lot of the stuff (Jayden) does, people don't realize, I didn't even call," Little added. "Every play we've got, there's three options to it. And some of the passes he makes, he sees where the bubbles are and takes advantage of it. He's like a coach on the field."
Damien Dula caught a game-high six passes for 94 yards and two TDs, and Birchfield also found Desmond Caldwell (5-65) and Demorian Burgess (2-48) for a score apiece. Dula said he wasn't surprised at the final point spread and credited it to his team's work ethic and preparation throughout the week.
"We work on ourselves all week, trying to make us better, sharpen our mistakes," said Dula, who also had a tackle for loss and a pass breakup. "We do that, we can be the best team in the state. … It's always fun playing in front of a lot of people and especially when you get a win and score a lot."
Coming off two serious knee injuries the last several years, Freedom running back Chase Young scored his first prep TD midway through the second quarter, a 5-yarder, and finished with a game-high 67 rushing yards on six attempts.
"It's a lifetime thing," Young said afterward. "Coming back from two ACL tears to get my first varsity touchdown, it's gonna mean a lot to me."
Little added: "Chase is going to get better and better each week. He ain't played football in two years. We're excited about that and happy for him getting in the end zone tonight."
After halftime, Pats freshman QB Ty Little hit on 4 of 7 passes for 99 yards and TDs to both Titus Walker (covering 42 yards) and Sacred Baylor (40 yards). It was the first varsity scores for each of those three players as well.
The FHS defense surrendered just 103 yards and six first downs, including a mere 26 yards on 22 rushes by Cavalier seniors Josh Moore and Brett Childers, the county's top two rushers entering play Friday.
In addition to Dula, Freedom's defense was led by Mekhi Spates (tackle for loss, forced fumble), Bryce Griffith (two TFL), Noah English (TFL), Kevin Hover (TFL), Walker (pass breakup), Saiveon Pitman (PBU) and Hunter Taylor (PBU).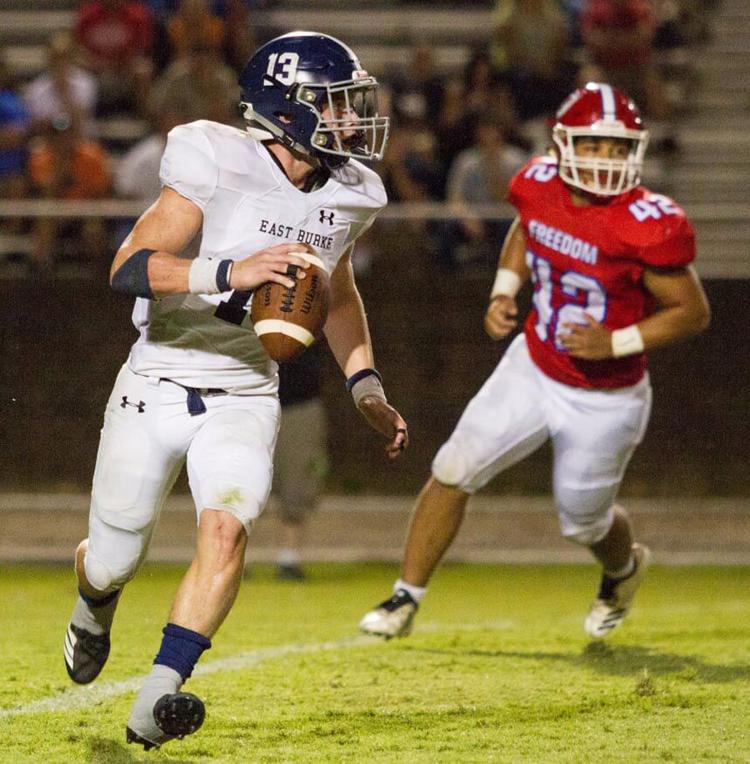 EB (1-2) got its lone score from Luke Coble (three catches, 54 yards) on a 4-yard pass from Brett Childers to wrap the scoring with 8:45 left.
Childers passed for 56 yards and Moore rushed for 27 yards. Blane Fulbright added 21 rushing yards including a fake punt fourth-down conversion, booted a 51-yard punt early and had a pair of kickoff returns of over 25 yards.
The Cavs' defense was paced by Cody Huffman (TFL, PBU) and Raelen Lo (QB hurry, PBU).
"We've got another day to play, so we just have to put this behind us and be ready in two weeks (after the bye week). This is one we'll go back and look at film and then try to flush," Cavs coach Mark Buffamoyer said.
"They have a real good football team over there. I thought our kids played hard early, we just couldn't move the ball. But the defense was flying around. Anytime that team gets you in space, for us, it's difficult to try to contain. I was a little disappointed we got out of kilter when we got punched in the mouth. Mature teams need to dig a little deeper. It wasn't very smooth."
Freedom returns to action this week at Patton, with EB idle until Sept. 20 at home against West Lincoln.