Two more Freedom girls basketball players are bound for the college ranks after a pair of Lady Patriots signed on Friday.
Senior guards Blaikley Crooks and Jayda Glass signed with Lenoir-Rhyne and North Greenville, respectively, just days before the start of their final prep season.
Crooks is a reigning Burke County girls co-player of the year. She also was named All-Northwestern 3A/4A Conference, the NWC tournament MVP, All-Freedom Christmas Invitational and second-team all-district following a junior season where she averaged 14.1 points, 3.1 rebounds, 2.8 assists and 2.2 steals. Crooks is a three-peat All-NWC pick and a repeat all-district selection.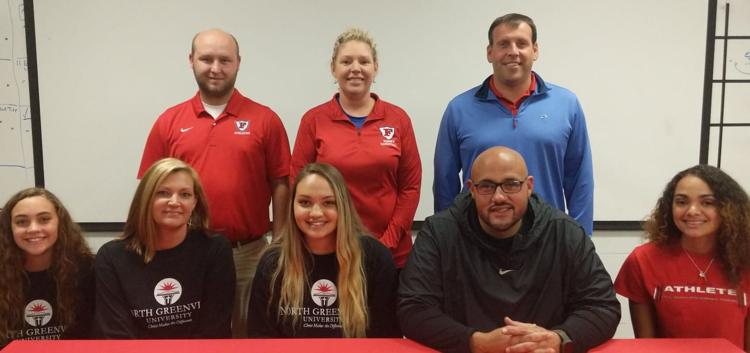 Glass, who is in the FHS district for her senior year, averaged 10.0 points, 4.6 steals, 4.4 assists and 2.9 rebounds per game during her junior season, which she spent at Eastern Guilford. She spent her first two seasons at Jay M. Robinson, where Glass set a new school record for 3-pointers in a game with eight as a sophomore.
Crooks said L-R was right for her in terms of atmosphere and proximity. The Bears went 17-13 overall last year, including 11-9 in the South Atlantic Conference, and are 1-1 early this year.
"It honestly just felt like home, and it pretty much is since it's not very far away," Crooks said. "I just liked the coaching staff. They're so personable, and they told me everything I needed to know. I didn't have any doubts about it.
"I met the team at camp, and I really liked them, too. It just felt like home and the right decision."
FHS coach Amber Reddick praised Crooks not only for her ability on the court, but for her leadership and her coach-like role on the court and in the locker room.
"Aside from her being a great player — and I think she's improved tremendously since her freshman year — Blaikley is a great person, a great teammate and a great leader," Reddick said. "She is one of those players who you could tell as a freshman was going to be able to step into that leadership role eventually. She's a player I can really lean on in a lot of facets as far as the day-to-day operations of the team.
"I'm just proud of her because I know this is a goal of hers. She's put in the time and worked on the things she needed to work on. I just think she's got a great fit at Lenoir-Rhyne. I think she's going to do a great job at the next level."
During her time so far with the Lady Patriots, Crooks listed off team dinners and locker room bonding as some of her favorite memories. As far as the season ahead, her goal is simple: win a state championship.
Glass said she quickly formed a good relationship with NGU head coach Kelvin Long Jr. The Crusaders won seven games in Conference Carolinas action last season and are off to a 1-1 overall start this year.
"The coach kind of sold me all the way," Glass said. "He was at almost all of my games. I liked the family aspect. That's what I was looking for in a school. Just the whole program itself. I just loved it, and the coaches really helped me throughout the entire process."
Even though Glass has only been with the Lady Patriots for a short time — though she did grow up and play travel ball with many of her new teammates — she has impressed Reddick in the team's practices and scrimmages so far.
"She's a very tough, competitive player," Reddick said. "I haven't been around her a tremendous amount of time, but I can already tell Jayda hates to lose. Jayda's going to do whatever she needs to do to help her team win. I love that about her.
"And she, too, has so much toughness and desire. She's put in a lot of time outside of regular practice working on her game, and it's paid off. She comes from a coaching pedigree, so she knows the game really well and has a high basketball IQ."