For the Freedom football team, this year's start looks very similar to the previous two.
Since conference realignment ahead of the 2017 season, the Patriots have kicked off the year with a loss to nonconference powerhouse Shelby, followed by non-league wins against Burke County foes Draughn, East Burke and Patton the next three weeks. This year has been no different.
Normally, FHS would be preparing to jump into Northwestern 3A/4A Conference play tonight. But after West Caldwell dropped out of the league this summer, the Patriots (3-1) had to add one more nonconference game.
That will come this evening at Crest, another traditionally elite squad from Cleveland County.
The teams haven't squared off since the Chargers' 34-7 win in Morganton in the second round of the 3A state playoffs in 2010. The most recent regular-season game was in 2008, a 20-7 win for Crest at Sid Bryson Stadium, the site of tonight's game.
Wildcats want 3rd straight
Having already surpassed 2018's win total and equaled that of '17 and '16, Draughn now has an opportunity to do something it hasn't done since the start of the 2012 season: win three games in a row.
Record-setting wins of 55-52 at Foard and 61-0 at Cherryville have boosted the Wildcats to 2-2, their best mark this early in the year since 2015. The chance to move above .500 comes tonight in Valdese when Draughn squares off against non-league Avery County for the third straight season.
Draughn won the teams' first meeting at home in 2017 with a convincing 42-20 win, but fell victim to a shootout in Newland last fall with a 32-28 Wednesday night loss.
When DHS won three straight in 2012, the Wildcats went on to host a first-round playoff game.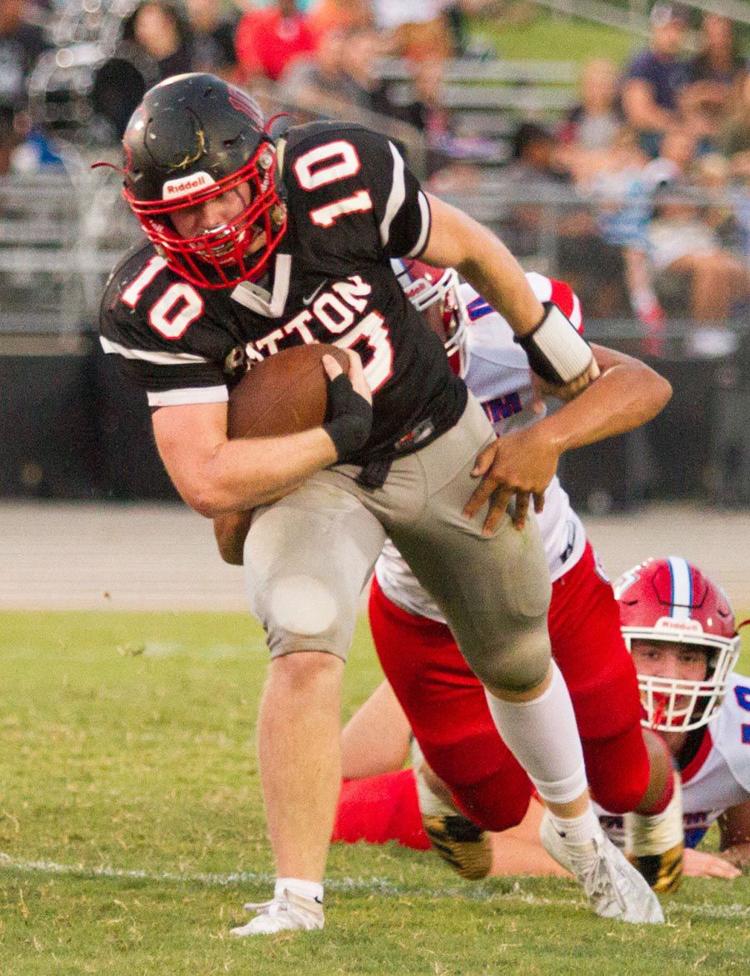 In terms of wins and losses, Patton is only one game worse at this point in the season than last fall. But whereas last year's Panthers squad had scored more than 20 points in two wins to this point in 2018, this year's team has yet to surpass that mark and scored just three in its lone win at McDowell.
As PHS (1-3) heads into its bye week, putting more points on the scoreboard is a top priority.
It's hard to call him the forgotten man because he still leads the team in rushing yards, but fullback Bryson Ratliff (42-187) hasn't carried the ball quite as much this year and hasn't yet found the end zone through four games following the team's switch to a power-I base offense.
For a Panthers team that would benefit from a few more extended, clock-killing drives, a heavier dose of the senior powerback — with Ratliff cashing in for six at the end — could be the answer.
On the flipside of a bye week is East Burke. The Cavaliers (1-2) are coming off an idle spot on the schedule hoping to be back to 100 percent health-wise.
In particular, that hope is to have senior quarterback Seth Pruitt back under center.
While classmate Brett Childers has filled in admirably in Pruitt's stead, the Cavaliers' offense needs the passing threat of a QB with starting experience that spans three years and a career passing line that includes nearly 900 yards and nine touchdowns to balance out the workhorse rushing efforts of senior back Josh Moore.
And speaking of Moore and the bye week, the opportunity to rest after an opening three-game salvo where he carried the ball 64 times for 424 yards and eight scores was beneficial, too.