VALDESE — For the past three seasons, the rivalry game between Draughn and East Burke has been played exclusively for pride and bragging rights.
Tonight — for the Wildcats, at least — that will change.
Draughn (6-4, 4-2 Northwestern Foothills 2A Conf.) is gunning for its first playoff berth since 2012. The Wildcats are still in contention for the league's No. 2 playoff seed, and a Cavaliers squad that saw its four-game winning streak in the series snapped last fall stands in the way.
The two teams' pathways to the end zone are quite different. Draughn has favored an aerial onslaught with Braxton Cox (149-242-6, 2,277 yards, 29 TDs passing) hitting reliable targets in Nick Chrisco (55-789-8), Khe-nai Banks (39-704-10) and Denver Treadway (38-653-9).
East Burke (2-8, 1-5 NWFAC) has leaned heavily on senior running back Josh Moore, who scored two rushing touchdowns Monday night in a loss to Foard to tie the Cavs' career program record with 40. This fall, Moore has run for 1,418 yards and 22 TDs on 236 carries.
Taking care of its rival from Icard would only be half the battle, though. Currently tied for second place in the NWFAC with Bunker Hill, the Wildcats will be praying for the Bears to lose to West Caldwell, as well.
If both teams win, Bunker Hill will own the tiebreaker. If Draughn loses, it will have to settle for a wild-card anyway.
A wild card's the scenario for the Wildcats in HighSchoolOT's latest weekly playoff projections. That outlet has Draughn as the No. 13 seed in the NCHSAA 2A West bracket and bound for a road trip to Wadesboro to take on No. 4 Anson County (6-3, 3-0), the presumptive Rocky River 2A/3A Conference champion.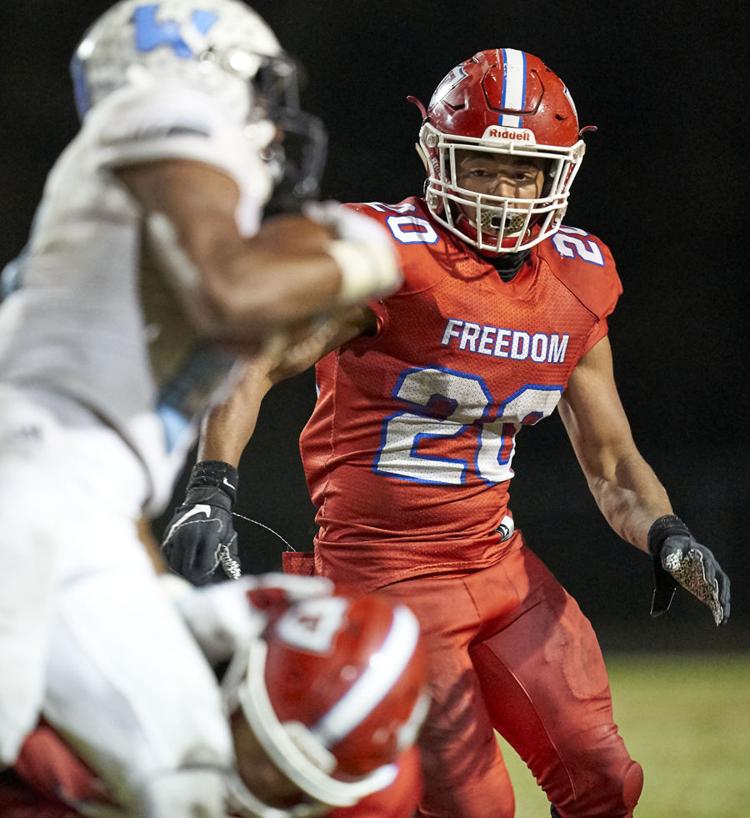 Freedom in mix for 2 seed
A loss to powerhouse Watauga last week ended Freedom's Northwestern 3A/4A Conference title hopes, but the Patriots (6-4, 3-2 NWC) got good news as Alexander Central defeated Hickory.
That put the Patriots, Cougars and Red Tornadoes in a three-way knot for second place in the league, along with its No. 2 3A playoff seed. Since Freedom beat Alexander, Alexander beat Hickory and Hickory beat Freedom — (did you get all that?) — there is no tiebreaker.
That means if all three teams, which are favored, take care of business on the road tonight — Freedom visits last-place McDowell, Alexander Central goes to South Caldwell and Hickory travels to rival St. Stephens — the trio will have to draw at Saturday's conference meeting, awarding one team the No. 2 spot and leaving the other two as wild cards.
HighSchoolOT currently has Freedom as the No. 12 seed in the 3A West bracket, setting up a potential visit to McLeansville to face No. 5 Northeast Guilford (8-2, 5-1), likely the second 3A team out of the Mid-State 2A/3A Conference.
The projections also note Freedom as the largest 3A school in the current brackets, meaning the Pats could slip into the 3AA bracket, pending action across the western part of the state tonight.
As far as tonight goes, FHS' elite duo of senior QB Jayden Birchfield and junior WR Desmond Caldwell have owned the Titans in a pair of 27-point wins the past two seasons.
In those two meetings, Birchfield has thrown for 529 yards and six TDs on 45 of 69 interception-free passing, adding in three rushing scores for good measure. Caldwell has reeled in 12 passes for 191 yards and four TDs, going off for 8-122-4 in his varsity debut in late 2017.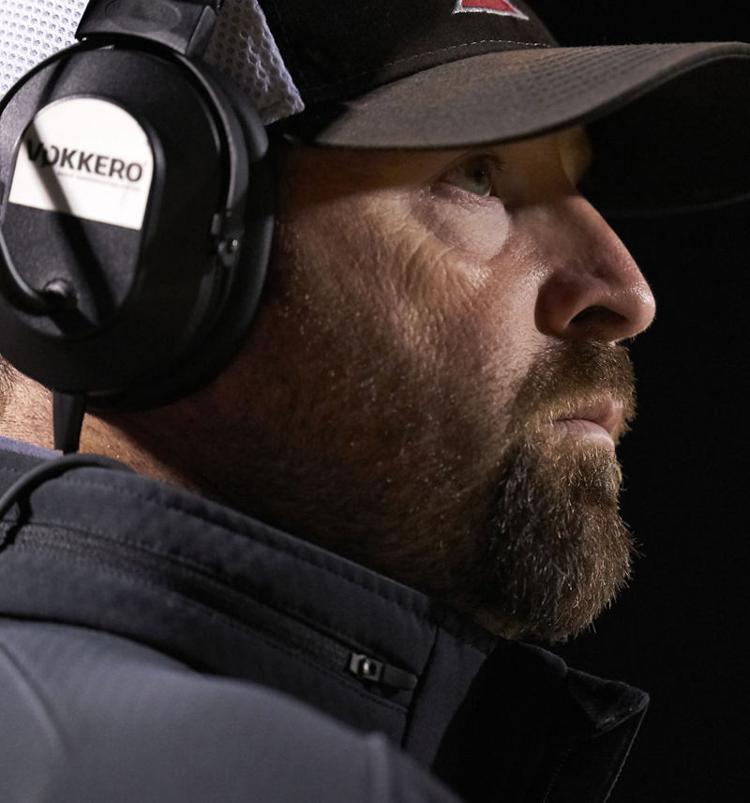 Patton aims for huge upset
As the one Burke County team in playoff contention currently on the outside looking in, Patton has the tallest task tonight.
PHS needs to pull off the upset against NWFAC-leading Hibriten and get losses from Draughn versus East Burke and Bunker Hill against West Caldwell to put itself into a three- or four-way tie — depending on the outcome of West Iredell versus Foard — for second place.
A four-way tie wouldn't help Patton's playoff case as it loses the first tiebreaker at 1-2 vs. the other potential three teams. However, a three-way tie with Bunker Hill and Draughn leaves the same scenario as Freedom's above, necessitating a draw for the No. 2 seed.
Aside from all the help needed, the numbers are against Patton in terms of tonight's matchup as PHS has lost 10 of 11 all-time meetings against HHS, including four straight in the last three seasons (including the playoffs) since its lone win against Hibriten in 2015. HHS has outscored Patton a combined 154-0 during PHS' current series skid.
Hibriten now stands at 18-0 all-time in NWFAC games in the league's third year of existence. HHS won a 2AA state title in 2017, sandwiching that in between a 3A West Regional final appearance in '16 and a 2AA West Regional final berth last fall.