ICARD — The Patton football team set the bar high for local teams to open Friday night's Burke County Jamboree.
In the 10th edition of the preseason event, played at East Burke's Danny Williams Field, the Panthers looked ready to tackle the regular season with a 21-0 shutout of Madison County in a 55-minute running clock, game-style scrimmage.
On Patton's second offensive series, the Panthers drove 53 yards in seven plays, beginning with an 18-yard rush by senior quarterback Weston Fleming and capped by a five-yard scoring run from running back Max Short, the first touchdown of the night.
Two series later, Patton capitalized on good field position after Alex Flores and Jackson Vance made a fourth-down stop in the backfield. One play later, after a penalty, sophomore fullback DeShawn Cantrell-Vazquez sprinted 64 yards to make it 14-0.
Patton also scored on its next series when JV quarterback Hunter Johnson hit receiver Waylon Rutherford on a 64-yard scoring strike. Kicker Alicio Ramirez hit true on his third extra point of the night to set the final margin.
"I liked our effort. We played hard the whole game," said Patton coach Jonathan Browning. "We've still got some penalties we've got to eliminate and alignment stuff we've got to fix, but the effort was there."
For Patton, Alex Flores added 27 yards on three carries and Bryson Ratliff 19 yards on five attempts. Jackson Vance added a 13-yard reception from Fleming.
Defensively, the Panthers had additional tackles for loss from Flores (forced fumble), Colten Dale (fumble recovery) and Dawson Carswell (forced fumble). Rutherford added an interception and Shawn Moody had a pass breakup.
Lake Norman 15, Freedom 8
The Patriots got a stiff test from the 4A Wildcats, but were able to slip into the lead following a bomb from senior quarterback Jayden Birchfield to Demorian Burgess for a 70-yard score, along with a two-point conversion run from B.G. Hampton, midway through the scrimmage.
Defensively, the Patriots earlier had allowed the Wildcats a 29-yard touchdown pass and surrendered an 11-yard scoring run near the end of the scrimmage.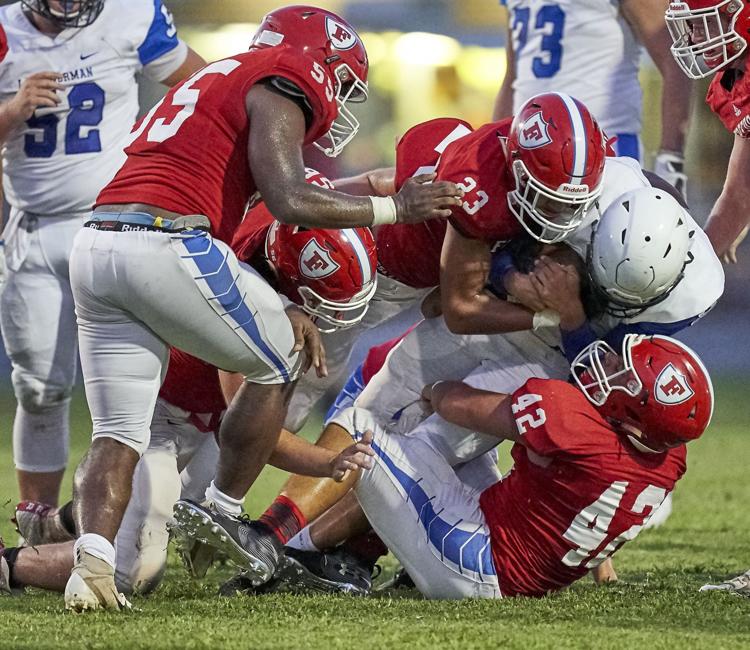 "The biggest thing (with Lake Norman) is their option," said FHS coach Luke Little. "We don't want to work on that too much with Shelby coming up, because that's not what we're going to see. We kind of worked on it for about a day. When you've got a team like them that's good at it, you're kind of hanging on."
Almost all of the Patriots' offensive success came through the air as Birchfield finished 7 of 11 for 156 yards and the score. Each of the Patriots' anticipated top receivers got involved, including Burgess (2-85), Chase Young (2-31), Desmond Caldwell (2-27), Damien Dula (1-13) and Desmond Hedrick (1-9).
Hampton, a freshman fullback, led the rushing attack with 19 yards on four carries.
On defense, Nick Rhoney forced and recovered a fumble in the backfield and Noah English added a sack, tackle for loss and forced fumble. Burgess and Dylan Edwards made tackles for loss, as well.
R-S Central 28, East Burke 7
The host Cavaliers were without starting quarterback Seth Pruitt, who exited Tuesday's scrimmage versus North Wilkes early with an injury. But the EB offense still got an exclamation point play from a reliable source.
Down 14-0, senior running back Josh Moore took a handoff from backup Brett Childers and sprinted 53 yards for the score. Moore finished the night just shy of the century mark with 98 yards on 12 carries.
The Hilltoppers' touchdowns came on a 26-yard run, a 63-yard rush, a 61-yard scamper and a 24-yard carry. EB coach Mark Buffamoyer said little breakdowns led to the long carries, including in favorable down and distance situations for the hosts.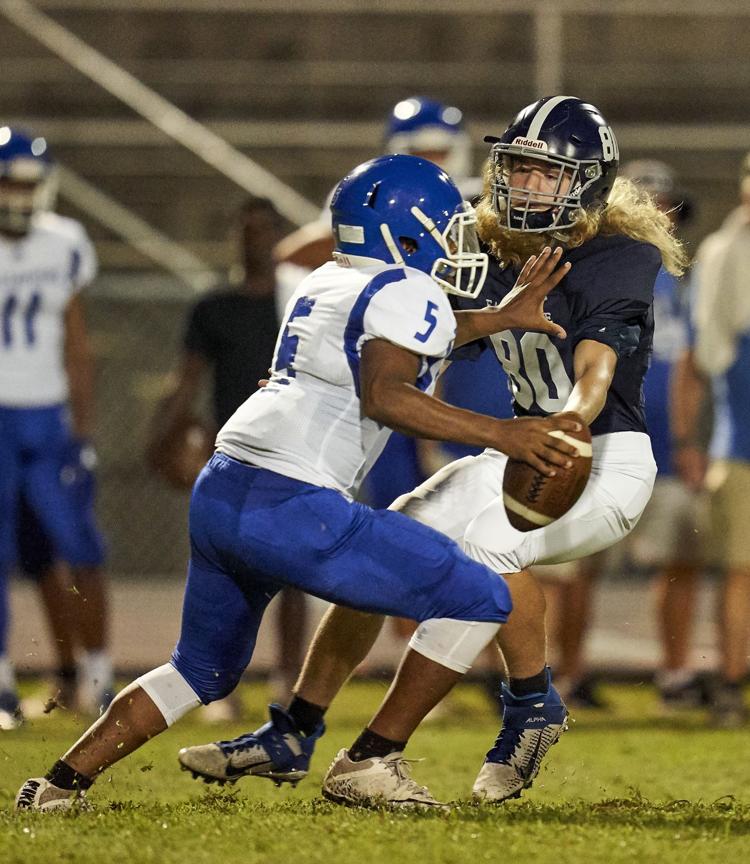 "What kills us right now, as you saw tonight, is long runs," he said. "You've got to get that ball down. A lot of times, we had a third and eight and you get a long run for a touchdown. The kids were kind of flopping all over each other. We're not the most athletic team in the world, so we've got to put ourselves in a better position there to stop the long runs."
Childers got plenty of reps under center, finishing 6 of 18 through the air for 35 yards. Luke Coble was on the receiving end of four of those passes, collecting 21 yards in the process.
On defense, Childers also led with five tackles and a forced fumble. Dawson Langley forced one fumble and recovered another, and Chase Lowman had a sack.
The Wildcats played under a different format, rotating 10-play series with the Trojans before switching over to a game-style scrimmage midway through the session. Bandys scored twice in the early portion with two short rushing touchdowns, and once more later on a 31-yard run.
While held off the scoreboard, the Draughn passing attack showed well with senior quarterback Braxton Cox going 11 of 21 for 166 yards. Denver Treadway was the favorite receiving target, corralling seven passes for 136 yards. Khe-nai Banks (19 yards) and Nick Chrisco (17) added two catches apiece.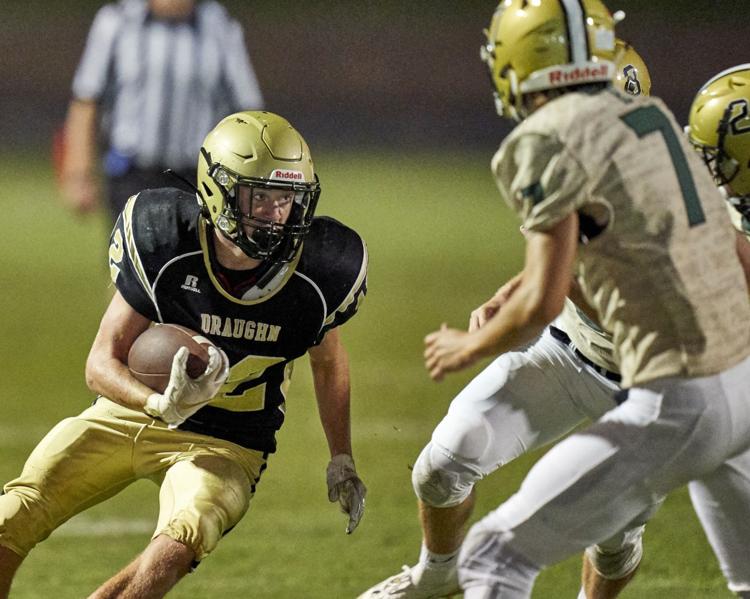 "I liked the fact that we were able to throw the football pretty good, especially there at the end in game situation," said DHS coach Chris Powell. "We threw the ball extremely well and Denver Treadway made some phenomenal catches. Braxton threw the ball well. We've just to get things fixed up front."
The Wildcats' struggles in the trenches made for tough sledding in the ground game. Trent Corn led in that category with 16 yards on nine attempts.
On defense, Zach Poteet led the way with five tackles and Donnell Wilkins made three stops.
The regular season opens with East Burke (vs. Highland Tech) and Freedom (vs. Shelby) at home and Draughn (at West Lincoln) and Patton (at North Buncombe) on the road. Kickoff time is 7:30 p.m.