One more Friday puts us another week closer to the start of prep football season. The 10th annual Burke County Jamboree will be played at East Burke on Aug. 16, four weeks from today.
So far, we've counted down with the six best matchups coming up this fall and the five best games played in 2018.
Today, we'll take a look at the four head coach-senior quarterback duos that will return in Burke County this fall.
Powell, Cox hope to turn broken records into wins
When new head coach Chris Powell and starting quarterback Braxton Cox led the Wildcats onto the field last August, it wasn't an instant success. Draughn started the season with just eight total points in three contests.
Though the next three games also turned out losses, the Wildcats hit their season-high with 38 points against Cherryville, and scored 28 and 20 the next two weeks at Avery County and to start Northwestern Foothills 2A Conference play versus West Iredell.
Along the way, Cox set program records with 2,102 passing yards and 173 completions with a single-game record of 395 passing yards versus Bunker Hill. For the year, he threw eight touchdowns and ran for two more.
It was a good indicator of the vast changes Powell implemented to the Draughn offense, not known for throwing much before his arrival. He and Cox weren't afraid to push the ball down the field when possible and showed more of the same in 7-on-7 action this summer.
While the numbers are nice, the only number Powell and Cox will be looking to increase this fall is the win total as they seek to turn the Wildcats into an NWFAC contender.
Buffamoyer, Pruitt look to reinvigorate Cavs' offense
Last year was one to forget in some ways for EB coach Mark Buffamoyer and quarterback Seth Pruitt as the Cavaliers scored just 14.7 points per game.
Pruitt threw for 120 fewer yards as a junior than he did as a part-time sophomore starter with just four touchdowns. But he was the county's leading rushing quarterback in terms of yardage, with 502 yards to go along with four more touchdowns.
With another year together, Buffamoyer and Pruitt will seek to inflate their numbers across the board and, if all goes to plan, that will include more wins in an NWFAC that should be more competitive this year.
Pruitt's right-hand man will continue to be running back Josh Moore, who easily led the county with 1,319 rushing yards a season ago, including 11 touchdowns on 257 attempts. Moore's continued success should in turn open up Pruitt's own rushing opportunities and give him the time to find more success in the passing game.
Brothers Brett and Chase Childers will return as Pruitt's top weapons in the passing game. They combined for 184 yards and two scores on 20 receptions last fall.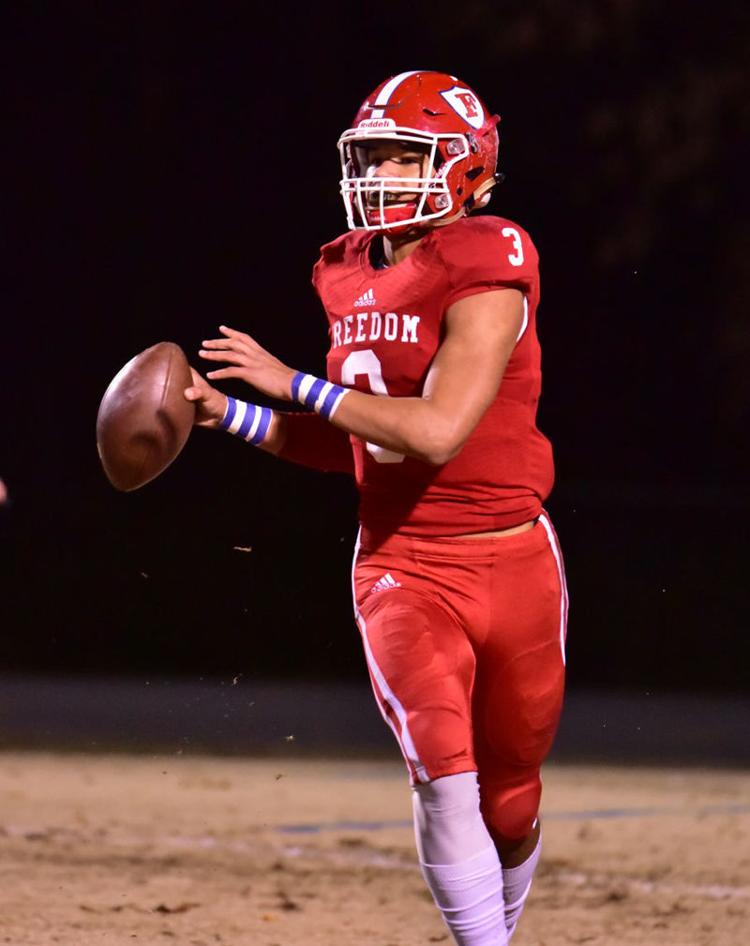 Little, Birchfield return for another foe-torching campaign
Head coach Luke Little and quarterback Jayden Birchfield were a successful pairing in their first season together at Freedom as the signal-caller received the go-ahead to take more chances down the field and take off running more often.
Behind those two, and along with Birchfield's co-county player of the year Desmond Caldwell at wideout, the Patriots averaged 436.9 yards and nearly 42 points per game.
The records fell for Birchfield, the Northwestern 3A/4A Conference's offensive player of the year. That included county marks of 42 total touchdowns on the season (27 passing and 15 rushing) and seven in a game (four passing, three rushing). And Birchfield became the county's all-time leading passer with 6,023 yards and its total offensive leader with 6,795 total yards.
He finished 174 of 279 (62.4 percent) for a county-best 2,780 yards and ran 90 times for 432 yards.
Birchfield's passing in Little's often-aggressive offense also helped Caldwell set a single-game county mark of 225 receiving yards versus Alexander Central and a season record of 1,190 yards as the pair connected on more than 50 different occasions.
Altogether, Little's offense returns 3,500 yards and 45 touchdowns to the field this fall.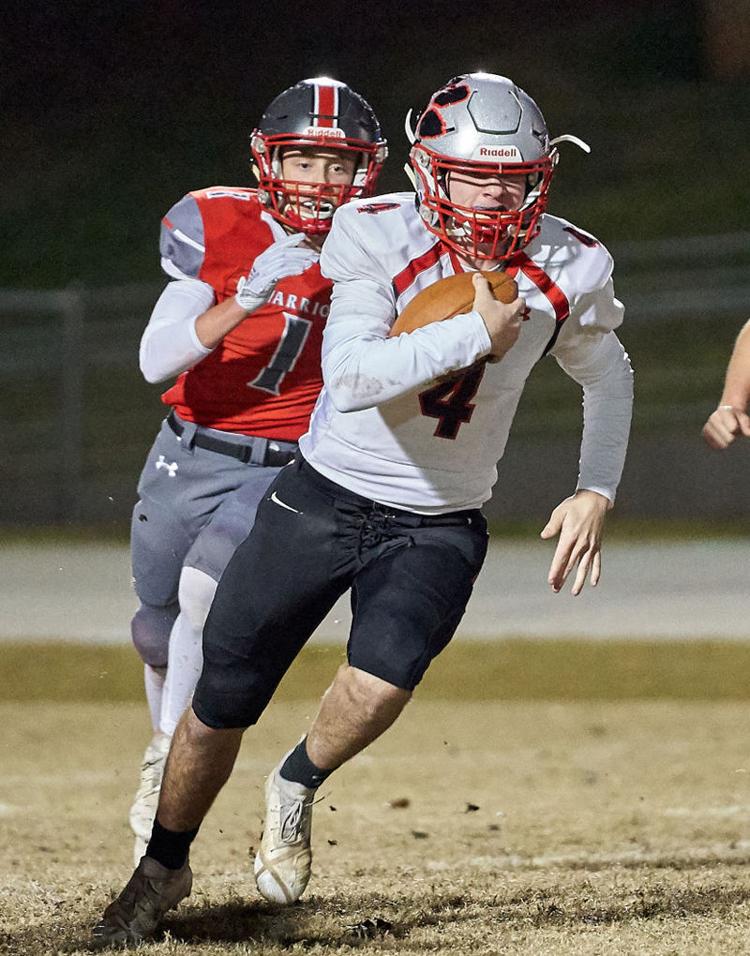 Browning, Fleming searching for more in 2nd seasons
The Panthers' offensive numbers last season belied the type of year the team had in its first campaign with head coach Jonathan Browning and quarterback Weston Fleming. Statistically, the offense gained the fewest yards in the county with 193.3 per game.
But Patton went 6-6 and made the playoffs yet again as its defense and special teams under Browning, a defensive coordinator turned head coach, allowed the Panthers' offense to play more at the pace it wanted.
Fleming threw for 313 yards and a pair of touchdowns, but he was relied upon on the ground with 331 yards and nine more scores on 137 rushing attempts. Fleming's ground game complemented Bryson Ratliff, who finished his first season as the team's lead ball-carrier with 766 yards and six touchdowns.
It's tempting to say Browning and the Panthers will want more of the same out of Fleming this year, but Patton showed some new looks in summertime 7-on-7 competition.
That included more throwing opportunities as the Panthers debuted a two-tight end set featuring converted lineman Rico Barrino and basketball standout Bryson Holsclaw, who stands 6-foot-6.
It'll be interesting to see what the Panthers roll out on offense for Week 1.
Justin Epley is a sports writer for The News Herald. He can be reached at jepley@morganton.com or 828-432-8943.