Another Friday marked off the calendar brings us another week closer to the 10th annual Burke County Jamboree, which will be played five weeks from now on Aug. 16 at East Burke.
Last week, we looked ahead to the six best games on this fall's schedule. Today, it's time to step back to 2018 and recap the top five games from last season.
Once again in chronological order, here we go:
Burke County's football season started off with a bang on a Wednesday night last year in Shelby. This matchup made the top six countdown last week, and that's in large part because of how good this one was.
The game didn't look the part in the first half, when the Freedom offense accumulated negative-1 yard and the defense allowed the Golden Lions two touchdown passes of 35 or more yards, but the Patriots figured things out after the break in coach Luke Little's debut.
Freedom drew within three points late after quarterback Jayden Birchfield (22 of 34, 167 yards) found wide receiver Desmond Caldwell (6-62) — who had returned a kickoff 98 yards for a touchdown for FHS' only first-half points — from 34 yards out for a score. Birchfield later added a 1-yard rushing TD to make the score 24-21 Shelby after Freedom had trailed by 17.
Freedom's defense then forced a three-and-out, but the offense stalled and the Golden Lions capitalized with a game-clinching touchdown drive.
Cherryville 46, Draughn 38
For a team that only won one game in 2018, the Wildcats made things exciting on several occasions, especially in this home game where their offense came to life for the first time all season.
The spectacle in this one was a five-touchdown night from senior running back Tyler McKinney, a school-record. McKinney also added a trio of two-point conversions to account for 36 of the hosts' 38 points. McKinney (25-139) brought Draughn within a touchdown with a score to open the third quarter, but the Wildcats fell down by 24 following a TD run, pick-six and scoring pass by the Ironmen.
The Wildcats had one more run in them however, as a pair of McKinney TDs bookended a successful onside kick attempt that helped Draughn claw back within a possession to end it.
Despite the loss, the game was a boon for a Wildcats team that had been outscored 149-8 over the preceding three games to start the year.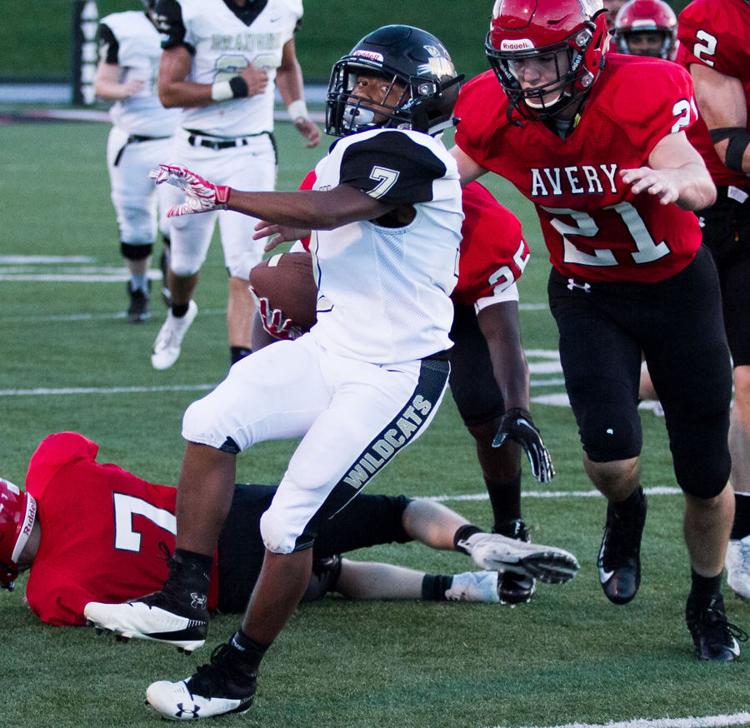 Avery County 32, Draughn 28
Just five days later in a game moved up to Wednesday due to weather, the Wildcats took part in another nonconference shootout. This one was even crazier early, with a back-and-forth first quarter that left Draughn up 20-18 with 4:03 still left in the opening period.
A 3-0 deficit in the turnover battle ultimately doomed the visitors, however, as two turnovers inside the 10-yard line — an interception just before the half and a fumble just after the break — killed two prime scoring opportunities.
Still, quarterback Braxton Cox set a then-school record with 312 passing yards, bettering his mark from the previous week, with two touchdowns as the Wildcats outgained the Vikings by a 418-251 margin.
His favorite two targets in the game were tight end Colton Singleton, who hauled in 10 catches for 136 yards, and speedster Khe-nai Banks, who corralled six passes for 114 yards. Both players scored a touchdown in the contest.
Defense and special teams took the forefront in this game, a grinder in the Northwestern Foothills 2A Conference between a pair of Burke County foes.
Do-it-all senior Pierce Memmel embodied the creativity the Panthers needed to win the game by converting a 24-yard fake punt pass to put Patton in the red zone late in the second quarter. On the very next play, PHS quarterback Weston Fleming rolled out and found receiver Caleb Taylor for a 10-yard touchdown pass to give Patton a decisive 10-0 lead with 10 seconds left before halftime.
Draughn's special teams answered back out of the break when Jesse Gullett fielded Memmel's kickoff and returned it 95 yards, with Randy Chun's ensuing PAT making it a three-point game. The Wildcats' defense then held, allowing Draughn a chance to tie or lead. But the visitors' offense stalled at its own 28, and an ill-fated fourth-down conversion attempt failed.
Memmel also added an early field goal and another extra point after Fleming's late TD run.
Freedom 38, Alexander Central 6
Though not a competitive game on the scoreboard, this victory set the tone for the Patriots' Northwestern 3A/4A Conference title bid — and their season. A year after falling narrowly to the Cougars at home, Freedom hit the road and put on a dominant performance against the defending league champs.
It was a strong showing all around for the Patriots as the defense forced and recovered three fumbles and Birchfield and Caldwell connected on a pair of long touchdown passes in the first half for a 30-6 advantage at the break.
In all, Caldwell set a program record with 225 receiving yards, doing so on nine receptions. Birchfield finished the game 19 of 28 through the air with 327 passing yards, also finding receivers CJ Hayden (6-59) and Christian Fox (4-43) as the Patriots outgained the hosts 425-151.
Defensively, Dayonte Roddy forced two fumbles and recovered one, Larry Luke forced one, and Nick Rhoney and Demorian Burgess each had a recovery.
Justin Epley is a sports writer for The News Herald. He can be reached at jepley@morganton.com or 828-432-8943.