ICARD — Coming off an 11-win, county title season that included the team's first-ever 2A state playoff victory, the East Burke girls tennis squad picked up where it left off in Crystal Bartlett's debut as coach Thursday as the Lady Cavaliers downed visiting Newton-Conover 5-3 in nonconference play.
 The Lady Cavaliers (1-0) got all five wins in singles action, dropping two doubles matches with another doubles match being called.
EB's No. 2 Paige Houston won 6-3, 1-6, 7-4; No. 3 Emily Rector won 6-2, 6-1; No. 4 Zoie Smith won 6-4, 7-6; No. 5 Jaden Ramsey won 6-3, 6-4; and No. 6 Taylor Bostain won 6-2, 6-4.
The Lady Wildcats (0-1) fell in Catawba in their season opener Thursday despite singles wins from Hailey Kincaid and Kaitlyn Kincaid and a doubles win by Kaitlyn Kincaid/Regan Winkler. (Set scores were not available.)
The Lady Panthers (5-1) continued their best start ever, completing a 3-0 week with Thursday's 25-18, 25-15, 17-25, 21-25, 15-8 home triumph.
 Ella Gragg had season highs of 38 kills and eight aces to go with six digs, Izora Gragg posted 47 assists, five digs, five aces and a block and Kenady Roper finished with 32 digs, six assists, three kills and an ace. Ashlyn Castle added an 18-kill, 13-dig double-double with four aces.
The Patton JVs won, 25-21, 23-25, 15-9, led by Sydney Morgan's 10 kills, Meredith Kearson and Karelyn Thai's 10 digs and Kinley Attaway's 12 assists and four aces.
Draughn 3, Alexander Central 0
The Lady Wildcats (4-1) won a second straight match Thursday in Taylorsville, 25-19, 25-20, 27-25. Draughn's Chloe Gary had 23 assists and four blocks, Kirsten Powell had 23 kills, Bailey Bryant added six kills, Georgia Goulding had six blocks and Madison Nelson had three aces.
Freedom 3, E. Rutherford 2
The Lady Patriots (1-2) avenged a four-set road loss the week before, winning 25-21, 25-22, 21-25, 24-26, 15-13 at home Thursday.
Freedom's Sarah Phipps had 22 digs, three kills, three aces and three assists, Josie Hise had 15 assists, Mia Harper led with nine kills and added six blocks and Shalice Lynch finished with a team-high nine blocks. Ava Thomas and Bayleigh Powell (eight digs) added three aces each.
The Freedom JVs also won, 25-22, 25-12.
E. Rutherford 3, Freedom 2
The Patriots (1-2-1) couldn't sustain their momentum from a win the day before against rival Patton, falling Thursday at home in a rescheduled nonconference contest.
Freedom outshot East 15-4, allowing no shots on goal after halftime and racking up seven of the game's 10 total corner kicks. Eduardo Velasquez scored FHS' first goal off an assist from Patrick Sandy and Beckham Ixchajchal had the second goal, assisted by Kevin Vasquez.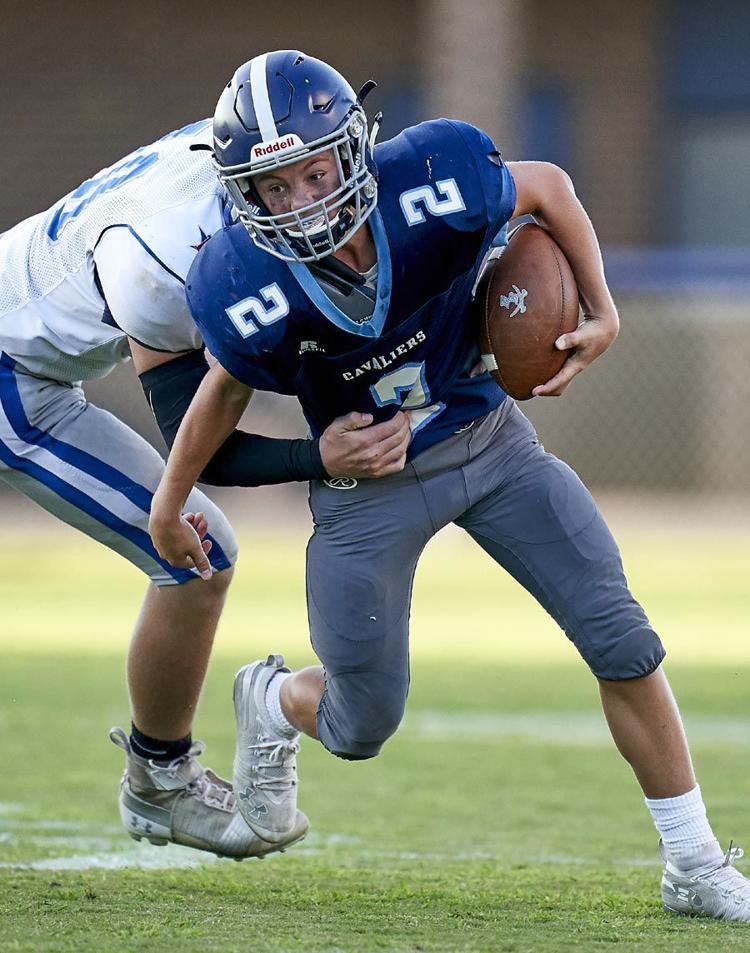 Brody Burns had a 4-yard touchdown run in the fourth quarter, and quarterback Ben Mast added the subsequent two-point conversation run for the JV Cavaliers (0-1) in a home loss Thursday.
Hunter Johnson scored on a 1-yard quarterback keeper for the JV Panthers' lone points Thursday in Rutherfordton.  Patton (1-1) was led on defense by DeShawn Cantrell-Vazquez and Dawson Carswell.