The Freedom varsity boys soccer team fell behind 1-0 for the first time this season but then scored three unanswered goals and kept host Patton off the scoreboard for the next 73 minutes en route to a 4-2 road win over their chief rivals on Wednesday.
The Patriots are now 2-0-1 in the last three meetings in the series after having lost eight straight. Before Wednesday, their last win at PHS came in October 2014. The teams had played to a 1-1 tie last week across town.
 "We played harder (than last week)," FHS coach Larry Taylor said. "This team, all it's got to do is believe it can win. The mindset had not been a winning one the last couple years here, and we're still trying to change that.
"We're down a couple players we thought we'd have here, got one or two more hurt and barely able to play. And we just sucked it up and found a way to win. Patton is a good team, and that's a good win for us. Hopefully this will spur us on a little bit."
The Panthers (1-2-1) went up 1-0 on an Abner Ramirez 6th-minute goal before the Patriots' Patrick Sandy tied the score via a 13th-minute penalty kick. Grayson Ward then used a nice touch to get around a Patton defender and score the go-ahead goal in the 32nd minute.
Sandy scored again off a direct kick just outside the box in the 64th minute to give Freedom (1-1-1) a 3-1 margin.
"The first game (vs. Patton), we came out and got that tie, and we wanted to work harder and get the win this time," Sandy said.
Patton's Daniel Ramirez (assist by Jonatan Batz) made it a one-score game in the 79th minute, but Freedom's Eduardo Velasquez (assist by Beckham Ixchajachal) gave his team breathing room once more in the 80th minute.
Freedom outshot Patton by a 9-6 margin, and the Panthers had two corner kicks to the guests' one. Freshman Cole Johnson played all but one minute in goal for Freedom in the win.
Freedom also won the JV contest, 3-1, with goals by Jessi Domingo-Morales, David Platero and Isaac Garcia and an assist by BJ Vang. Keeper Alan Jimenez-Luna had a clean sheet until the final 2 minutes, when Anthony Hernandez gave Patton its lone score.
EDITOR'S NOTE: The prep soccer article in last Friday's edition incorrectly stated that the Panthers and Patriots' tie on Aug. 21 ended PHS' eight-game win streak in the series. Freedom defeated Patton 3-1 in a late-scheduled third meeting between the teams last season.
The visiting Cavaliers (1-2) lost by a single goal for the second time this season on Wednesday in Catawba. East Burke's Josh Aguirre had one goal and one assist, Antony Salgado Rodriguez added a goal and Anthony Thao had one assist. Goalkeeper David Benitez had three saves.
In a 2-1 JV Cavs' victory, Eric Rios and Carson Haynes each scored once, Spanden Lor had an assist and Marco Benitez supplied five saves in goal.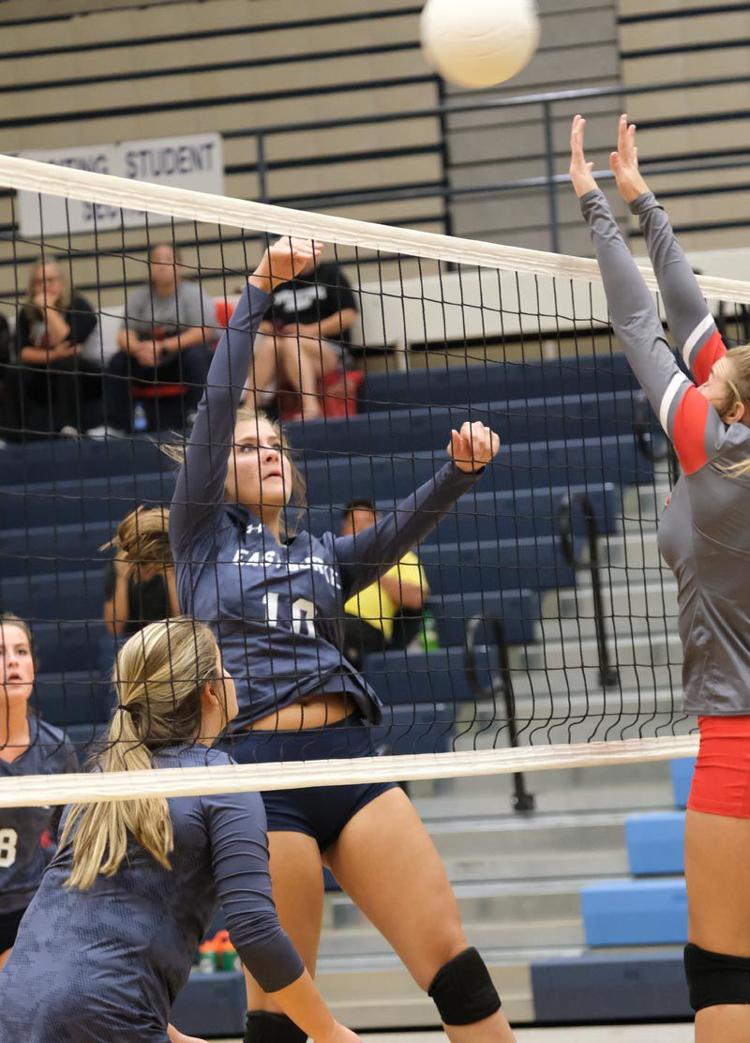 The Lady Cavaliers (4-0) remained perfect thus far in 2019 with a 25-14, 25-18, 25-20 victory on Wednesday in Icard. EB was led on the stat sheet by Graleigh Hildebran (16 assists, nine digs, seven kills), Ashlyn Stilwell (10 digs), Erica Clontz (eight kills, three aces) and Riley Haas (eight kills, two blocks).
The EB JV squad also won, 25-14, 25-22, fueled by Claire Cook's nine assists and two aces, Catherine Hammack's six digs and Gabby Wingate and Aubree Grigg's five kills apiece.
The Lady Panthers (0-1) opened the season with Wednesday's setback in Sawmills. Patton's Kadira and Nikita McClure claimed the team's lone match, 8-5, at No. 1 doubles. Kadira McClure was edged on the No. 1 singles line, 6-7 (5-7), 6-4, 10-8, and Danielle Wilson also claimed four games in a singles loss at No. 3.