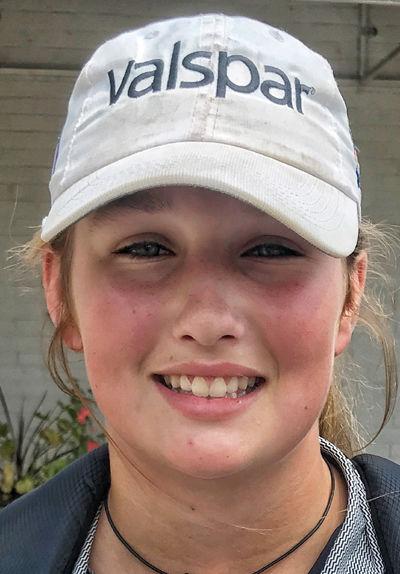 Patton freshman Allie Witherspoon was medalist in her first high school match Tuesday, posting a nine-hole score of 47 to lead the Lady Panthers in the Northwestern Foothills 2A Conference girls golf season opener at Mimosa Hills Golf Club.
Hibriten (161) was team champion, followed in the standings by Draughn (173), Patton (174), West Iredell (176) and Foard (198).
The Lady Wildcats were led by Elle Tanner's 52. Lindsey Hodge added a 54, and Charis Hyde shot 67. Patton also got team scores by Taylor Sweeney (63) and Erin Wortman (64). East Burke's lone golfer, Shelby Huffman, shot 67.
Fisher, Lady Pats win again
Freedom junior Christina Fisher won the Northwestern 3A/4A Conference match for a second straight week to open the season, shooting a nine-hole 38 on Tuesday at Brushy Mountain Golf Club.
The Lady Patriots (135) again claimed the team portion as well, besting runner-up McDowell by eight strokes to expand their season lead to 19 shots. Freedom's Albany Bock carded a second-place 44 and now sits in third for the young season. Freedom also got a 53 from freshman Anna Czarkowski.
FHS hosts an NWC match today at 2:30 p.m. at Mimosa Hills.
The Cavalier boys won a second meet in as many weeks on Tuesday in a Pre-NWFAC meet at River Bend Middle School (hosted by Bunker Hill), and the EB girls joined them this time around.
EB (36 points) was followed by second-place Draughn (59) and fourth-place Patton (67) on the boys side. In girls team standings, EB (36) was first, Patton (44) claimed second and Draughn (91) was fourth.
EB was led by Logan Shuford (fourth; 19:09.25), Luke Elliott (fifth) and Ayden Lingerfelt (sixth). Draughn's Tommy Blackwell (18:36.44) was second individually, and Patton's Finn Rigsbee (18:47.75) was third.
Patton's Ella Evans (22:56.65) was second and Calli Westra third as the girls' top two county finishers. EB's effort was paced by Gracie Ruff (fourth; 25:15.96), Mekenzie Harris (fifth) and Meah Walsh (sixth). Draughn's top female finisher was Brittany Hathaway (13th).
The newly-crowned county champion Lady Wildcats (2-2) fell in nonconference action Tuesday in Valdese despite splitting singles play, with victories by Katie Cozort, Abby Parker and Regan Winkler (set scores not available).