Expectations are typically high at Freedom when football season rolls around.
And despite just three offensive starters and four defensive starters returning from a 6-6 season, they're actually higher than normal this year.
That's in large part due to first-year Patriots coach Jim Bob Bryant, who isn't afraid to say the words that have never before been achieved at FHS in 45 seasons: state championship.
"Our goal every year is to win every football game," Bryant said. "So we always want to win a conference championship and then win a state championship. Those will be our goals as long as we're here as a coaching staff.
"We're going to be young, but we're talented. We're excited about the group of kids that we have. The few seniors we have who will start have done a great job leading this team. But we'll probably start seven sophomores and 10 juniors. … Everything's totally different from what they've done here in the past. We're running a spread, shotgun offense with all new terminology, but kids have done a good job picking it up."
The Freedom offense will use five or six personnel groupings, Bryant said, anything from five receivers in an empty set to three tailbacks on the field together with one of them in the slot.
Manning the ship will be quarterback Jayden Birchfield, a sophomore who has not played a snap a varsity ball. But his upside is through the roof.
"I'm expecting Jayden to command the offense," Bryant said. "Our offense is a multiple-read offense. He's got several reads before the snap, and depending on the play call, one or two more reads after the snap even in the run game.
"He's been a really quick study. Our quarterback has to know what every position on the field does every play because he has to call the blocking schemes and set the motions.
"Jayden is a really smart kid and has a great football IQ. I've coached some really good quarterbacks, and he's as good as any I've coached at his age. He has a chance to be really good. I know that puts some pressure on him, but I always try to do that with my quarterbacks because you either rise above it or you go play another position."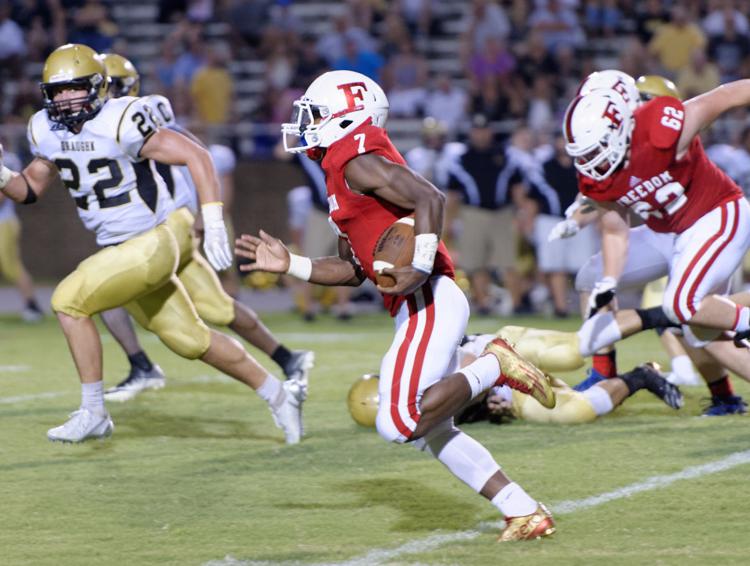 At tailback, returning 1,000-yard rusher C.J. Hayden is listed as the projected starter with Draughn transfer Steven Lipford spelling him.
"We repped C.J. early in the offseason as a slot receiver and had Tristan (Somerville) working at tailback," Bryant said. "About halfway through the summer, we decided to switch them. Our H-back and tailback are kind of interchangeable with what we do. Both of them can play either position."
Somerville and Jaxon McMahan sit atop the H-back depth chart.
"Tristan is going to do a lot for us," Bryant noted. "He's going to be on just about every special team. I play eight receivers on offense and have a rotation because we play fast. He'll start at receiver and on defense too."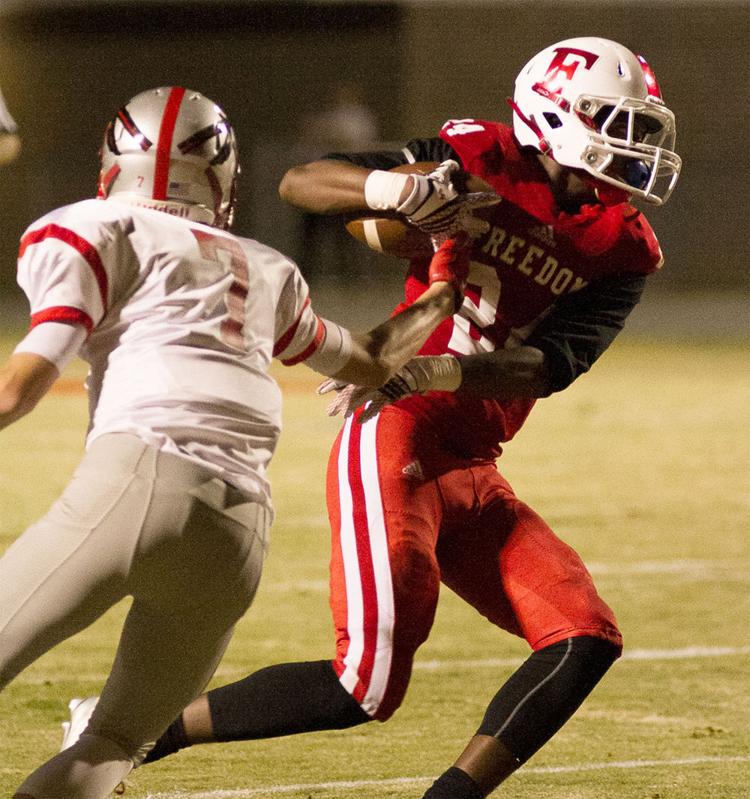 Also in the slot at the "Z" position will be Burke Pollard and Sam Laney. Kevin Hover and Larry Luke will alternate at fullback/tight end when Freedom goes to that personnel.
The "X" and "Y" wideouts include Kelvis Dula (the team's top returning pass-catcher), Christian Fox, Demorian Burgess and Draughn transfer Kimoni Money.
"A guy that has really stepped up is Fox," Bryant said. "He was on varsity last year as a sophomore but didn't play a whole lot. He has done a really good job and runs really well. Pollard (the backup quarterback) has good hands and is a really good blocker. McMahan and Somerville, the H-backs, are the guys we really try to get the ball to in our offense."
On the offensive line, senior tackles Justin Fortune and Nate Crowe bring a wealth of experience. Fortune is a third-year starter who shifts from guard, and Crowe has played in Bryant's system for three years already as his father coaches and came with Bryant from Havelock.
"The three starters in the middle are all sophomores. (Center) Jacob Dembski did not play last year, (Matthew) Ballew was injured most of last year and (Dayonte) Roddy started on defensive line for the JV team. So we're hoping the tackles with their experience lead that group through."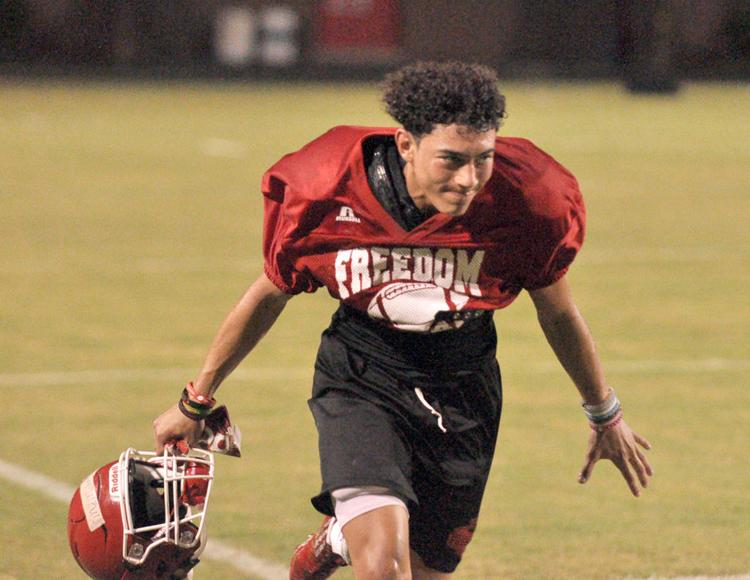 The defense is also in a transition, with defensive coordinator Mark Duncan and defensive backs coach Antonio Lyerly having just been hired in July.
"That's been a work in progress," Bryant said. "But our kids have adapted and overcome a short time period to learn on that side of the ball."
The defensive line in the team's 3-4 base features end Ryan Woods, nose guard James Boyd and tackle Wolf Wheeler. Starting linebackers include Hover, Luke, Andrew Wilson and Jee Hardy. And the defensive backs will be Dula, Burgess, K.K. Bristol and Tavon Corpening.
"Boyd will anchor the defensive line," Bryant said. "Physically, he's as strong as any defensive lineman I've ever coached. He squats over 530 pounds, and he's only a junior. Corpening and Bristol are the vocal leaders in our secondary, and Hover and Luke are leading the linebackers.
"All those guys could start on offense. But the only guys we hope who will see a lot of action both ways are Somerville (at safety) and Dula. We'll be able to two-platoon to start the season pretty much."
Providing additional depth at various spots will be Mason Carlisle and Devonta Boyce (DL), Noah English (OL/LB) and J.B. Benjamin (DB).
McMahan and Somerville will open the year returning punts, with Hayden and Somerville on kickoff returns.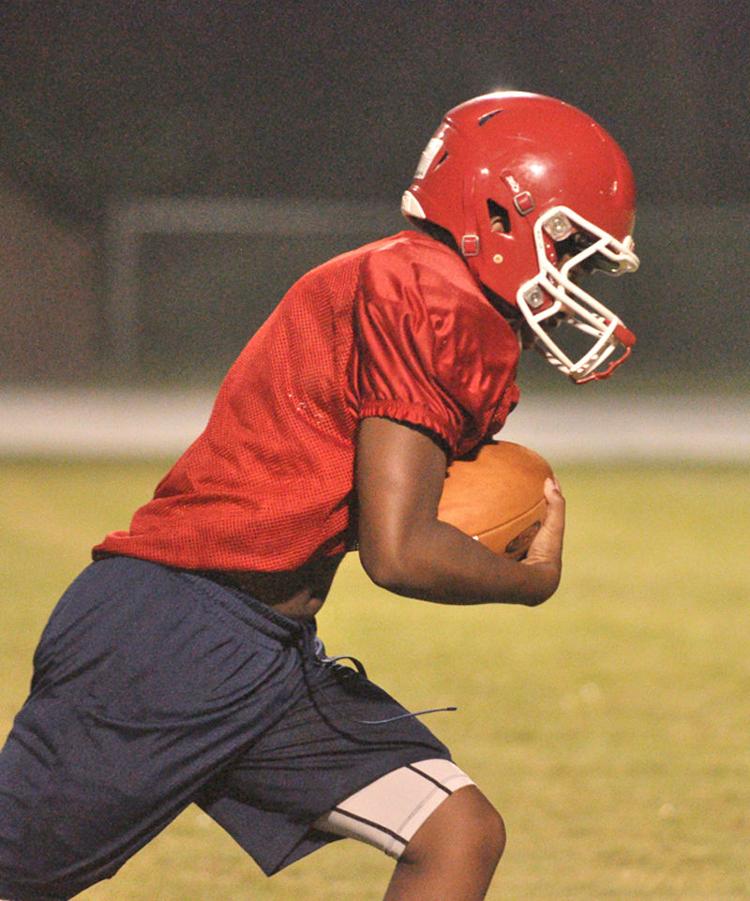 Burgess may punt in an ongoing competition at the position, and Onyx Velez will serve as placekicker after a solid year at the JV level.
Freedom has been picked third in what may be a bunched race atop the slightly new-look Northwestern 3A/4A Conference.
"Watauga's got a really good offensive scheme and they do a really good job with multiple formations and fronts," Bryant said. "And Alexander Central's going to line up and hit you in the mouth, and they're going to be really good too."
Before Freedom tackles that portion of its schedule, the opener tonight at home against Shelby will provide a true measuring stick. Before being blown out to start last season on the road, the Patriots had defeated the Golden Lions three consecutive times.
"I wanted to set it up where we had some really good competition early on in the scrimmages with A.C. Reynolds and South Iredell, running a spread, no-huddle offense which is what we're going to see against Shelby," Bryant said. "We'll find out what we've got early."