MARION — The East Burke football team was 29 points down in the first half of Friday's game at McDowell.
The Cavaliers roared back, however, climbing within a touchdown of tying the score late and crossing midfield in their bid to do so before the last of four turnovers was their undoing in a 41-28 loss that denied them a 2-0 start to the season.
Playing without senior starting quarterback Seth Pruitt again, EB (1-1) was paced by senior running back Josh Moore, who provided all four touchdowns. He hit the four-TD mark for a second consecutive week behind the offensive line of Chase Lowman, Matthew Vue, Matthew Smith, Noah Rooks and Hunter Bostain.
Moore finished with 193 yards on 30 rushes and has 458 yards from scrimmage already for the season.
In last year's county-leading 1,300-plus yard rushing campaign, Moore ran for 11 scores. He's more than two-thirds of the way there already.
"We put ourselves in a hole. We battled back in the third and came within 30 yards of tying the ball game," EB coach Mark Buffamoyer said. "I'm proud that the team battled. We provided good defense in the second half."
Moore's first score covered 11 yards as he slipped through the defense and got EB on the board at 28-6 with 5:11 left in the second period.
His next, a 10-yarder, trimmed the lead to three scores again just before halftime at 35-14 after converted QB Brett Childers ran for the two-point conversion.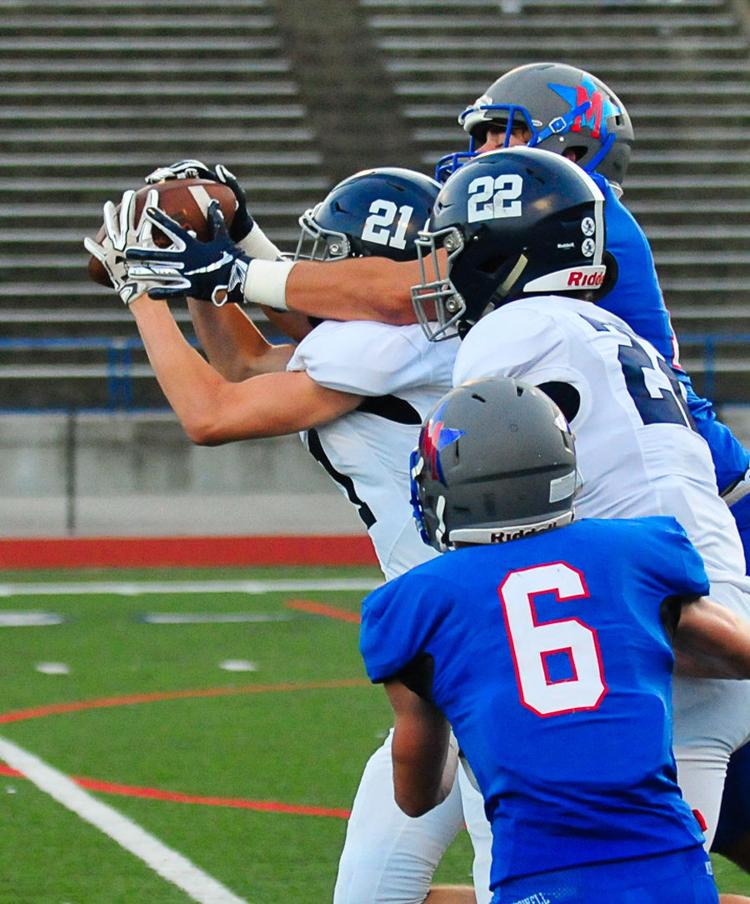 Childers set up the next score with a 49-yard run down the sideline early in the third period, and Moore later dove in the end zone for a 1-yard TD. After a three-and-out by the Cavs defense, Moore covered 1 yard again late in the quarter as he gave EB life.
After another defensive stop by EB, a fourth-quarter interception reversed momentum and field position, leading to the host Titans' final score which put away the win with 3:12 left.
Childers rushed for 104 yards and was 5 of 16 passing for 56 yards with two interceptions. Luke Coble hauled in all five EB completions.
Defensively, Logan Johnson intercepted a first-half pass, but the Cavaliers fumbled on the next play.
McDowell's Riley Moore (9-114) ran for two scores and passed for 72 yards and another TD to Quantavian Moore, who rushed for a team-high 192 yards the other three TDs.
EB next visits Freedom in Fat Friday XLVI this week.
"We have got to get ready for Freedom and then use the bye week after that to heal up for conference play," Buffamoyer said.