ICARD — It started with the Final Four team of 2016-17, when current senior Graleigh Hildebran was a varsity freshman all season and classmates Riley Haas, Sarah Grace Lockee, Ashlyn Stilwell and Gracie Ruff were called up from JV late in the season.
The fifth-ranked Lady Cavaliers won their 55th straight game versus conference competition on Friday, a 53-33 home victory over second-place Patton, as they wrapped up a fourth consecutive outright conference regular-season title after having gone the previous 36 years without one.
It was EB's eighth all-time regular-season league title, and the team is now one win shy of hitting 20 overall for the ninth time in the last 10 seasons.
EB (19-3, 12-0) has won 12 straight currently, the last 10 all coming by double digits and all in Northwestern Foothills 2A Conference play as the team is outscoring league opponents so far on average, 60-36.
Haas, the team's leading scorer, rebounder and shot blocker for the year, and Hildebran, who leads the way in assists and steals, were the lone returning starters from last year. They led the way Friday with 14 and 15 points respectively and were key in an 11-0 run early in the final period that doubled the margin from 36-25 to an insurmountable 47-25.
Hildebran knocked in her second 3-pointer of the night to start the flurry, then assisted on the first of two late Stilwell 3s. After a Lockee steal at midcourt and finish plus the foul, EB grabbed the offensive rebound and Hildebran found Haas for her fourth second-half assist when Haas drained a wing 3 to cap a five-point trip.
"We just had people step up at the right time," Haas said of the title run. "And we've been together since middle school, so we know what each person does and how to play together."
"When one person's down, no matter who it is, someone's there to pick them up," Hildebran added. "We're always there for each other, and we've always played together."
Stilwell scored 13 points and Lockee added seven as EB stayed perfect all-time vs. Patton at 26-0.
The first-year starting backcourt of Stilwell and Ruff aren't newcomers; they have five combined years exclusively on varsity and were part of middle school and JV titles as well with the current group.
"We grew up together so we love each other," Stilwell said. "We want everybody to get their points, want everybody to play defense. That's how we've been taught all year, all four years actually."
Ruff added: "It means so much. We've always had the heart to do it, and that's all it takes."
And this one might have been the most special for Lockee, who had missed all of the previous two seasons due to medical issues.
"It's truly a blessing, and I couldn't have done it without God because he's a miracle worker," she said. "I'm really blessed to be back on this court one last time with these ladies."
Patton led 5-2 before EB finished the first period on a 17-2 scoring run to lead for good. Zoie Smith scored her only four points in the second, the only EB points in the period, to complete the hosts' scoring.
Reece Fisher led Patton (13-8, 9-3) in scoring for a 19th time this year, posting a game-high 16 points with three 3-pointers. Nevaeh Duckworth (seven), Zakiah King (six) and Claire Hawkins (four) rounded out PHS' total.
The Lady Panthers are now tied with Bunker Hill for second place, and if the teams finish with the same league record after having split with each other, a potential head-to-head NWFAC tournament semifinal game would break the tie and award the winner the league's second and final automatic state playoff berth.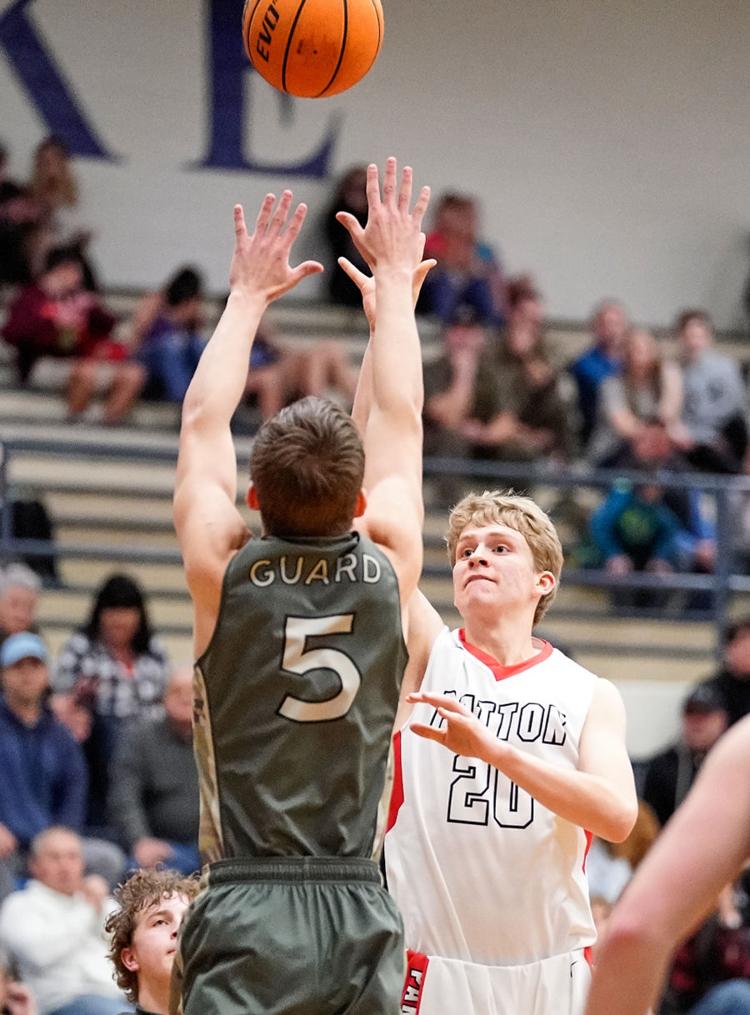 The Panthers (15-6, 9-3) extended their longest win streak over the Cavaliers (11-11, 7-5) to seven games in the nightcap, clinching the No. 3 seed for the upcoming NWFAC tourney. A high-scoring fourth quarter, won 28-26 by Patton, kept things interesting, but the guests drained 12 of 16 free throws to put it away.
"It was crazy. For three quarters it was a defensive war, and fourth quarter an offensive game broke out," said Patton coach Dennis Brittain. "Anytime you beat an East Burke Jerome Ramsey-coached team, you earned it. They are always going to be playing hard, be disciplined, and play smart."
Jackson Vance scored a team-high 17 for Patton, Bryson Holsclaw came off the bench for 10, Finn Rigsbee added nine and Connor Rudisill had eight (six in fourth quarter).
Luke Coble finished with a game-high 18 points (eight in fourth) for the Cavs, and Christian Smith made two 3s and added eight.