But the Freedom girls basketball team found a way to get it done anyhow in Tuesday's grind-it-out 64-57 home win over rival East Burke to open the season.
The Lady Patriots ended the first period on a 13-1 scoring run to take a 20-11 lead which grew to 44-24 by the time Blaikley Crooks made one free throw to open the second half. Freedom still led by 16 points on two straight Crooks baskets late in the third before Gracie Ruff's 3-pointer at the third-quarter buzzer pumped some major life into the Lady Cavaliers.
EB (1-1) got within 57-47 on Aubree Snyder's offensive rebound and putback with 5:25 left. A Riley Haas 3 the next time downcourt cut the gap to seven, and Haas' free throws made it 57-52 with 4 minutes left.
The Lady Cavs got within four twice in the final 1:01, including once with the ball and a chance to get within one or two points with 21 seconds to play, but could get no closer.
"I thought our mental toughness was there without a doubt," said EB coach Crystal Bartlett. "A lot of teams would've quit at halftime, and we didn't. The ball didn't go our way sometimes; we've got to get better on free throws. But our heart was in it. Our defense was great. I thought every girl who came in was ready to play, and they just wanted to get after it. And they did."
The Lady Patriots (1-0) had to survive more than just a feisty EB bunch. Adair Garrison, Jayda Glass and Danisha Hemphill all fought foul trouble, Garrison fouling out midway through the fourth period and Glass and Hemphill playing the final 11-plus minutes with four fouls each.
And between the first and second quarters, Makayla Moore was helped off the floor with an apparent knee injury.
"We just had to grind that one out," Freedom coach Amber Reddick said. "Losing Makayla early, she's such an energy-giver for us. We had to adjust to that, and then the constant foul trouble. It wasn't the prettiest start. There's a lot of things we have to shore up defensively. This is a brand new group, (and) they're just starting to play together. It really did just get us out of sync with all the foul trouble."
Josie Hise scored 10 of FHS' first 18 points and finished with 17 to go with a game-high four assists. Hemphill scored 13 with four steals and Glass scored 12 on four 3s. Crooks added nine and added a team-high five rebounds.
EB outrebounded Freedom 40-23. Haas scored a game-high 21 and added 10 rebounds in a double-double, Ashlyn Stilwell scored 12 and had seven rebounds, Snyder scored 10 and Graleigh Hildebran had six points, seven boards and three assists.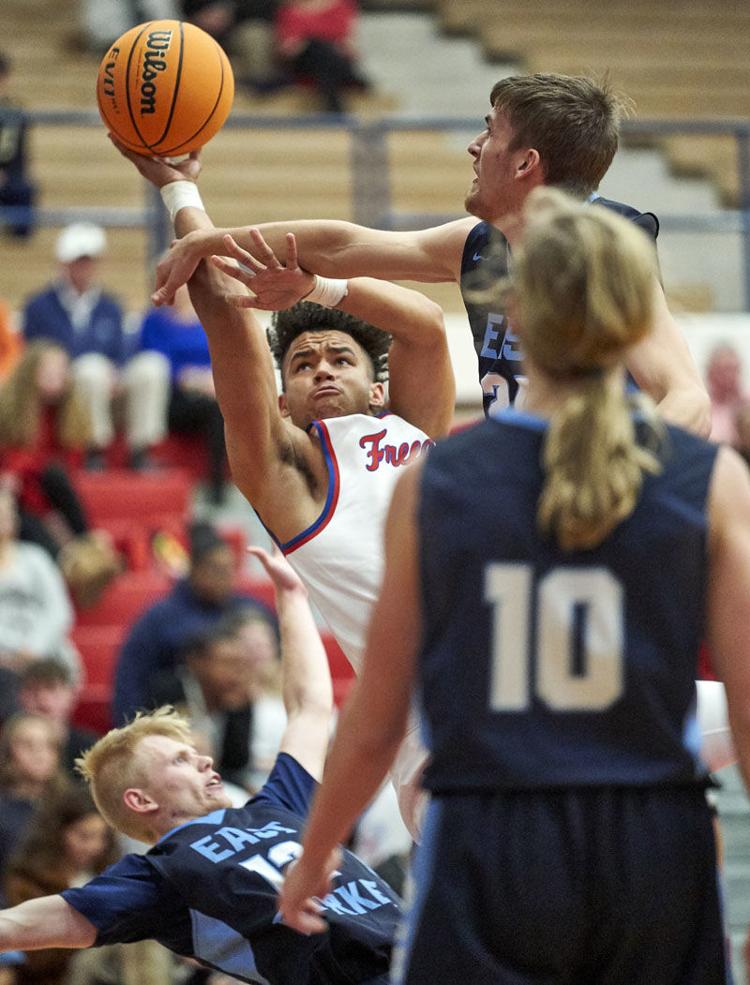 The Patriots rolled past the Cavaliers in their first game under Clint Zimmerman, just the program's fourth head coach as it starts its 47th season. Freedom now leads the head-to-head series vs. EB, 90-20, after a ninth straight win over the Cavs and fifth consecutive season-opening win.
Freedom (1-0) jumped ahead 14-0 but saw the lead trimmed to 16-10 before Bradley Davis started heating up. Davis scored 10 straight to stake the Pats to a 27-12 lead, then had five more in a row later to grow things out to 37-15. The lead stayed above 20 points for the remainder of the contest.
"My teammates found me a lot of ways," said Davis, who scored a game-high 22 to go with six rebounds. "A lot of penetrate and pitches, just got me open."
James Freeman added 13 points, seven assists and eight steals for the Patriots, and Qualique Garner had nine points and 11 rebounds.
"We did a good job of rebounding the ball early on," Zimmerman said. "From a defensive standpoint, we took three or four charges. We played hard but not necessarily well. … We had a lot of good looks even that 2, 3 minutes where East Burke gets back in it and we're not scoring. Then Bradley got it going and we got a little bit of that confidence back."
EB (1-1) was limited to eight players due to illness and injury, missing most notably starting point guard Luke Coble. The Cavs were led by Aasin Lor's 10 points and Christian Smith's nine, and Cam Propst had seven rebounds.