Off the court, Michael Logan certainly isn't the most talkative guy in the world, by any means.
But on the court, the Freedom senior guard's play speaks volumes.
A pair of dunks to start the first two quarters of Tuesday night's home nonconference game with crosstown rival Patton spurred on the Patriots' offense in what became a running-clock game with 5:30 left in the third quarter en route to a 76-28 win.
Logan's first throwdown came just 40 seconds in on an alley-oop play from James Freeman to make it 4-0. That led to a hosts' offensive spurt that provided a 15-5 lead midway through the opening period.
After the Panthers (2-2) closed the gap back down to six, the Patriots went on a run to end the period, but Logan's second dunk — a windmill jam off a steal at midcourt — was truly the running-away point for Freedom.
It was part of a 35-5 run to the intermission, at which point Freedom (2-0) led 52-16.
"It's just about bringing energy to the team. It paid off," Logan said. "The offense, as a team, played well. We got out in transition and just did what we were supposed to do."
After a pair of 3-pointers and a layup early, classmate Fletcher Abee scored a dozen more during the big run out to what became a 53-point hosts' lead eventually. He shared the game lead in scoring with Logan at 20 points.
"It elevates everybody's play when we see a guy make a great play and the crowd is making a lot of noise," Abee said of his teammate's big moments. "Everybody starts to play better. That stuff is contagious."
The effort pushed Abee, who has more than 1,300 points for his career, into third place all-time for Freedom past Danny Johnson, who was on the 1994 state title team and went on to play at the College of Charleston.
Logan (five rebounds) also hit a pair of 3s, including one just before the halftime buzzer.
"He's so athletic and so explosive," said Freedom coach Casey Rogers. "He's a guy who can score at all three levels. He's a more than capable shooter from 3, he's developed a nice little mid-range game, and obviously he can get the ball to the basket."
The scoring output was by far the lowest for a Patton team that had averaged 58 points across its first three games. And as the Patriots moved to 23-0 all-time against their rivals, the 48-point margin of victory and 28 points allowed both were records for the series, surpassing a 45-point victory on Jan. 22, 2013, and 36 points allowed on Nov. 30, 2007, the first-ever meeting.
"I thought our pressure was fairly consistent at both levels, full-court and half-court," Rogers said. "That's one of the things we had talked about. I thought we were better. We still have a long way to go defensively in some areas. But we played hard tonight, got our hands on a lot of balls and deflected a lot of balls. That's a sign of being active."
Jakari Dula added 13 points to the Freedom total, Aidan Pearson (eight rebounds) scored seven, Freeman (six assists) supplied six and Nick Johnson (six boards, four assists) scored four before departing late with a wrist injury.
Rogers on Wednesday morning said initial x-rays on Johnson's wrist were negative. He is wearing a splint and goes back for more x-rays Monday to ensure there is no break.
Finn Rigsbee led Patton with 12 points, a figure he has reached in all four games so far. Bryson Holsclaw (three rebounds) and Zane Hall added four apiece. Jackson Vance (four boards) scored two.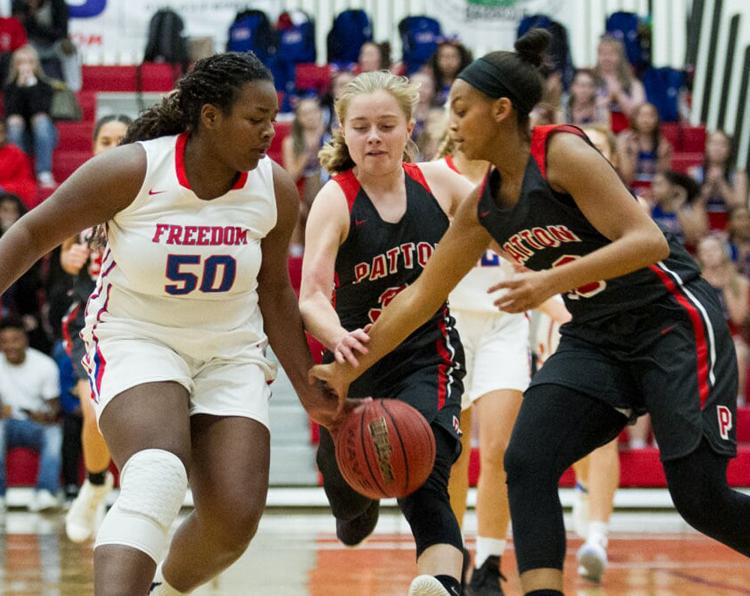 GIRLS
Freedom 52, Patton 38
Early in the second quarter, Aysha Short grabbed a midcourt steal and broke free for a layup to give the Lady Patriots their first double-digit lead at 18-8. The advantage never dipped below 10 the rest of the way.
The win, led by Blaikley Crooks' game-high 19 points, moved Freedom to 3-0 for the fourth time in five seasons while the loss snapped Patton's own three-game winning streak to start the year, a program-best.
The Patriots' early spark came when Short (seven points, four steals), Christena Rhone and Adair Garrison (eight points, nine rebounds) each hit a 3 in the first quarter. It was enough as FHS survived foul trouble with Rhone and Madison Bailey (eight points) both picking up their third fouls by the time the second half was 10 seconds old.
"We've got to be more disciplined defensively," said Freedom coach Amber Reddick. "This is two games in a row where we've gotten in a ton of foul trouble. We can't rely on hot shooting every night, so we've got to improve and be more disciplined defensively and get in a better rhythm by staying out of foul trouble."
CC Davenport added five points and five boards for the hosts.
Danisha Hemphill led Patton (3-1) with 14 points and four steals. Brailey Nelson scored nine, Claire Hawkins had eight and Reece Fisher (10 rebounds) scored seven. Freshman Zakiah King added five boards.
"Pressure-wise, (Freedom is) really good on defense," said Panthers coach Autumn Helms. "I think that made our girls panic a little bit. We adjusted, it just took a little while."
Justin Epley can be reached at jepley@morganton.com or 828-432-8943.