Fresh off the bye week, the Walter Johnson football team recorded its first shutout of the season Wednesday, downing crosstown rival Liberty on the road in Foothills Athletic Conference play, 38-0.
The Yellow Jackets (3-1-1, 3-1 FAC) were led by Nigel Dula's four touchdowns and one two-point conversion. Dula gained 105 rushing yards and scored twice on the ground, adding a 90-yard interception return for a TD to end the Knights' best scoring threat as well as a receiving score.
WJ's Zion Thomas passed for 138 yards and connected with both Nigel Dula and Tavion Dula (55 receiving yards apiece) for TDs.
Thomas tacked on 44 rushing yards and a pair of conversion runs, and Amore Connelly had 43 yards from scrimmage (27 rushing) and a conversion.
"I'm proud of the kids," WJ coach Stephen Hines said. "I challenged them before the game to limit mistakes and play to their assignments. In the first half, we did not do a good job of that with too many penalties and mental mistakes.
"They did a much better job in the second half. We did not play a flawless game, and we have work to do, but we are excited to get the win."
Defensively, the Jackets were paced by Nigel Dula, Connor Pinkerton (two fumble recoveries) and Kaymen Surratt with three tackles each. Thomas added an interception and had two tackles, as did Tavion Dula, Tristan Hines, Lucas Byers and Amore Connelly.
Liberty falls to 1-4 on the season with a fourth consecutive loss. The Knights are idle next week, while the Jackets host Table Rock.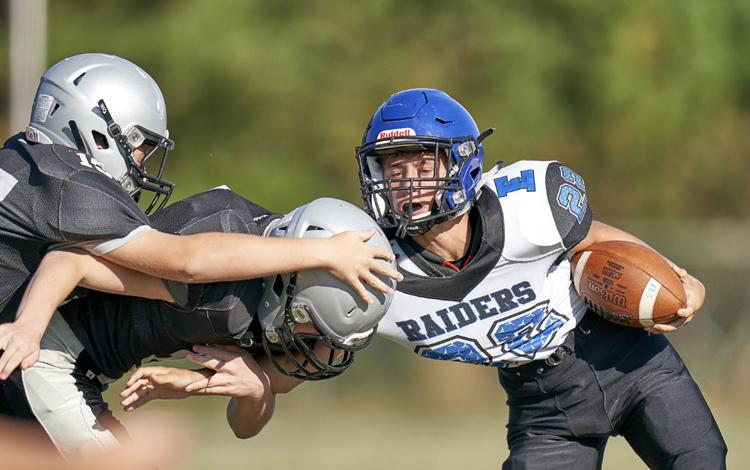 East Burke 30, Heritage 6
The Raiders (3-3, 2-3 FAC) got back on track Wednesday by defeating the rival Eagles (0-4 FAC) for the first time in four years in a contest played at Draughn High.
EB led 14-0 by halftime thanks to touchdowns by Levi Coble and Jacob Dellinger. Both players found the end zone again in the second half, with Dellinger, KJ Byrd and Mason Robinson (on a pass from Asher Gebhard) all adding successful two-point conversions in the victory.
The Raiders recovered a fumble on defense and got an interception each from Byrd and Caden Buff.
"It's always nice to beat your rival and improve your standing in conference," EB coach Mitchell McGuire said. "Beating Heritage is something we had not done in a while. We hope to finish strong next week (at home vs. East McDowell)."
Heritage scored in the second half on a 60-yard pass from Kelton Mitchell to Malachi Silver. The Eagles play at West McDowell next week.
W. McDowell 38, Table Rock 20
The host Falcons' quest for a FAC five-peat likely came to an end Wednesday with their first league loss since 2014 — also against the Spartans.
After trailing by 10 in the second quarter and closing to within two by the half, West McDowell put the game away with a 33-yard touchdown on a halfback pass in the third to go back up by 10, tacking on an additional score in the final frame.
Justice Cunningham's third TD of the day and 15th of the season, a 10-yard run, had brought the Falcons (4-1, 3-1) back within striking range just before the half. His 85-yard scoring run made it 8-6 West early after the Spartans got a pick-six on the game's second play. Cunningham later took a jet sweep pass from Eli Tillery 53 yards to the end zone to give the hosts their only lead, 12-8, late in the first.
Cunningham went over 200 yards from scrimmage, accumulating 188 on 15 runs. Tillery finished 10 of 17 for 124 yards, hitting Noah Cooper four times for 42 yards.