RALEIGH — It appears North Carolina will not quite hit the three-month mark with basically zero sports as a result of the coronavirus pandemic, with select athletic activity at the high school and youth levels given the OK to resume by Gov. Roy Cooper on Friday.
Cooper, with N.C. Department of Health and Human Services (DHHS) secretary Dr. Mandy Cohen, announced recommended guidelines for play to resume the same day that the state entered Phase 2 (of 3 total) in the re-opening plan.
The state's recommendations, Cohen said, are for non-contact sports like tennis, golf, baseball, softball and swimming to resume soon with contact sports like football and basketball limited to "athletic conditioning drills and practices" where "athletes are not playing the actual sport."
That mirrors guidance that the National Federation of State High School Associations (NFHS), the national head of state high school associations, released earlier in the week. That guidance placed sports into three different risk categories based on relative amount of contact or proximity between participants and accompanying potential respiratory particles that could be transmitted.
The NFHS called golf low-risk and football, wrestling and boys lacrosse high risk. It lumped many sports into the moderate risk category, including basketball, volleyball, soccer, tennis, girls lacrosse, baseball and softball — and said if masks are worn in volleyball, baseball, softball and tennis, the sports could potentially be considered "low risk."
North Carolina's recommended guidelines announced Friday include:
Close or mark off all common seating areas like dugouts and bleachers or other areas that promote individuals gathering in groups.
Clearly provide 6 feet floor markings on sidelines, waiting lines, and other areas where there may be a group of people.
Designate and arrange specific equipment for use that is properly spaced at 6 feet apart.
Consider workouts in groups/pods of individuals with the same group always working out together, including weight training, to limit exposure should someone become sick.
Remind individuals not to shake hands, give high fives, or fist bumps before, during, or after the game or practice.
Individuals should refrain from any unnecessary physical contact with others.
Coaches, officials, and others should modify communication and avoid up close face to face communication.
Schedule games to include adequate buffer times between games to allow athletes, coaches and staff to enter and exit the facility with limited interaction.
Where possible, provide separate and clearly marked points of entry and exit for spectators.
When sinks or showers are not 6 feet apart, consider limiting use to every other sink or shower so individuals can maintain social distancing while using.
Provide readily available alcohol-based hand sanitizer (with at least 60 percent alcohol).
Personal training services and fitness coaching should practice social distancing to the extent possible. When these services require physical contact between coach and athlete, wash hands immediately prior to and following the contact and face to face contact should be minimal.
In addition, the guidelines strongly recommend that all participants wear a cloth face covering when they are not directly engaged in physical activity.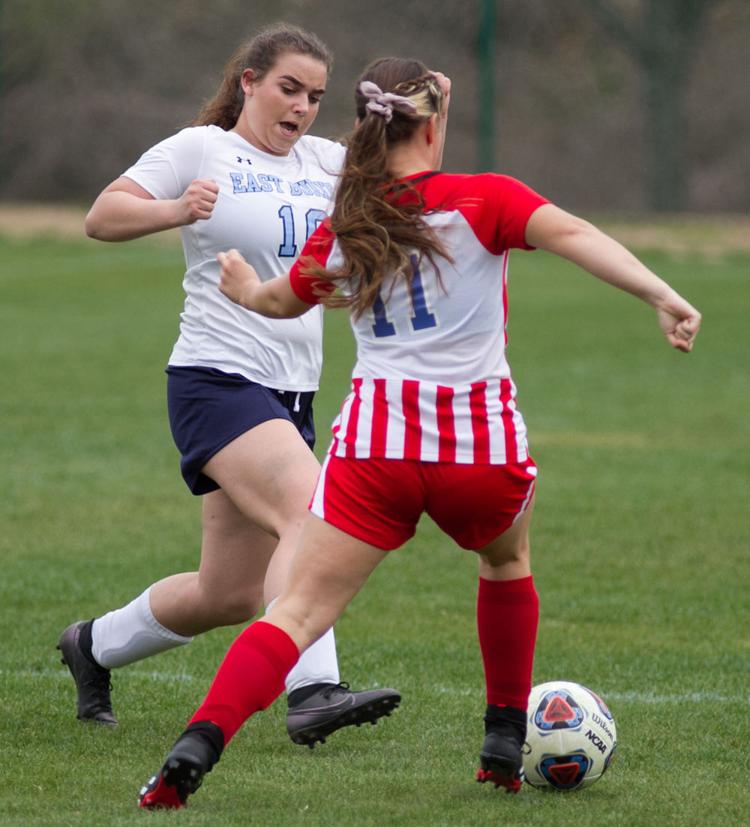 The NCHSAA released a statement after Cooper's announcement. It read:
"As stated by the governor, we have been in communication with the (DHHS) concerning next steps for a return to athletic activities across the state. Since we have not yet had an opportunity to discuss the guidelines mentioned by the Governor and Dr. Cohen with a broader audience in our membership, we will spend the next several days discussing options, opportunities and best practices for resuming activity with our board of directors and sports medicine advisory committee, in addition to other stakeholder groups such as principals, athletic director, coaches groups, etc. These conversations will help us determine a more specific and detailed path forward."
The NCHSAA also says it plans to hold a virtual press briefing session Tuesday afternoon to discuss more developments.
Across the state, all prep and youth sports have been on hold since March 12. Both the resumption of  high school (and local middle school) spring sports' seasons and the state title basketball games were canceled late last month, and the NCHSAA has its member schools in a "dead period" through at least June 1, a date it announced about 10 days ago, with no practices or team training sessions currently allowed.
The NCHSAA has made no announcements about what sports will or won't take place as normal in the fall season.
In Burke County, youth sports' seasons in golf and baseball/softball would have started by now. Local officials in both sports had said recently they still planned to get started when they could, even with postseasons in both sports already scrapped, and Friday's news provided a big boost.
There was a little more doubt around youth tennis and swimming from local coaches, but given the latest guidelines, those sports may also be able to overcome potential barriers and have a season this summer.
American Legion senior- and junior-level baseball and softball seasons were also canceled. But longtime Post 21 baseball head coach Ron Swink, now an assistant coach, told The News Herald last month he still hoped to form some sort of team and league for this summer if it was possible.
And Post 21 junior legion baseball coach Steve Peeler said Saturday he hopes to host a tryout for all county players who are 17 years old and under to play a modified schedule possibly starting June 15. He said he is shooting for a tryout date of June 1, but the date and site are not yet final.
The News Herald sports department can be reached at sports@morganton.com.