This spring football season has been anything but normal.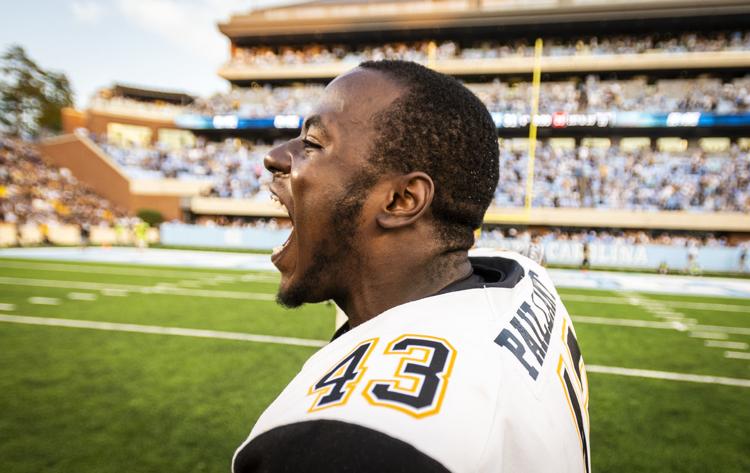 Sports are canceled. Colleges are closed. In Boone, Appalachian State coach Shawn Clark says about 95 percent of his football roster is at home with families.
App State was able to send players away with most of their spring work done. The Mountaineers got through 11 of their 15 allowed spring practices, where pecking orders began to shake out.
And while the offense came into it essentially set, there were more than a few questions about who would set up and help the defense, missing seven starters from 2019.
Two players on that side earned regular praise from Clark after practices and appear primed for more responsibility: senior outside linebacker Tim Frizzell and sophomore defensive lineman Hansky Paillant. The two epitomize the belief of staying ready for their moments.
First with Frizzell: He started his first game in 2018 as a sophomore, a near-victory at Penn State. But he would tear his left labrum that season, optioning to play through and appear in 11 games instead of redshirt.
"Just grit and determination, and knowing what I really wanted to do for the team and the impact I could still give them," Frizzell said on playing through the pain.
After recovering, he clawed his way back into the rotation in 2019. Frizzell played 13 games while working with outside linebackers and the defensive line.
This spring, he rotated in and out with sophomore Nick Hampton at the spot vacated by Noel Cook. As practices came to a close, he seemed to be earning more of the first-team reps.
""First of all it's a huge blessing, seeing all the work starting to pay off is really fulfilling," Frizzell said. 
Paillant, meanwhile, spent the last two seasons learning in a reserve role. It was a hard shift for a guy that played varsity football his entire high school career.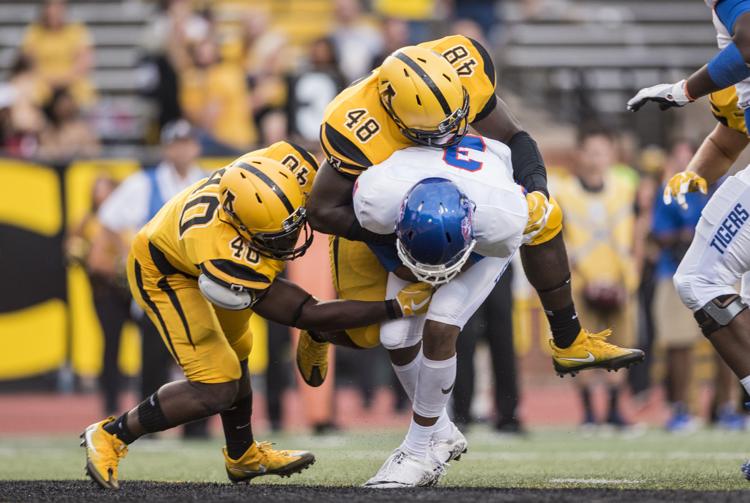 Redshirting in 2018 and playing in seven games last year, he got time to watch the way his older teammates worked at their position. He's also learned from three different defensive line coaches in Mark Ivey (now at Louisville), Anwar Stewart (now at Kentucky) and now, first-year App State defensive line coach Robert Nunn.
And Paillant is grinding for his chances.
"We've got a new coaching staff so that means that anybody got an opportunity -- jobs up there for anybody, and I'm out there trying to earn me a job," Paillant said.
Paillant, from Florida, had offers from multiple in-state schools. But he got advice from an old high school coach about how to pick his college. And now, he feels like it's paying off with the responsibility he's been given.
"He told me go where you're wanted, not where you want to go," Paillant said. "I felt like App State wanted me here. Who recruited me -- Coach (Frank) Ponce and Coach Ivey -- they were showing me a lot of love, always checking up on me and my family -- I felt like I wasn't getting that connection from the other coaches from the other schools I was getting.
"I just felt like App was the home for me."
Quarterback
1. Zac Thomas, senior
2. Jacob Huesman, senior
Running back
1(a). Daetrich Harrington, junior
1(b). Marcus Williams, senior
Wide receiver
1. Corey Sutton, senior
2. Jalen Virgil, senior
1. Thomas Hennigan, senior
2. Christian Wells, freshman
Slot
1. Malik Williams, senior
2. Dashaun Davis, freshman
Tight end
1. Henry Pearson, junior
2. Mike Evans, senior
Left tackle
1. Cole Garrison, senior
2. Anderson Hardy, sophomore
Left guard
1. Ryan Neuzil, senior
2. Damion Daley, sophomore
Center
1. Noah Hannon, senior
2. Luke Smith, freshman
Right guard
1. Baer Hunter, senior
2. Craig McFarland, freshman
Right tackle
1. Cooper Hodges
2. Lyle Hiers, freshman
THOUGHTS ON THE OFFENSE
The defense will get a breakdown for every position group. The offense, meanwhile, doesn't need nearly that much explanation. Zac Thomas is back, and so are all three of his starting receivers. The running back group is deep enough to deal with Darrynton Evans' departure, even though he's a no-doubt NFL talent. Four of the five starting offensive linemen are back as well, and Henry Pearson (who should've gotten more plays last year) has a ton of experience for the tight end spot. Forty points per game is not outlandish, even with a new offensive coordinator in Tony Petersen.
The offense's spring focused on the young guys. There are three freshmen backups on the offensive line, one of which went through a position change (Luke Smith, from D-line to O-line). Two freshmen back up starting receivers. Plus, there's two young quarterbacks in redshirt freshman David Baldwin-Griffin and true freshman Navy Shuler that will battle all year to be the heir to the offense. 2021 should be another strong season for App State. The reps those younger players get this season will try and prevent a dropoff from conference championship contention.
Also of note: Daetrich Harrington showed the bursts that made him lethal at his healthiest times. He will share reps with Marcus Williams and Cam Peoples, but he also looked the part of a starting back with the ball in his hands.
End
1. Caleb Spurlin, senior
2. Zareon Hayes, sophomore
Nose tackle
1. George Blackstock, junior
2. Jordon Earle, sophomore
End
1. Demetrius Taylor, senior
2. Hansky Paillant, sophomore
THOUGHTS ON THE D-LINE
Elijah Diarrassouba's retirement threw a cog in this. But Caleb Spurlin was running with the first unit in Diarrassouba's absence and has earned the spot right now. Hansky Paillant took a big step forward, and he's a big, strong option that could be problematic in the rotation. Keep in mind that these guys will rotate around, so they're not stuck in one spot. But these six appeared to be the ones getting most of the significant scrimmage time.
The wildcard here is Chris Willis, who sat out the 2019 season with a lower leg injury. Willis took over a starting end job from Okon Godwin in 2018. Willis will add some quality depth while pushing some of the expected starters.
Outside linebacker
1. Tim Frizzell, senior
2. Nick Hampton, sophomore
1. Brendan Harrington, sophomore
2. KeSean Brown, sophomore
THOUGHTS ON THE OUTSIDE LINEBACKERS
Tim Frizzell saw injuries affect his trajectory a bit, but he's playing healthy and really taking command of his time. Frizzell and Hampton rotated in with the first group, but given Frizzell's trajectory, the job looked to be in his hands early. That's a competition that will carry through the fall. True freshman Kevon Haigler has also seen some solid reps here.
And as Harrington and Brown try to replace the spot vacated by Akeem Davis-Gaither, they provide two good and young options. Harrington gets the nod because he's lengthy and rangy.
Inside linebacker
1. Trey Cobb, junior
2. Tyler Bird, junior
1. D'Marco Jackson, junior
2. Jourdan Heilig, sophomore
THOUGHTS ON THE INSIDE LINEBACKERS
The combo of Trey Cobb and D'Marco Jackson offers a lot of quickness and violence on the inside. Both have played meaningful reps for the last two seasons, and they traded starts alongside the now-departed Jordan Fehr.
Bird was a special teams starter that should mix in often on the field, and Jourdan Heilig is a large and athletic option.
Safety
1. Ryan Huff, junior
2. Kaleb Dawson, sophomore
1. Kaiden Smith, senior
2. Nick Ross, sophomore
THOUGHTS ON THE SAFETIES
The backlog of safety talent is no joke, and this year will be another example. After two seasons of mixing in, Ryan Huff will get a chance to shine. Kaiden Smith is smart and savvy and brings a strong mind to the starting group. Dawson and Ross are two young guys with upsides, but they're forced to wait their turn like the A.J. Howards and Josh Thomases before them.
Cornerbacks
1. Shemar Jean-Charles, senior
2. Steven Jones, junior
1. Shaun Jolly, junior
2. Milan Tucker, freshman
THOUGHTS ON THE CORNERBACKS
With Shaun Jolly and Shemar Jean-Charles missing some of spring camp with injuries, Milan Tucker and Steven Jones ran with the first group. They did enough to impress new defensive backs coach James Rowe, who left them with the ones even when the starters were healthy. Still, Jolly and Jean-Charles will be one of the better DB tandems in the conference after a solid starting debut last season.
SPECIAL TEAMS
Kicker
1. Chandler Staton, senior
2. Ryker Casey, freshman
Punter
1. Xavier Subotsch, senior
2. Clayton Howell, junior
Snapper
1. Christian Johnstone, sophomore
2. Reed Harper, freshman
Kick returner
1. Thomas Hennigan, senior
2. Malik Williams, senior
Punt returner
1. Thomas Hennigan, senior
2. Jalen Virgil, senior
THOUGHTS ON THE SPECIAL TEAMS
Some quality depth at kicker and punter. Xavier Subotsch continued to look consistent throughout camp, carrying over his good mojo from 2019. Chandler Staton will be pushed by Ryker Casey, who's strong legged.
Thomas Hennigan will hold most of the returning duties, but Malik Williams would be a nice option to mix in for punts given his ability to wiggle out of tight situations. Jalen Virgil and his speed gets more responsibility on kickoffs.