The Freedom boys basketball team's quest for an outright Northwestern 3A/4A Conference title still hung in the balance past halftime against visiting Watauga on Tuesday until what looked like a normal battle for a rebound went in a different direction.
Senior point guard James Freeman grabbed the board, but came down straddling Watauga guard Jaiden Bond's shoulder. The two struggled to get apart and ended up twisted together on the floor. As the two un-piled themselves, Bond smacked Freeman in the head and was given a technical foul and ejected, earning another T on his way toward the visitors' bench.
FHS senior Bradley Davis sank all four free throws as the Patriots moved from a one-point intermission deficit to a nine-point advantage, which became double-digits a couple minutes later on a basket from sophomore Quentin Rice, who finished with 16 points.
The Patriots cruised on to a 76-47 win.
"It gave us energy," Rice said of the sequence. "It made us look at it in a different perspective. We were down a little on defense, and it was a bucket-to-bucket type of game. But we buckled down. The technical changed it, and we started playing."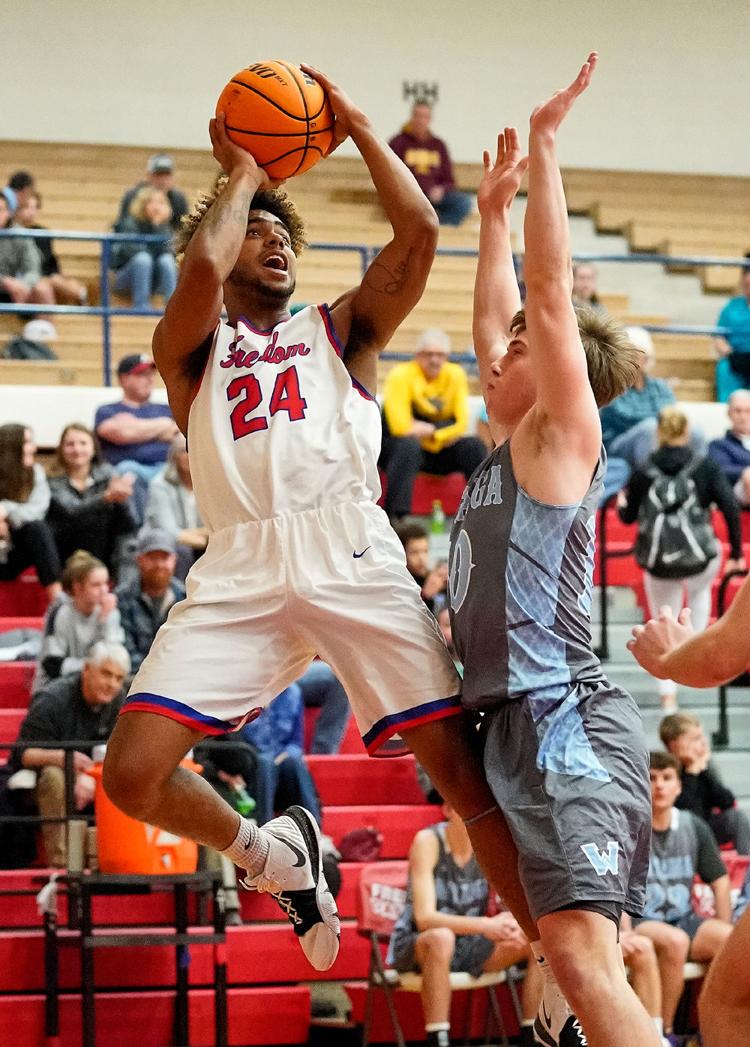 The game's leading scorer once again was Bradley Davis, who finished with 27 to mark a fifth straight game with 20-plus for the county's leading scorer. Davis' machinelike offensive efforts are just one noticeable part of a Freedom team (21-1, 10-1 NWC) that seems to have momentum on its side as the conference tournament and state playoffs approach.
"I think we're just starting to pick up at the right time," Davis said. "At playoff time when it's most important, we're starting to play our best ball. I mean, we can get better on some aspects on the defensive end. But on the offensive end, we just need to be solid and poised and we'll get whatever we want."
Not only did many of the faces on the court change for the Patriots this year, but the face leading the sideline did, too. First-year head coach Clint Zimmerman kept FHS' momentum rolling with a repeat NWC championship, the program's third in four years and 21st all-time league title. Zimmerman deferred the credit to those around him, however.
"Ten seniors have been through the battles and know the expectations," Zimmerman said of his team. "We have a really talented young group of juniors and sophomores. Five really, really great (assistant) coaches that don't get mentioned enough, that nobody ever sees what they do.
"Somebody said something about being the face of the program, but those guys are the backbone of the program and (the players) are the heart of the program."
Seniors Qualique Garner (eight), Nick Johnson (seven), Freeman and Ben Tolbert (six apiece) added to FHS' Tuesday night scoring.